News Singapore Premier League • February 17, 2022
Sailors and Albirex eye Community Shield as launchpad to success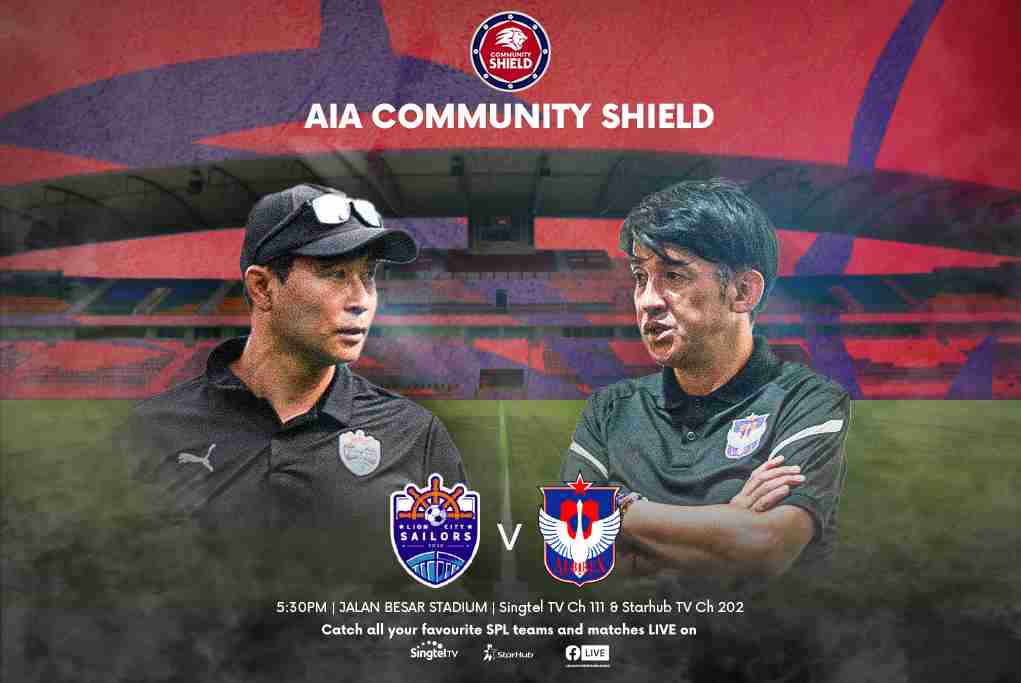 SINGAPORE, 17 FEBRUARY 2022 – The burgeoning rivalry between the Lion City Sailors and Albirex Niigata (S) continues on Saturday evening when they do battle in the 2022 AIA Community Shield at Jalan Besar Stadium.
2022 AIA Community Shield | 19 February, 5.30pm | LIVE on SPL Facebook and YouTube, Singtel Ch 111, StarHub Ch 202
Engaged in a fierce duel for the AIA Singapore Premier League (SPL) title last season, Albirex set the pace and led the table for the first 19 matchweeks. But the defending champions were knocked off their perch with one match left by the Sailors, whose relentless chase saw them hold their nerve on the final day to claim their maiden league crown.
Albirex – who finished the 2020 season five points clear of the Sailors – missed out on a fifth league triumph and the pain is still keenly felt by veteran attacker Fairoz Hasan.
"Each and every one of us was really sad," the 33-year-old told SPL.sg. "We really wanted it and thought we could be champions again, but luck was not on our side and we wasted a few good chances to pull away before Sailors caught up with us."
View this post on Instagram
FRESH START
The new season offers a clean slate for Fairoz and his fellow White Swans, who will set their sights on wresting the title back from the Sailors. Both teams have new recruits, although the headlines have been made mainly by the Sailors, who appear to have brought in some serious quality with an eye on their maiden Asian Football Confederation (AFC) Champions League (ACL) campaign voyage this April.
Singapore internationals Izwan Mahbud and M. Anumanthan have come on board alongside Pedro Henrique and Maxime Lestienne, with the key coup being Kim Shin-wook – a two-time ACL winner and scorer of over 100 goals in the K League.
For Albirex, only a handful of players – nine – were retained as per their annual custom and lynchpins like Kazuki Hashioka, Ryoya Taniguchi and Kuraba Kondo have departed. The arrival of Tadanari Lee, who scored Japan's winning goal in the 2011 AFC Asian Cup final, is undoubtedly the most high-profile. Meanwhile, new midfield pair Masahiro Sugita and Kan Kobayashi are former Japan Under-18 internationals.
It is shaping up to be another exciting season and Sailors midfielder Shahdan Sulaiman, 33, told SPL.sg  that their new boys have already made an impact.
"They are gelling well with the team and have been with us for close to two months now (except Lestienne)," the midfielder said. "Most of us are familiar with Izwan and Anu because of the national team. As for Shin-wook, it has been great for the boys to see his professionalism – the way he conducts himself on and off the pitch.
"He is quite approachable and always willing to share advice… It is something which we have to make full use of and learn from him."
In the other camp, Fairoz has similar sentiments about Lee, who is also an ACL winner. "I thought he would have an air about him, but I was wrong," the 33-year-old said. "He is so relaxed and friendly, always sharing advice and guiding the younger players.
"We are quite near in terms of age (Lee is 36) and his English is fluent, so we hit it off pretty well and our understanding is there on the pitch. We also talk about things outside football and he has even asked us to bring him out for local food a few times. It is an honour to have him as a teammate and he can help me to further improve as a player."
View this post on Instagram
YOSHINAGA RETURNS
Fairoz did note that pre-season has not been smooth-sailing for Albirex, as many of the new Japanese players have arrived at different times. "We have yet to have the full squad train together," he said. "Many of these young boys have good potential, but they will need more games under their belt."
While Kim Do-hoon will set sail on his first full season at the helm, having taken over midway through last season, Albirex have brought back Kazuaki Yoshinaga as Keiji Shigetomi's replacement.
Yoshinaga, 53, led them to successive league titles in 2017 and 2018 – recording a historic unbeaten campaign in the latter – and the two-time SPL Coach of the Year could prove to be a game-changer. Already, Fairoz has noted a higher training intensity and stronger team discipline.
"He is very strict about every single detail," the forward said. "Before you step out of the changing room and onto the pitch, you must be in the proper attire and wear covered shoes… he is very firm (and) he told one player off in front of everyone for (not) doing that – and that is good so that the players know not to step over his line.
"Another thing that I appreciate is that he does not care about my age as compared to the local coaches that I was under. He always tells me I can still improve and it is still important to keep learning at my age."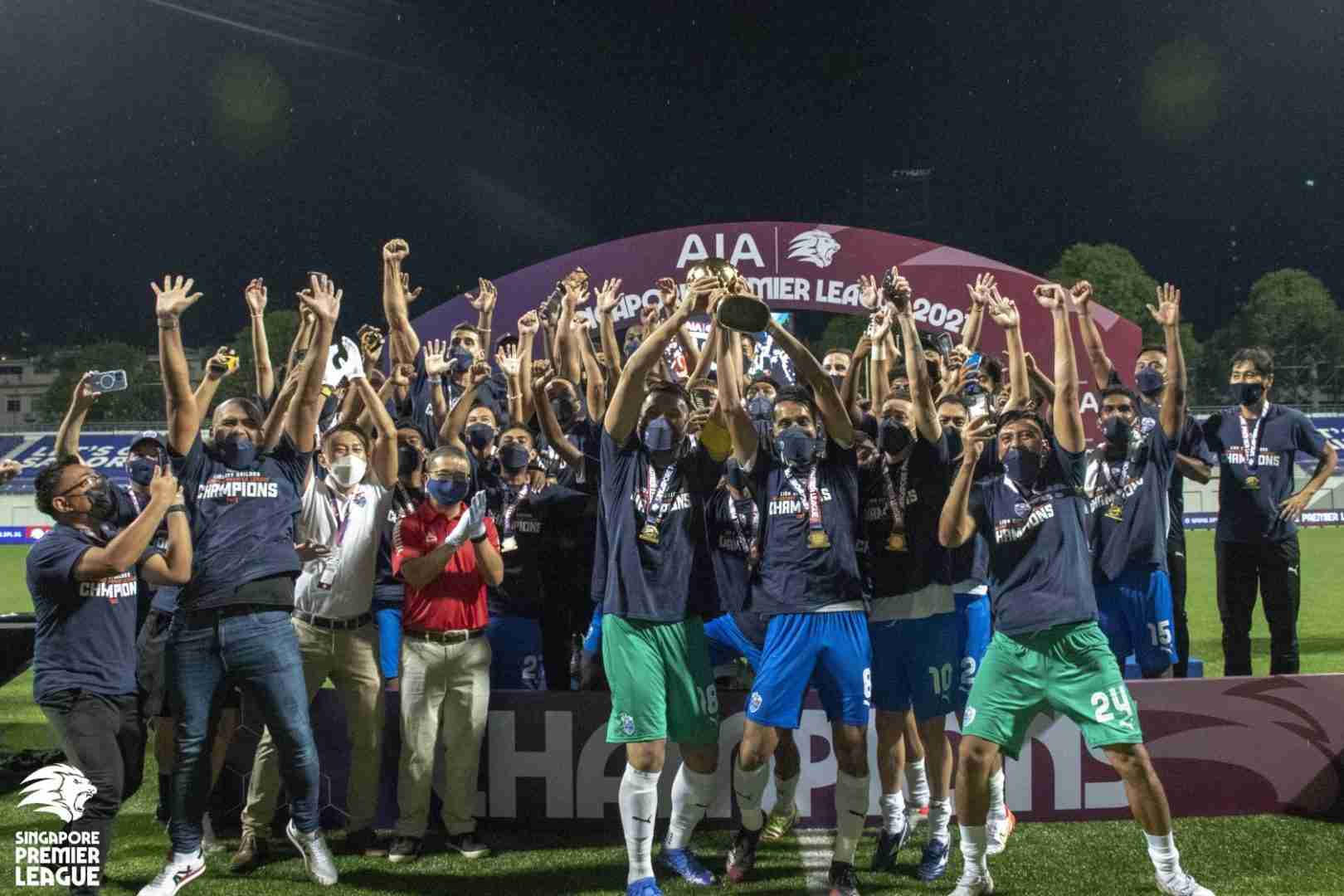 The Sailors won their maiden SPL title in 2021
SILVERWARE TARGETS
While the Sailors appear to be the favourites to sweep everything on offer, including the Shield and the Singapore Cup, Shahdan emphasised that silverware is not won on paper.
"As clichéd as it sounds, we (still) have to go out there and prove ourselves with results – even more so against opponents who now have extra motivation to beat us," he asserted. "As seen in the last two seasons, it is always tough playing against Albirex.
"This Saturday is a good time to show what we are made of. Being an ambitious club like us, obviously we are out there to try and win another trophy."
Fairoz admits that Albirex are the underdogs but is hopeful that winning a fourth Shield can be the launchpad to success in 2022.
"The majority (of our team) are young and unproven players," he said. "Although we have Tadanari, he cannot do it on his own and we have to support him. We have to play as a team, fight until the final whistle and hopefully we can win it to boost our morale for the long league season."
With a sell-out crowd of 1,000 fans and a blossoming rivalry on show, the 2022 AIA Community Shield is set to kick-start the 27th domestic season in Singapore with a bang.
Team news
Sailors
Albirex
Satsuki Mori and Kodai Tanaka are serving their on-arrival quarantine.
Attacker Nicky Melvin Singh is also away on international duty with the Singapore Under-23s.
Facts
First played in 2008, this is the 14th edition of the Community Shield – the 2021 edition was called off due to the COVID-19 pandemic.
In the event of a draw at full-time, the fixture goes straight to a penalty shoot-out. Only twice in history the Shield has this happened – Singapore Armed Forces FC (SAFFC) prevailed in 2008 and Home United did likewise in 2019.
Five-time winners Tampines Rovers are the most successful side in Shield history. Albirex, along with Warriors FC (first two as SAFFC) are in second with three each; Albirex's triumphs came in consecutive years (2016, 2017, 2018).
Since their inception in 2020, the Sailors have yet to beat Albirex; two 3-2 defeats that season were followed by three consecutive draws in 2021.
Kazuaki Yoshinaga could become the first-ever coach to win three Shields, having led Albirex in 2017 and 2018.
Amirul Adli is the only player from both sides who played in the last Shield in 2020 – he was part of the Tampines team that defeated Hougang United 3-0.
This will be the second time that Kim Shin-wook and Tadanari Lee have crossed swords in their careers. Both featured in an international friendly in August 2011 when Japan defeated South Korea 3-0 – Kim came on as a 52nd-minute substitute, while Lee completed the match.