Singapore Premier League • May 8, 2023
2023 Singapore Premier League Matchweek 10: Roundup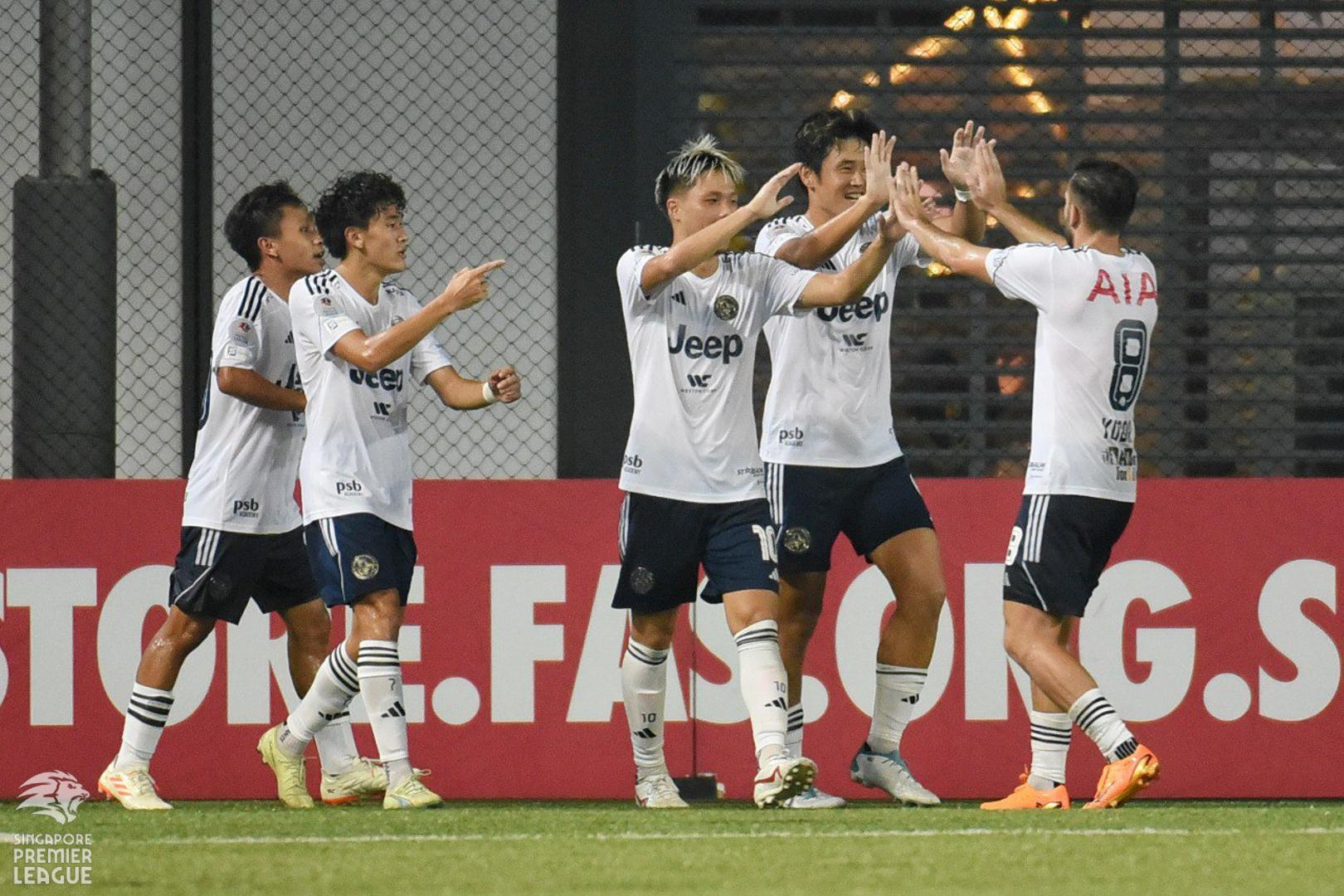 Ryoya Taniguchi celebrating with teammates after scoring against Tampines Rover, 5 May 2023
SINGAPORE, 8 MAY 2023 – The AIA Singapore Premier League returned with a bang with Balestier Khalsa springing a huge surprise by inflicting Tampines Rovers their first defeat of the season. Leaders Albirex Niigata (S) took full advantage by tearing Hougang United apart to go four points clear at the top, while Lion City Sailors came from behind to defeat Geylang International to remain in title contention. Elsewhere, Brunei DPMM edged Tanjong Pagar to go sixth. We recap all the action below…
Terrific Tigers pull off upset
Tampines 2-3 Balestier | Our Tampines Hub | 5 May
Boris Kopitović pen. 67', pen. 90'+6 | Daniel Goh 33', Ryoya Taniguchi 50', 90'+5
After producing an unerring finish off Alen Kozar's through ball, Goh then teed up Taniguchi to put Balestier into a surprise two-goal lead. Kopitović halved the deficit from the spot, but Taniguchi put the finishing touch to a lethal counter-attacking move deep into injury time to all but ensure the three points for the Tigers. Kopitović netted another one from 12 yards, but it was too little too late for the Stags.
Facts
Tampines' defeat meant there are no longer any more unbeaten teams in the league this season – they lost for the first time in 17 SPL matches.
This is also Tampines' first loss in 11 home matches in all competitions since a 4-2 defeat to Hougang in July 2022.
Taniguchi has already equalled his 2022 season-best tally of 10 goals after 10 matches – he is the league's current top scorer, two ahead of Sailors' Maxime Lestienne.
Goh has struck in each of his last three appearances in all competitions against Tampines.
Tampines: Syazwan Buhari (GK), Irfan Najeeb, Shuya Yamashita, Miloš Zlatković, Glenn Kweh (Syed Firdaus Hassan 84'), Kyoga Nakamura, Saifullah Akbar, Joel Chew (Taufik Suparno 73'), Faris Ramli, Yasir Hanapi (C) (Ong Yu En 73'), Boris Kopitović.
Unused subs: Ridhuan Barudin (GK), Rezza Rezky, Firdaus Kasman, Taras Goh, Kegan Phang, Yusril Hanapi.
Balestier: Hairul Syirhan (GK), Fudhil I'yadh (Syukri Noorhaizam 58'), Madhu Mohana, Fabian Kwok (Amer Hakeem 86'), Darren Teh, Alen Kozar (Kian Jared Ghadessy 89'), Ryoya Taniguchi, Ho Wai Loon (C), Daniel Goh (Ignatius Ang 86'), Masahiro Sugita, Shuhei Hoshino.
Unused subs: Suffian Abdullah (GK), Syabil Hisham, Emmeric Ong, Irfan Mika'il, Iftiqar Parizan.
Ryoya Taniguchi celebrating with Daniel Goh, 5 May 2023
White Swans express rolls on
Hougang 0-5 Albirex | Jalan Besar | 6 May

Asahi Yokokawa 13', 33', Koki Kawachi 26', Keito Komatsu 51', 90'+3
There was no new coach effect for Hougang as Albirex put them to the sword, beginning with Yokokawa's stunner from the edge of the box before Kawachi nodded home a corner to double the lead. Yokokawa then lashed in another sizzling shot from a tight angle, before super-sub Komatsu starred in the second half with a jaw-dropping 50-yard lob and another thumping finish off Yokokawa's low cross to seal an emphatic win.  
Facts 
Hougang's winless streak is extended to eight matches – their worst run of form since a ten-game winless run between April to June 2018. 

 

Albirex have scored 30 – seven more than any team – and conceded just three – six less than any team – in nine matches.  

 

Albirex's Hassan Sunny kept a sixth clean sheet in nine matches – just one off his 2022 tally of seven. 

 

All five of Komatsu's goals have come off the bench – a league-leading tally.

Hougang's Raimi Ishraq made his professional debut.

 
Hougang
:
Zaiful Nizam (GK), Anders Aplin, Naoki Kuriyama, Kazuma Takayama, Jordan Vestering (Fairoz Hasan 78'), Zulfahmi Arifin (C), Umar Akhbar (Amir Zalani 62'), Kristijan Krajček, Sahil Suhaimi (Raimi Ishraq 88'), Amy Recha (Irwan Shah 62'), Hazzuwan Halim. 
Unused subs
: Zainol Gulam (GK), Rauf Sanizal, Hariysh Krishnakumar, Iryan Fandi. 
Albirex
:
Hassan Sunny (GK), Koki Kawachi, Shunsaku Kishimoto, Asahi Yokokawa (C), Sho Fuwa, Shodai Yokoyama (Masaya Watanabe 72'), Kaisei Ogawa, Shuto Komaki (Shakthi Vinayagavijayan 59'), Junki Yoshimura (Keito Komatsu 46'), Tadanari Lee (Riku Fukashiro 59'), Seia Kunori (Hilman Norhisam 89'). 
Unused subs:
Hyrulnizam Juma'at (GK), Ryo Takahashi, Keito Hariya, Kenji Austin. 
Albirex Niigata celebrating Koki Kawachi's goal, 6 May 2023
Jaguars continue to struggle
DPMM 2-1 Tanjong Pagar | Jalan Besar | 7 May  
Andrei Varankou 33', Hakeme Yazid 82' | Marin Mudražija 82'
With Tanjong Pagar one man down after Pedro Dias's early sending-off due to a handball on the goalline, DPMM took advantage with Varankou netting on the rebound after his initial effort from the spot was saved. Mudražija pulled the Jaguars level with a powerful header, but a goalkeeping error from Kenji Rusydi allowed Hakeme to sneak in to net the winner late on.  
Facts
Two out of DPMM's three wins this season have come against Tanjong Pagar. 

 

All ten of DPMM's points have come at Jalan Besar. 

 

Tanjong Pagar have lost their last three matches – their worst run since losing five straight matches between July to August 2022. 

 
DPMM: Akmal Tursunbaev (GK), Helmi Zambin (Awangku Fakharrazi 90'+2), Yura Indera Putera, Ángel Martínez, Najib Tarif (C) (Azwan Saleh 90'+2), Hanif Farhan, Hanif Hamir, Josip Balić (Hirzi Zulfaqar 46'), Abdul Azizi Rahman (Razimie Ramlli 68') Andrei Varankov, Hakeme Yazid.
Unused subs: Haimie Nyaring (GK), Syafiq Hilmi, Eddy Shahrol Izzat, Nazirrudin Ismail. 
Tanjong Pagar: Kenji Rusydi (GK), Raihan Rahman, Shakir Hamzah (C), Pedro Dias, Faizal Roslan, Azram Azman (Khairul Amri 72'), Blake Ricciuto, Mirko Šugić, Naufal Ilham (Tajeli Salamat 46'), Syukri Bashir (Zulfadhmi Suzliman 62'), Marin Mudražija (Naqiuddin Eunos 80')
Unused subs: Fashah Iskandar (GK), Travis Ang (GK), Shahrin Saberin, Khairul Hairie, Saiful Azhar.
Red Card – Hirzi Zulfaqar (DPMM) 89' | Pedro Dias (Tanjong Pagar) 32'
Andrey Voronkov in action against Tanjong Pagar, 7 May 2023

Marvellous Maxime saves Sailors
Geylang 1-2 Sailors | Our Tampines Hub | 7 May  
Iqbal Hussain 10' | Maxime Lestienne 69', 89' 
Geylang had led for large periods of the game after Iqbal applied the finishing touch on a lethal coutner-attacking move, but the Sailors rallied in the second half and turned it around through their Belgian wizard. Lestienne bent home a stunning free-kick from way out to level matters, before repeating the trick a minute from time to sink the Eagles' hearts.  
Facts 
The Sailors won at OTH against Geylang for the first time since September 2021 in a 3-0 win.

 

Lestienne now has 16 goal contributions (eight goals and eight assists) in nine matches this season. 

 

Lestienne has already gotten three braces this season – two more than his 2022 tally. 

 

Iqbal scored in two straight SPL matches for the first time since May 2018 when he did so for Hougang. 

 

Sailors' Nathan Mao became the youngest-ever player to start a SPL game at 15 years and 42 days old, surpassing previous record holder Raoul Suhaimi (15 years and 239 days old) – he is also only the second player below the age of 16 to start a league game.

 
Geylang: Hafiz Ahmad (GK), Fadli Kamis, Rio Sakuma (C), Amirul Adli, Ahmad Syahir (Gareth Low 89'), Huzaifah Aziz, Takahiro Tezuka, Vincent Bezecourt, Yushi Yamaya, Danish Haziq (Naufal Azman 46'), Iqbal Hussain (Delwinder Singh 72').
Unused subs: Aniq Yusoff (GK), Faisal Shahril, Nazhiim Harman, Syady Sufwan, Azri Suhaili.
Sailors: Zharfan Rohaizad (GK), Zulqarnaen Suzliman, Manuel Herrera López (Lionel Tan 46'), Hariss Harun (C), Christopher van Huizen (Hafiz Nor 58'), M. Anumanthan, Hami Syahin, Nathan Mao (Shawal Anuar 58'), Maxime Lestienne, Diego Lopes, Bernie Ibini-Isei (Rusyaidi Salime 73').
Unused subs: Adib Nur Hakim (GK), Rudy Khairullah (GK), Arshad Shamim, Kieran Aryan, Aqil Khusni.
Red Card – Rusyaidi Salime (Sailors) 90'+5
Maxime Lestienne in action on the pitch, 7 May 2023
Follow us on Facebook, Twitter and Instagram!