Singapore Premier League Uncategorized • May 29, 2023
2023 Singapore Premier League Matchweek 13: Roundup
Albirex Niigata (S) players celebrate a goal against Balestier Khalsa, 26 May 2023.
SINGAPORE, 29 MAY 2023 – The frontrunners continue to dominate with Tampines Rovers edging Brunei DPMM to remain two points ahead of Albirex Niigata (S), who tore Balestier Khalsa apart in an emphatic return to winning ways. Elsewhere, Geylang International overcame Young Lions to end a three-game losing streak while Hougang United's renaissance goes on after an impressive win over Tanjong Pagar United. We recap all the action below…
White Swans back on song
Albirex 6-2 Balestier | Jurong East | 26 May
Seia Kunori 12', 21', Shuto Komaki 30', Tadanari Lee 51', Sho Fuwa 53', Riku Fukashiro 89' | Madhu Mohana 39', Shuhei Hoshino 54'
There was no way back for Balestier after Kunori drilled one home from the edge of the box to open the scoring. The Albirex no. 10 then pounced on a rebound for his second, before setting up Komaki to make it 3-0 on the half hour. Madhu headed in Darren Teh's free-kick to pull one back for the visitors, but normal service resumed in the second half with Lee's deflected shot going in before Fuwa lashed one in from a tight angle to make it 5-1. Hoshino did get a second for Balestier straight after, but Fukashiro curled home from 20 yards out late on to seal a resounding win for the White Swans.
Facts
Balestier are winless in their last 15 away games against Albirex in all competitions since a 1-0 win in July 2015.
On the two occasions Albirex lost this season, they struck six goals (6-1 vs Geylang and 6-2 vs Balestier) in the following fixture.
Albirex have not lost back-to-back games since September 2019.
Kunori has scored five goals against Balestier this season across two encounters.
Fuwa's goal meant Albirex now has 11 different scorers – the most of any team.
Fukashiro's goal meant Albirex now has nine goals scored by substitutes – a league-leading tally.
Madhu scored his first goal since March 2021 in Tampines 3-1 win over Tanjong Pagar.
Albirex's Hyrulnizam Juma'at started just his third SPL match in five seasons.
Albirex: Hyrulnizam Juma'at (GK), Koki Kawachi, Shunsaku Kishimoto, Asahi Yokokawa (C), Sho Fuwa, Shodai Yokoyama, Kaisei Ogawa (Ryo Takahashi 90'+2), Shuto Komaki, Junki Yoshimura (Riku Fukashiro 46'), Tadanari Lee (Keito Komatsu 55'), Seia Kunori.
Unused subs: Kai Yamamoto (GK), Keito Hariya, Masaya Watanabe, Nicky Melvin Singh, Zamani Zamri, Hilman Norhisam.
Balestier: Hairul Syirhan (GK), Fudhil I'yadh (Emmeric Ong 63'), Madhu Mohana, Fabian Kwok, Darren Teh, Alen Kozar, Ryoya Taniguchi, Ho Wai Loon (C) (Kian Jared Ghadessy 84'), Daniel Goh (Ignatius Ang 63'), Masahiro Sugita, Shuhei Hoshino.
Unused subs: Suffian Abdullah (GK), Syazwani Hashari (GK), Syabil Hisham, Iqram Rifqi, Amer Hakeem, Irfan Mika'il.
Keito Komatsu in action against Balestier Khalsa, 26 May 2023.
Eagles find wings again
Young Lions 0-2 Geylang | Jalan Besar | 27 May
Iqbal Hussain 41', Amirul Adli 70'
Geylang were largely dominant in this one, striking the bar twice before Iqbal got on to the end of Vincent Bezecourt's crossfield pass en route to clipping the ball home from close range. Adli then sealed the win in the second half as he reacted the quickest to hook in after Young Lions failed to clear their lines from a free-kick to seal the points for the Eagles.
Facts
Young Lions have now conceded in their last 74 SPL outings since September 2019.
Iqbal has scored three goals in his last five outings.
Adli scored his first goal since November 2020 in Tampines' 4-1 win over Albirex.
Delwinder Singh made his first start for Geylang since November 2013 in a 2-2 away draw against DPMM.
Young Lions' Syafi'ie Redzuan and Geylang's Zach Whitehouse made their professional debuts.
Young Lions: Aizil Yazid (GK), Raoul Suhaimi (Aqil Yazid 70'), Jun Kobayashi, Kieran Teo, Ilhan Noor (Ryan Praveen 82'), Jared Gallagher (Syafi'ie Redzuan 82'), Kan Kobayashi, Harhys Stewart (C), Harith Kanadi (Elijah Lim 70'), Fairuz Fazli, Syahadat Masnawi (Ryu Hardy 58').
Unused subs: Rauf Erwan (GK), Umayr Sujuandy (GK).
Geylang: Hafiz Ahmad (GK), Fadli Kamis, Amirul Adli, Akmal Azman (Gareth Low 60'), Delwinder Singh (Nazhiim Harman 80'), Ahmad Syahir, Joshua Pereira (C), Takahiro Tezuka, Vincent Bezecourt, Yushi Yamaya (Zach Whitehouse 90'+4), Iqbal Hussain.
Unused subs: Aniq Yusoff (GK), Faisal Shahril, Izz Anaqi, Sham Syed Mohamed, Syafiq Sani.
Yushi Yamaya in action against Young Lions, 27 May 2023.
Solid Stags lead the pack
DPMM 0-1 Tampines | Jalan Besar | 28 May
Boris Kopitović 54'
An early red card to DPMM's Ángel Martínez meant Tampines dominated most of the proceedings, although they only had one goal to show for with Kopitović latching on to Yasir Hanapi's through ball before netting from close range. Haimie Nyaring pulled off several saves, but could not salvage a point for the Bruneians.
Facts
Tampines have kept clean sheets in their last three outings – they now have the most number of clean sheets with seven, one more than Albirex.
Tampines' Syazwan Buhari also kept his sixth clean shutout – the joint-most this season with Albirex's Hassan Sunny.
Kopitović scored his 10th goal of the season – pulling level at the top of the scoring charts along with Sailors' Maxime Lestienne and Balestier's Ryoya Taniguchi.
DPMM: Haimie Nyaring (GK), Awangku Fakharrazi (Helmi Zambin 57'), Yura Indera Putera, Ángel Martínez, Najib Tarif (Abdul Mu'iz Sisa 78'), Hanif Farhan, Josip Balić, Hanif Hamir, Azwan Ali Rahman (C) (Syafiq Hilmi 88'), Andrei Varankov, Hakeme Yazid (Abdul Azizi Rahman 88')
Unused subs: Akmal Tursunbaev (GK), Azwan Saleh, Eddy Shahrol Izzat, Razimie Ramlli, Nazirrudin Ismail.
Tampines: Syazwan Buhari (GK), Irfan Najeeb, Shuya Yamashita, Miloš Zlatković, Glenn Kweh (Ryaan Sanizal 90'), Kyoga Nakamura, Shah Shahiran (Joel Chew 67'), Saifullah Akbar (Firdaus Kasman 78'), Faris Ramli (Rezza Rezky 78'), Yasir Hanapi (C), Boris Kopitović.
Unused subs: Ridhuan Barudin (GK), Syed Firdaus Hassan, Kegan Phang, Caelan Cheong, Ong Yu En.
Red Card – Ángel Martínez 14' (Brunei DPMM)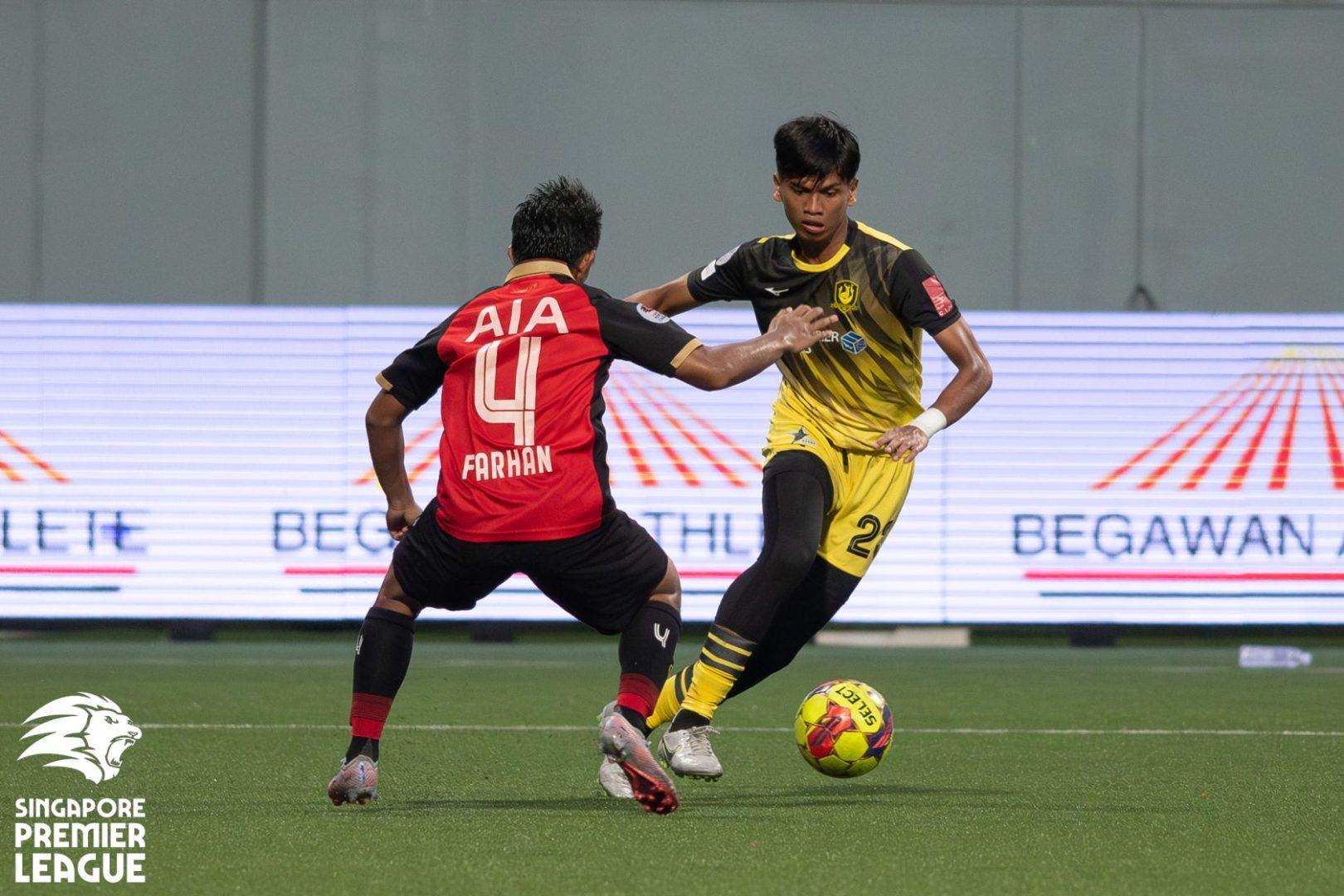 Irfan Najeeb in action against DPMM, 28 May 2023.
Cheetahs well on road to recovery
Tanjong Pagar 1-3 Hougang | Jurong East | 28 May
Khairul Hairie 90'+3 | Kristijan Krajček 8', Amy Recha pen. 29', Gabriel Quak 80'
A Krajček rocket from the edge of the area set Hougang on the way before Amy doubled their lead from the spot after Shakir was adjudged to have handled Nazrul Nazari's shot. Super-sub Quak then came off the bench to finish off a lethal breakaway move, before Tanjong Pagar found a consolation through Hairie's stunner from 20 yards out.
Facts
Hougang beat Tanjong Pagar for the first time in 10 matches in all competitions – their last win over the Jaguars prior to this came in November 2020.
Hougang won two straight league games for the first time since October 2022.
Hougang have now conceded in their last 26 SPL matches since July 2022 – with Zaiful still waiting for his first clean sheet of the season after winning last season's Golden Glove with nine when he was with Geylang.
Quak's last five SPL goals have come as a second-half substitute.
Quak has scored six goals in his last five matches against Tanjong Pagar.
Hairie scored his second career league goal from a similar range as he did for his first in April 2022 during Geylang's 3-2 defeat to Tampines.
Tanjong Pagar: Kenji Rusydi (GK), Raihan Rahman, Shahrin Saberin (Tajeli Salamat 46'), Shakir Hamzah, Pedro Dias (Faizal Roslan 36'), Naqiuddin Eunos (Fathullah Rahmat 46'), Zulfadhmi Suzliman (Azim Akbar 85'), Blake Ricciuto, Mirko Šugić, Akram Azman (Khairul Hairie 85'), Khairul Amri (C).
Unused subs: Fashah Iskandar (GK), Naufal Ilham, Zahil Abdul Rahman, Jeevesh Harikumar.
Hougang: Zaiful Nizam (GK), Anders Aplin, Naoki Kuriyama, Kazuma Takayama, Jordan Vestering, Zulfahmi Arifin (C) (Brian Ferreira 72'), Irwan Shah, Nazrul Nazari (Ajay Robson 85'), Kristijan Krajček, Sahil Suhaimi (Amir Zalani 76'), Amy Recha (Gabriel Quak 72').
Unused subs: Zainol Gulam (GK), Fairoz Hasan, Umar Akhbar, Idraki Adnan, Iryan Fandi.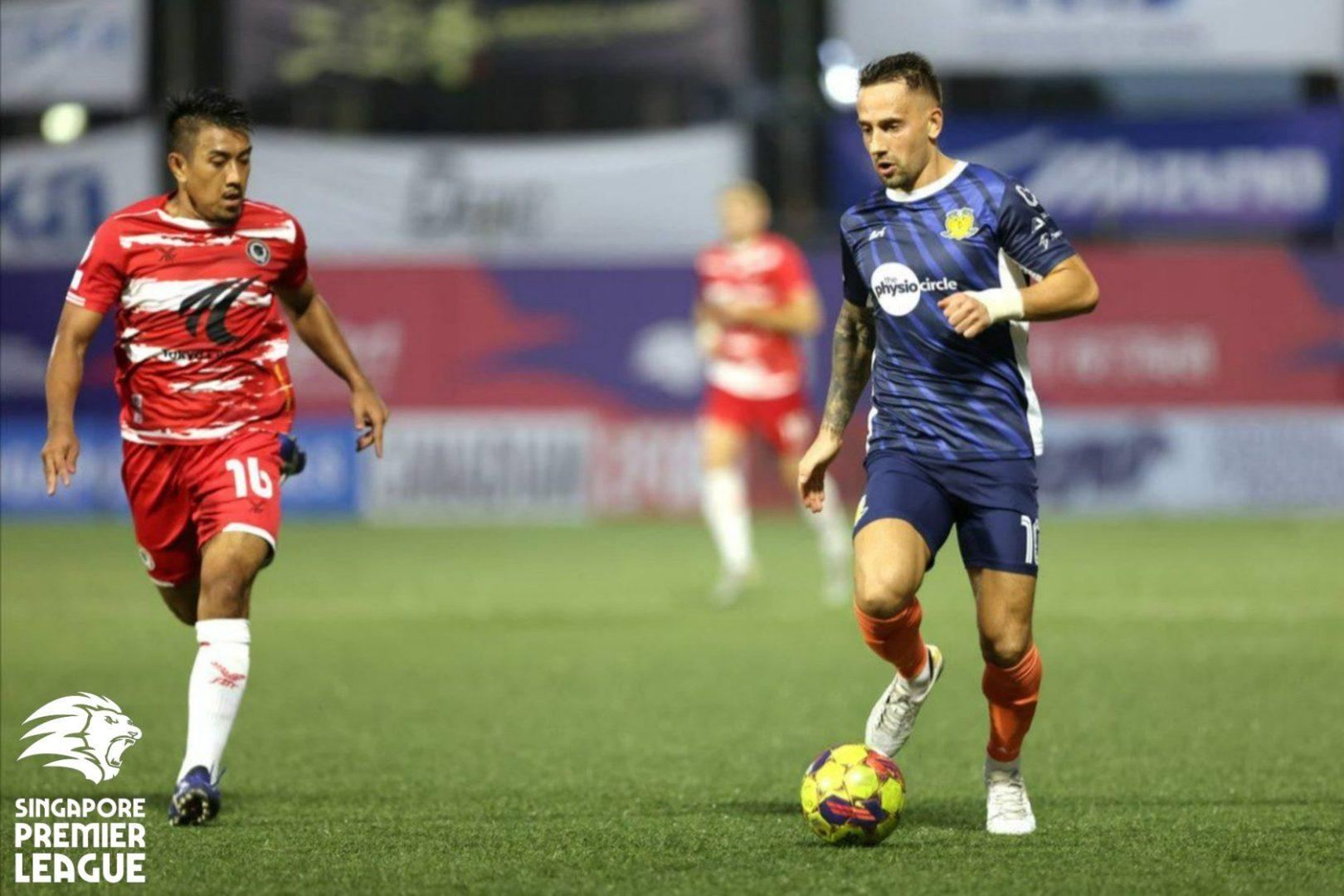 Kristijan Krajček  in action against Tanjong Pagar United, 28 May 2023.