Singapore Premier League • June 5, 2023
2023 Singapore Premier League Matchweek 15: Preview
Geylang International's Yushi Yamaya in action against Albirex Niigata (S), 1 April 2023.
SINGAPORE, 5 June 2023 – The 2023 Singapore Premier League (SPL) continues this Tuesday with four midweek fixtures, starting with a matchup between Albirex Niigata (S) and Geylang International. Elsewhere, Young Lions host Tanjong Pagar United in hopes of securing their second win of the season.
Meanwhile, a resurgent Hougang United squad faces off against Brunei DPMM. The Cheetahs have struck a purple patch and will be eager to continue their good run of form on Sunday. Matchweek 15 ends with a clash between two heavyweights – Lion City Sailors and Tampines Rovers – which could greatly shake up the standings.
ALL LIVE on our YouTube channel and meWATCH!
Eagles face a tough test
Albirex Niigata (S) vs Geylang International | 6 June | 7.45pm | Jurong East Stadium | Singtel Ch 111, StarHub Ch 202
Team news for Geylang International: Huzaifah Aziz is out with an ACL injury.
Facts
Albirex Niigata (S) have the best home record of all nine clubs, scoring 17 times while conceding only three times.
The White Swans have 27 points after 11 games this season, compared to last season when they had 22 points in the same period.
Geylang International have not won at Jurong East Stadium this season. Their latest win at the stadium is a 5-0 win over Tanjong Pagar United in July 2022.
Eagles midfielder Vincent Bezecourt will make his 40th appearance in the SPL if he plays next game.
Albirex Niigata (S) players celebrating a goal against Balestier United, 26 May 2023.
Tanjong Pagar keen to bounce back
Young Lions vs Tanjong Pagar United | 6 June | 7.45pm | Jalan Besar Stadium | Singtel Ch 112, StarHub Ch 201
Team news for Tanjong Pagar United: Pedro Henrique and Tajeli Salamat are out injured.
Facts
Young Lions and Tanjong Pagar United are the two clubs with the least goals this season, scoring 10 and 15 times respectively.
Tanjong Pagar United has only beaten three sides so far this season, one of three being Young Lions.
The Jaguars have 12 points from 12 games this season. Last season, they managed 22 points in their first 12 games.
Last season, it took Young Lions 17 games to secure their second and last win of their 2022 campaign.
Young Lions' Kieran Teo in action against Hougang United, 3 June 2023.
Resurgent Cheetahs on a blistering run
Brunei DPMM vs Hougang United | 7 June | 7.45pm | Jalan Besar Stadium | Singtel Ch 111 , StarHub Ch 201
Team news for Brunei DPMM: New signings Kristijan Naumovski and Farshad Noor look to make their debut in the game.
Facts
All of Brunei DPMM's 11 points have come from games played at Jalan Besar Stadium.
Hougang United has finally earned a clean sheet after conceding at least one goal in their past 26 SPL games dating back to July 2022.
If the Cheetahs beat Brunei DPMM, they will be on a four-match winning streak, something they have never achieved since renaming to Hougang United in 2011.
The Cheetahs have scored nine goals during their current three-match winning streak, compared to just seven goals before this run of form.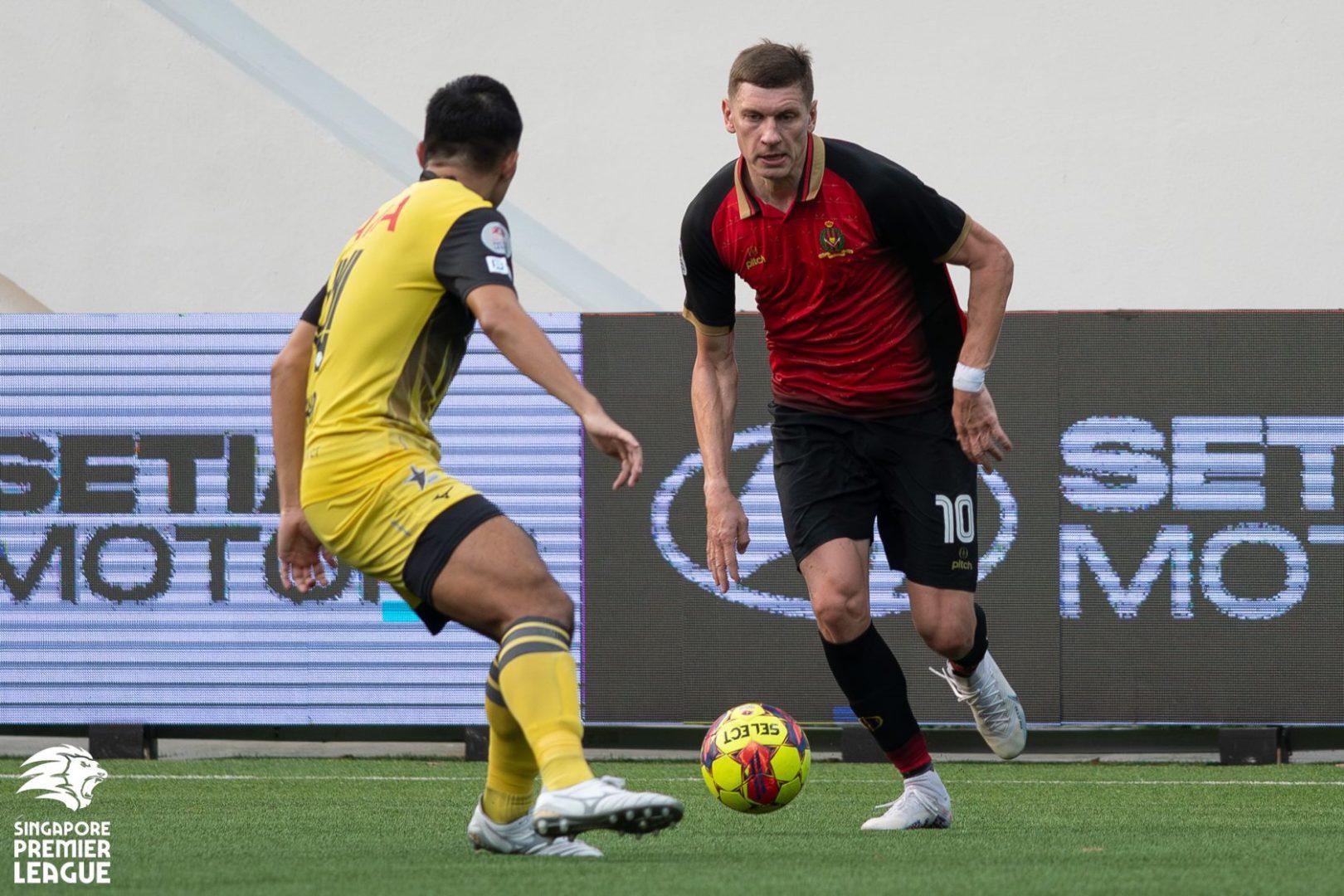 Brunei DPMM's Andrei Varankou in action against Tampines Rovers, 28 May 2023.
Clash of the titans
Lion City Sailors vs Tampines Rovers | 7 June | 7.45pm | Bishan Stadium | Singtel Ch 112 , StarHub Ch 202
Team news for Lion City Sailors: Hami Syahin is suspended. Izwan Mahbud and Anaqi Ismit are out injured.
Facts
Lion City Sailors are the only side with a perfect home record after 14 matchweeks – securing five wins from five home games.
The Sailors have scored 10 more goals than Tampines Rovers with 55 less shots.
Sailors goalkeeper Zharfan Rohaizad will make his 100th appearance in the SPL if he plays this match.
Tampines forward Boris Kopitovic is one of only three players to have cracked double digits in goals, netting 10 times in 12 games.
Lion City Sailors' Maxime Lestienne in action against Balestier United, 1 June 2023.