Singapore Premier League • June 13, 2023
2023 Singapore Premier League Matchweek 16: Roundup
Albirex Niigata (S) players celebrate a goal against Brunei DPMM, 15 April 2023.
SINGAPORE, 13 JUNE 2023 – The three frontrunners in the AIA Singapore Premier League continue to charge ahead with Albirex Niigata (S) defeating Brunei DPMM to remain top, while Tampines Rovers down Hougang United to remain level on points. The Lion City Sailors are still three points off the pace despite sweeping Young Lions aside, while Balestier Khalsa edged Tanjong Pagar United in a thriller to strengthen their hold on fourth spot. We recap all the action below…
Sailors cruise
Sailors 4-1 Young Lions | Bishan | 10 June  
Kan Kobayashi O.G. 18', Shawal Anuar 33', Abdul Rasaq Akeem 40', Maxime Lestienne 53' | Jun Kobayashi 86'

There was no way back for Young Lions after Kan Kobayashi unfortunately netted an own goal while trying to clear as the Sailors opened up a three-goal lead by half time – with Shawal and Rasaq taking advantage of defensive lapses to net from close range. Lestienne then joined the scoresheet with a cool finish in the area, before Young Lions found a late consolation through Jun Kobayashi's opportunistic drive.
Facts
The Sailors remain the only unbeaten side at home this season after seven matches.
The Sailors played without Diego Lopes for the first time this season.
Young Lions have now conceded in each of their last 77 matches since September 2019.
Young Lions have now lost their last five and are winless in their last nine matches.
Shawal has now netted four in his last four matches.
Rasaq has seven goals in 11 appearances this season – he is the current local top scorer in the league.
Lestienne now has a goal involvement (either a goal or an assist) in 13 out of 14 appearances in 2023.
Sailors: Zharfan Rohaizad (GK), Christopher van Huizen (Zulqarnaen Suzliman 85'), Lionel Tan, Hariss Harun (C), Nur Adam Abdullah, M. Anumanthan, Hami Syahin, Shawal Anuar (Arshad Shamim 87'), Maxime Lestienne (Rusyaidi Salime 71'), Adam Swandi (Haiqal Pashia 71'), Abdul Rasaq Akeem (Bernie Ibini-Isei 85').
Unused subs: Rudy Khairullah (GK), Manuel Herrera López, Hafiz Nor, Bill Mamadou.
Young Lions: Aizil Yazid (GK), Aqil Yazid, Jun Kobayashi, Raoul Suhaimi, Jared Gallagher, Elijah Lim (Syafi'ie Redzuan 63'), Kan Kobayashi, Harhys Stewart (C), Fairuz Fazli, Andrew Aw (Ryan Praveen 85'), Syahadat Masnawi (Ryu Hardy 77').
Unused subs: Umayr Sujuandy (GK), Harith Kanadi.
Lion City Sailors' Hariss Harun in action against Tampines Rovers, 7 June 2023.
Stags come through tricky test
Tampines 2-0 Hougang | Our Tampines Hub | 10 June
Boris Kopitović pen. 63', Shuya Yamashita 85'

After the Video Assistant Referee (VAR) overturned a Syazwan Buhari red card, Tampines rode on the momentum after the break with Boris Kopitović dusting himself off after being fell by Ajay Robson to net the opening goal from the spot. The victory was then sealed late on with Yamashita nodding home Joel Chew's corner as the Stags came through a tough test without the suspended duo of Yasir Hanapi and Miloš Zlatković.
Facts
Tampines kept their eight clean sheet of the season – joint-most with Albirex.
Tampines' Syazwan Buhari kept his seventh shutout of 2023, one behind Albirex's Hassan Sunny.
Kopitović has now scored 16 goals in 14 outings against Hougang since joining Tampines in 2020
Yamashita scored just his sixth SPL goal.
Tampines' Matthias Koesno and Anton Goh came on for their professional debuts, while Rezza Rezky made his first start since July 2022 in Young Lions' 4-0 loss to Hougang.
Hougang's Idraki Adnan made just his second SPL appearance since July 2021.
Tampines: Syazwan Buhari (GK) (C), Irfan Najeeb, Shuya Yamashita, Shah Shahiran, Glenn Kweh, Kyoga Nakamura, Joel Chew (Anton Goh 90'+5), Saifullah Akbar, Faris Ramli (Matthias Koesno 90'+5), Rezza Rezky (Syed Firdaus Hassan 46', Ryaan Sanizal 90'), Boris Kopitović.
Unused subs: Ridhuan Barudin (GK), Jovan Ang, Kegan Phang.
Hougang: Zaiful Nizam (GK), Nazrul Nazari, Naoki Kuriyama, Kazuma Takayama (Gabriel Quak 46'), Jordan Vestering, Zulfahmi Arifin (C), Irwan Shah (Amir Zalani 58'), Hazzuwan Halim (Fairoz Hasan 66'), Kristijan Krajček, Sahil Suhaimi (Ajay Robson 58'), Amy Recha (Idraki Adnan 75').
Unused subs: Zainol Gulam (GK), Isaac Jonathan (GK), Umar Akhbar, Iryan Fandi.
Red Card – Fairoz Hasan (Hougang) 90'+2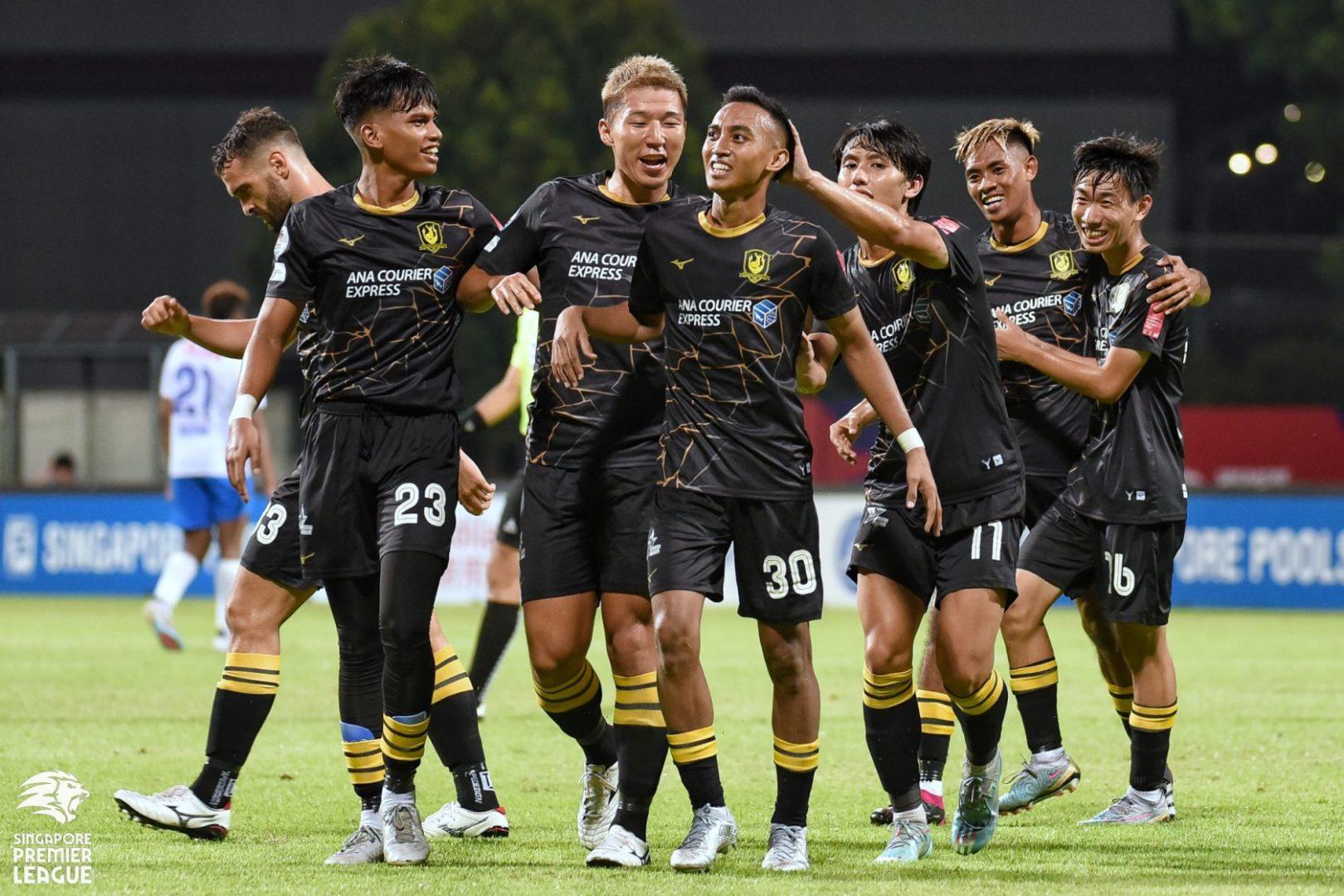 Tampines Rovers players celebrate a goal against Lion City Sailors, 7 June 2023.
White Swans march on
DPMM 0-2 Albirex | Jalan Besar | 11 June
Tadanari Lee 41', Shodai Yokoyama 46'
DPMM made it tough for Albirex, who only took the lead towards the end of the first half with Lee heading in Asahi Yokokawa's deep cross. Kazuaki Yoshinaga's men then doubled the lead after the break, with Yokoyama lashing in a stunner off the underside of the bar. Seia Kunori did miss a late penalty, but it did not matter for the White Swans.
Facts
Albirex have now won 11 out of 13 matches this season.
Albirex's Hassan Sunny kept his eighth clean sheet – a league-leading tally.
DPMM have now lost their last four matches and won just one out of their last nine.
Lee has scored three in his last four matches after starting the season with just one in nine appearances.
DPMM: Kristijan Naumovski (GK), Awangku Fakharrazi (Helmi Zambin 53'), Yura Indera Putera, Ángel Martínez, Najib Tarif, Hanif Farhan (Syafiq Hilmi 82'), Farshad Noor ((Eddy Shahrol Izzat 90'+3), Hanif Hamir, Andrei Varankov (Nazirrudin Ismail 90'+3), Hakeme Yazid, Azwan Ali Rahman (C) (Razimie Ramlli 82').
Unused subs: Haimie Nyaring (GK), Abdul Mu'iz Sisa, Hendra Azam, Abdul Azizi Rahman.
Albirex: Hassan Sunny (GK), Keito Hariya, Shunsaku Kishimoto, Asahi Yokokawa (C), Sho Fuwa, Shodai Yokoyama, Kaisei Ogawa (Ryo Takahashi 89'), Shuto Komaki (Nicky Melvin Singh 80'), Junki Yoshimura (Riku Fukashiro 46'), Tadanari Lee (Keito Komatsu 73'), Seia Kunori.
Unused subs: Kai Yamamoto (GK), Masaya Watanabe, Zamani Zamri, Jarrel Ong, Kenji Austin.
Red Card – Hanif Hamir (DPMM) 88'
Albirex Niigata (S)'s Tadanari Lee in action against Geylang International, 6 June 2023.
Tigers back on winning trail
Balestier 4-3 Tanjong Pagar | Bishan | 11 June
Shuhei Hoshino 31', 54', Ryoya Taniguchi pen. 37', 85' | Marin Mudražija pen. 63', Blake Ricciuto 67', Syukri Bashir 73'

After Hoshino produced a calm finish off Masahiro Sugita's pass, Taniguchi then converted a penalty before Hoshino found a second from unmissable range to put Balestier three goals up. However, Tanjong Pagar were stung in action with Mudražija slotted in from the spot before Ricciuto headed home from Raihan Rahman's corner to reduce the deficit to one. Syukri then spun well in the box to make it 3-3, but the comeback show would eventually end in vain with Taniguchi benefitting from a Kenji Rusydi goalkeeping error to net a late winner.
Facts
The last six matches involving Balestier have resulted in at least five or more goals.
Hoshino scored in four straight SPL games for the first time since doing so for Albirex in July 2018.
Taniguchi is now up to 14 goals for the season – he is now the league's joint-top scorer along with Sailors' Lestienne.
Syukri has now equalled his career-best of two goals, last achieved in 2019 with Young Lions.
Tanjong Pagar's Charlie Patrick Traynor made his professional debut.
Balestier: Hairul Syirhan (GK), Fudhil I'yadh (Iqram Rifqi 72'), Madhu Mohana, Fabian Kwok, Darren Teh, Alen Kozar (Ignatius Ang 80'), Ryoya Taniguchi, Ho Wai Loon (C), Daniel Goh, Masahiro Sugita, Shuhei Hoshino.
Unused subs: Suffian Abdullah (GK), Emmeric Ong, Syukri Noorhaizam, Aidil Johari, Ignatius Ang, Kian Jared Ghaddesy, Gary Sahoo, Irfan Mika'il.
Tanjong Pagar: Kenji Rusydi (GK), Faizal Roslan, Akram Azman, Shakir Hamzah (C), Naqiuddin Eunos (Azim Akbar 81', Khairul Amri 90'+3), Tajeli Salamat (Raihan Rahman 46'), Fathullah Rahmat (Zulfadhmi Suzliman 46'), Blake Ricciuto, Mirko Šugić, Charlie Patrick Traynor (Syukri Bashir 46'), Marin Mudražija.
Unused subs: Fashah Iskandar (GK), Shahrin Saberin, Naufal Ilham, Khairul Hairie.
Red Card – Faizal Roslan (Tanjong Pagar) 82'
Tanjong Pagar's Blake Ricciuto celebrates scoring against Young Lions, 6 June 2023.