Singapore Premier League • July 4, 2023
2023 Singapore Premier League Matchweek 18: Roundup
Young Lions' Harith Kanadi in action against  Albirex Niigata (S), 
25 February 2023.
SINGAPORE, 4 JULY 2023 – Albirex Niigata (S) overpowered Young Lions to stay in charge of the AIA Singapore Premier League title race as they are now four points clear at the top, while Lion City Sailors lifted themselves to second after a thumping win over Tanjong Pagar United. Tampines Rovers slipped to third after being held by Geylang International, while Balestier Khalsa climbed to fourth after defeating Hougang United. We recap all the action below…
White Swans power on
Young Lions 2-4 Albirex | Jalan Besar | 1 July   
Ryu Hardy 64', Jun Kobayashi 90'+5 | Harhys Stewart O.G. 3', Nicky Melvin Singh 32', Keito Komatsu 43', Shodai Yokoyama 89'
After Harhys knocked into his own net early on, Albirex went to net another two to lead 3-0 at the break with Nicky Melvin netting a superb curler just inside the area and Komatsu pouncing on a rebound to score. Ryu pulled one back for Young Lions through a 30-yard piledriver, before Yokoyama all but sealed the win for the away side with a near-post effort. Kobayashi then nodded in what was a late consolation for Young Lions.
Facts
Young Lions have now lost all seven games since returning from the Southeast Asian (SEA) Games in May and have now conceded in each of their last 79 matches since September 2019.
Nicky Melvin's first goal of the season meant Albirex now have 12 different scorers – no club have more.
Komatsu now has seven goals, but it was his first as a starter this season.
Ryu scored his first-ever professional goal.
Albirex's Kenji Austin made his SPL debut.
Farhan Zulkifli made his debut for the Young Lions.
Young Lions: Aizil Yazid (GK), Fairuz Fazli, Jun Kobayashi, Kieran Teo, Raoul Suhaimi, Kan Kobayashi, Harhys Stewart (C), Ryu Hardy, Andrew Aw (Haziq Kamarudin 61'), Syafi'ie Redzuan (Harith Kanadi 71'), Syahadat Masnawi (Farhan Zulkifli 61')
Unused subs: Prathip Ekamparam (GK), Umayr Sujuandy (GK), Ryan Praveen, Keshav Kumar, Aqil Yazid, Loo Kai Sheng.
Albirex: Kai Yamamoto (GK), Shunsaku Kishimoto, Koki Kawachi, Asahi Yokokawa (C), Sho Fuwa, Shodai Yokoyama, Nicky Melvin Singh (Zamani Zamri 69'), Kaisei Ogawa (Tadanari Lee 46'), Shuto Komaki (Kenji Austin 62'), Riku Fukashiro (Hilman Norhisam 46'), Keito Komats (Seia Kunori 46').
Unused subs: Hyrulnizam Juma'at (GK), Ryo Takahashi, Masaya Watanabe, Shakthi Vinayagavijayan.
Albirex Niigata (S)'s Tadanari Lee in action against Tampines Rovers, 27 June 2023.
Sailors start Ranko-lution
Tanjong Pagar 1-7 Sailors | Jurong East | 1 July
Faizal Roslan 30' | Maxime Lestienne 9', Abdul Rasaq Akeem 27', Lionel Tan 63', Diego Lopes pen. 73', 88', Hami Syahin 78', Shawal Anuar 90'+10
Aleksandar Ranković's first game in charge of the Sailors went as smooth as it can go, with Lestienne lashing in a right-footed volley before Abdul Rasaq applied the finishing touch to a flowing move to go two up in the first half-hour. Faizal did pull one back for the Jaguars, but the visitors continued to dominate with Lionel nodding in Adam Swandi's corner before Lopes converted from the spot to go 4-1 up. Hami then connected well with Adam's cross to net an emphatic volley, before Lopes and substitute Shawal added close-range finishes to finish the game with a flourish.
Facts
The Sailors won three successive matches for the first time this season – they are now unbeaten in their last 10 outings.
Lestienne now have 15 goals and assists apiece in 16 matches this season – both league-leading tallies.
Since the start of 2022, Lopes have scored nine goals in six appearances against Tanjong Pagar.
Tan and Hami's goals meant the Sailors now have 10 different scorers – the second-highest in the league, behind Albirex (12).
Sailors' Nur Muhammad Asis made his SPL debut.
Tanjong Pagar: Kenji Rusydi (GK), Naqiuddin Eunos (Naufal Ilham 86'), Shahrin Saberin, Raihan Rahman (Febryan Putra 83'), Faizal Roslan, Akram Azman (Daniel Elfian 83'), Tajeli Salamat, Fathullah Rahmat (C), Mirko Šugić, Khairul Hairie (Zulfadhmi Suzliman 65'), Marin Mudražija (Syukri Bashir 65').
Unused subs: Fashah Iskandar (GK), Azim Akbar, Saiful Azhar, Jeevesh Harikumar.
Sailors: Zharfan Rohaizad (GK), Hafiz Nor (Zulqarnaen Suzliman 75'), Lionel Tan, Hariss Harun (C) (Rusyaidi Salime 85'), Nur Adam Abdullah, M. Anumanthan, Hami Syahin (Nur Muhammad Asis 85'), Adam Swandi (Haiqal Pashia 85'), Maxime Lestienne, Diego Lopes, Abdul Rasaq Akeem (Shawal Anuar 75').
Unused subs: Adib Nur Hakim (GK), Bill Mamadou, Nathan Mao, Kieran Aryan.
Lion City Sailors' Abdul Rasaq celebrates scoring against Hougang United, 25 June 2023.
Cheetahs' struggles continue
Hougang 1-3 Balestier | Jalan Besar | 2 July
Hazzuwan Halim 90'+4 | Ryoya Taniguchi 48', Madhu Mohana 54', Masahiro Sugita 89'
After a tight first half, Taniguchi curled home a free-kick before Madhu rose highest to nod in Ho Wai Loon's inswinging corner for two quick-fire goals. Sugita was then left free in the area to convert a header off Shuhei Hoshino's cross to all but seal Balestier's win, with Hazzuwan then scoring what was a late consolation for the home side.
Facts
After achieving a club-record of four straight victories, Hougang have now lost their last three league matches.
Hazzuwan's goal meant Balestier have now conceded in their last 32 SPL matches.
Eight wins this season meant Balestier have already exceeded their 2022 tally of just seven victories.
Taniguchi netted his 15th goal of the season, pulling level at the top of the scoring charts with Sailors' Lestienne.
Madhu equalled his best-ever scoring season in 2021 when he scored two with Tampines.
Jordan Emaviwe made his first appearance for Balestier since December 2020 in a 5-2 loss to Sailors.
Hougang's Louka Vaissierre-Tan made his first professional start, while Zainol Gulam started for the first time since October 2022.
Hougang: Zainol Gulam (GK), Nazrul Nazari (C), Irwan Shah, Kazuma Takayama, Jordan Vestering, Amir Zalani (Umar Akhbar 57'), Kristijan Krajček, Louka Vaissierre-Tan (Gabriel Quak 46'), Hazzuwan Halim, Amy Recha (Sahil Suhaimi 57'), Djordje Maksimovic.
Unused subs: Keith Chung (GK), Ajay Robson, Rauf Sanizal, Raimi Ishraq, Iryan Fandi, Nasrul Pujiyono.
Balestier: Hairul Syirhan (GK), Darren Teh, Madhu Mohana, Jordan Emaviwe, Iqram Rifqi (Fudhil I'yadh 28'), Alen Kozar, Ryoya Taniguchi, Ho Wai Loon (C), Daniel Goh (Ignatius Ang 79'), Masahiro Sugita, Shuhei Hoshino.
Unused subs: Suffian Abdullah (GK), Syabil Hisham, Emmeric Ong, Syukri Noorhaizam, Kian Jared Ghaddesy, Garv Sahoo, Irfan Mika'il.
Balestier Khalsa players celebrating a goal against Geylang International, 23 June 2023.
Stags drop points again
Geylang 1-1 Tampines | Our Tampines Hub | 2 July
Vincent Bezecourt 17' | Boris Kopitović 16'
Kopitović rose well to nod home Joel Chew's teasing cross to put Tampines ahead in the first half, but a defensive error led to Bezecourt stealing in to net a rasping drive beyond Syazwan Buhari for an instant equaliser. Geylang custodian Hafiz Ahmad then pulled off a number of stunning saves in the second half to preserve a point for his side.
Facts
Tampines have been held to 1-1 draws in three out of their last four outings – on all three occasions, they had scored the opening goal before conceding an equaliser.
Geylang are the only opponents which Tampines have failed to defeat this season, with two 1-1 draws between both sides so far.
Bezecourt was on target in both Eastern Derbies this season and have scored in three straight SPL matches for the first time.
Kopitović has scored in 11 out of 16 matches this season.
Geylang's Arshad Shamim completed 2 successive matches for the first time since July 2022 when he was with Young Lions.
Geylang: Hafiz Ahmad (GK), Azri Suhaili (Shahfiq Ghani 46'), Akmal Azman, Rio Sakuma, Ahmad Syahir, Joshua Pereira (C), Takahiro Tezuka, Vincent Bezecourt (Naufal Azman 29', Faisal Shahril 90'+2), Yushi Yamaya, Arshad Shamim, Iqbal Hussain (Danish Irfan 63').
Unused subs: Rudy Khairullah (GK), Nazhiim Harman, Nizwan Izzairie, Josh Tan, Ikhsanuddin Sharil.
Tampines: Syazwan Buhari (GK) (C), Irfan Najeeb, Shuya Yamashita, Shah Shahiran, Glenn Kweh, Kyoga Nakamura, Joel Chew (Syed Firdaus Hassan 80'), Saifullah Akbar (Miloš Zlatković 62'), Faris Ramli, Taufik Suparno (Rezza Rezky 73'), Boris Kopitović.
Unused subs: Ridhuan Barudin (GK), Firdaus Kasman, Kegan Phang, Caelan Chong, Adam Reefdy, Ryaan Sanizal.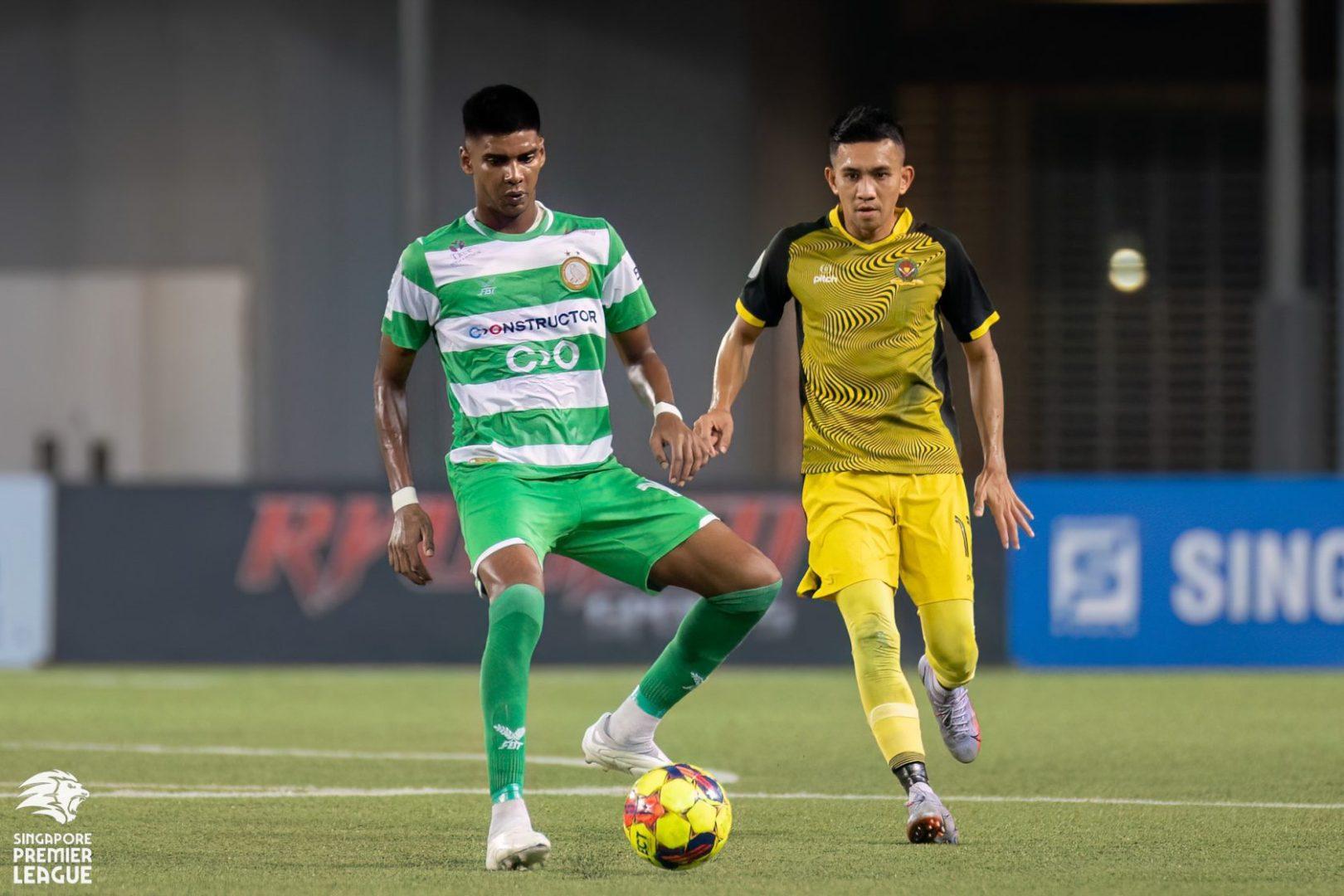 Geylang International's Mohamed Iqbal in action against Brunei DPMM, 28 June 2023.