Singapore Premier League • August 2, 2023
2023 Singapore Premier League Matchweek 24: Preview
Lion City Sailors players battling for the ball against Tampines Rovers' players, 31 March 2023.
SINGAPORE, 2 August 2023 – Albirex Niigata (S) and Geylang International face off in the opening fixture of Matchweek 24, with the Eagles looking to continue their good run of form and pull off an upset on Thursday to take fourth place. Friday brings us two games, starting off with a battle between Hougang United and Brunei DPMM. Elsewhere, Tampines Rovers play against Lion City Sailors in a fight for second place.
Matchweek 24 ends off with a clash between Tanjong Pagar United and Young Lions, who languish in the bottom two places of the standings. The Jaguars will have more to play for with a chance to go higher in the standings but Young Lions will still be playing for pride and aim for a better result come Saturday.
ALL LIVE on our YouTube channel and meWATCH!
White Swans close in on title
Geylang International vs Albirex Niigata (S) | 3 Aug | 7.45pm | Our Tampines Hub | Singtel Ch 111, StarHub Ch 202
Team news for Geylang International: Huzaifah Aziz and Vincent Bezecourt are out due to ACL injuries. 
Facts
Albirex Niigata (S) have scored six goals four times this season, including a 6-1 victory against Geylang International on Matchweek 6.
Albirex Niigata (S) are the club Geylang International has conceded the most goals to this season – nine goals in two games.
The Eagles have to win three out of their four remaining games to match last year's point tally of 39 points.
The Eagles have won three out of four matches where they received a red card this season.
Geylang International's Mohamed Iqbal in action against Brunei DPMM, 28 July 2023.
Cheetahs on a goalscoring tear
Hougang United vs Brunei DPMM | 4 Aug | 7.45pm | Jalan Besar Stadium | Singtel Ch 112, StarHub Ch 204
 Facts
Brunei DPMM forward Hakeme Yazid Said has scored in three consecutive matches for the first time this season.
If Brunei DPMM lose on Friday, they can only finish seventh or lower this season.
Hougang United have scored more than a third of their goals on their current three-match winning streak – 11 out of 31 goals.
Hougang United have failed to score in seven out of their 20 games, the second greatest number of games without goals among the nine clubs.
Hougang United's Irwan Shah in action against Young Lions, 29 July 2023.
Fight for second
Tampines Rovers vs Lion City Sailors | 4 Aug | 7.45pm | Our Tampines Hub | Singtel Ch 111, StarHub Ch 202
Team news for Tampines Rovers: Boris Kopitovic returns to the matchday squad.
Facts
Tampines Rovers have won one and drawn one when they faced Lion City Sailors this season.
The Stags have recorded consecutive losses for the first time this season after losing to Albirex Niigata (S) 3-6 last matchweek.
Lion City Sailors have the best shot conversion rate of 19.3% and are averaging three goals per match.
Sailors left-back Chrisotpher van Huizen has matched his four goal contributions last season – when he played for Tampines Rovers – in six fewer games.
Lion City Sailors' Christopher Van Huizen in action against Balestier Khalsa, 31 July 2023.
Last place for Young Lions
Tanjong Pagar United vs Young Lions | 5 Aug | 6.00pm | Jurong East Stadium | Singtel Ch 111, StarHub Ch 202
Team news for Tanjong Pagar United:  Tajeli Salamat is suspended while Shakir Hamzah and Blake Ricciuto are doubtful due to injuries.
Facts
A win for Young Lions will see them match the 8 points they managed last season.
Young Lions captain and midfielder Harhys Stewart is now the club's top scorer after scoring last matchweek, netting thrice in 18 games.
Nearly half of the Tanjong Pagar United's points have been secured from games at Jurong East Stadium, including a 2-1 win against Young Lions on Matchweek 6.
Jaguars centre-back Shakir Hamzah has scored a goal in both meetings with Young Lions this season, including a long-range match-winner on Matchweek 15.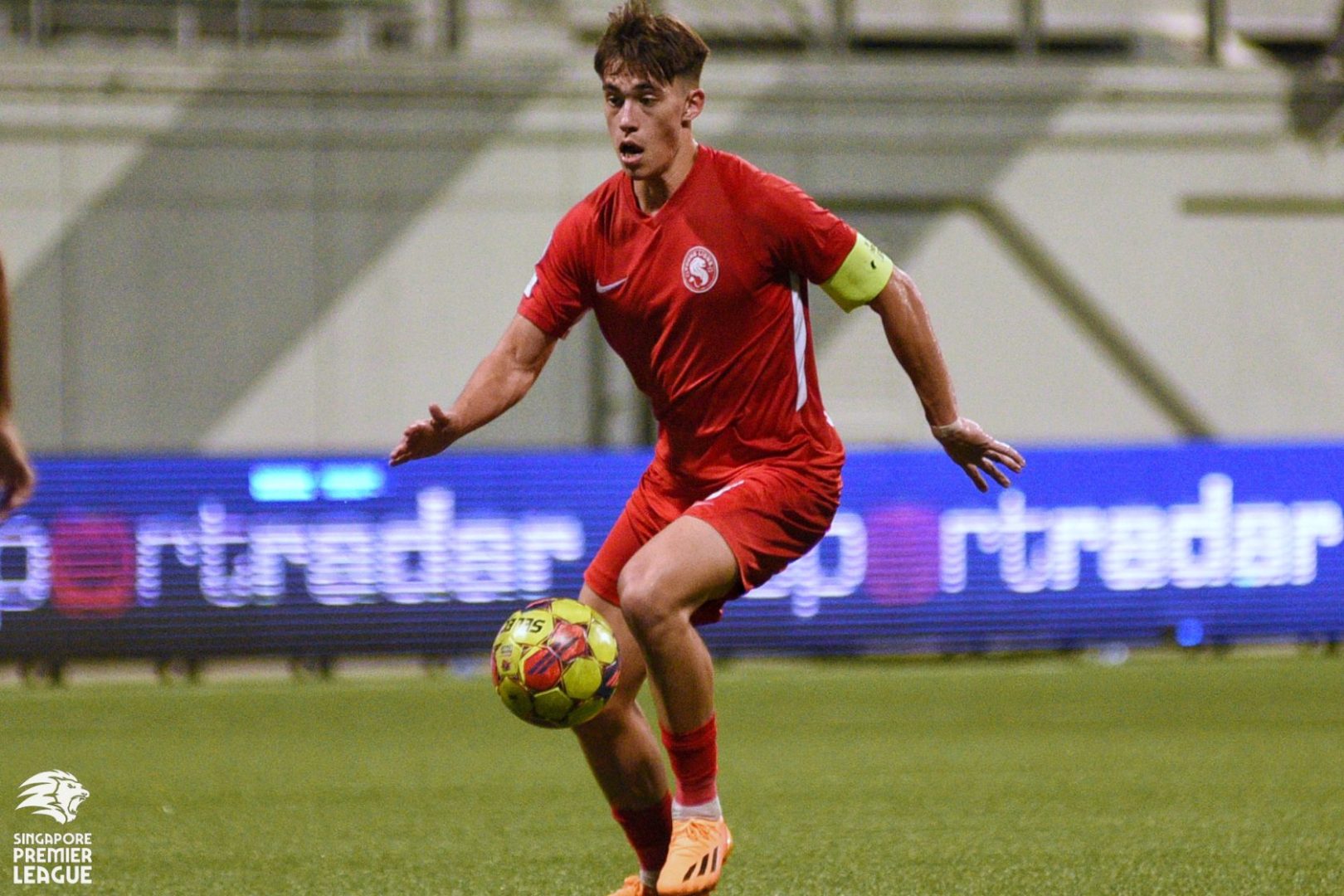 Young Lions' Haryhys Stewart in action against Hougang United, 29 July 2023.