Singapore Premier League • August 15, 2023
2023 Singapore Premier League Matchweek 25: Roundup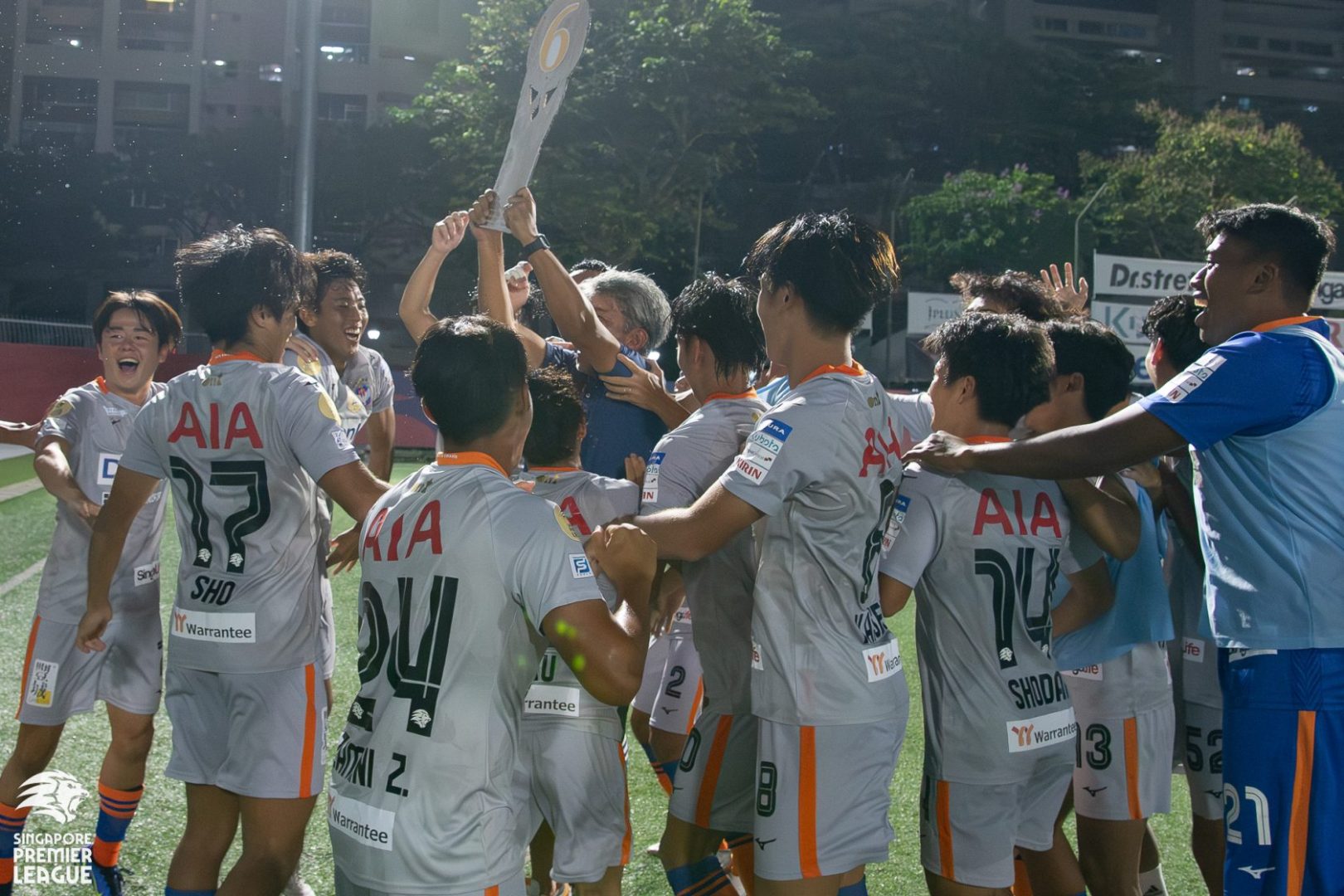 Albirex Niigata (S)'s team celebrating winning the league title after their match against Tanjong Pagar United, 11 August 2023.
SINGAPORE, 15 AUGUST 2023 – The top three positions for the 2023 AIA Singapore Premier League (SPL) season have been confirmed as Albirex Niigata (S) edged Tanjong Pagar United to seal their sixth title, while Lion City Sailors emphatically dispatched Hougang United to secure second while Tampines Rovers will finish the season in third. Elsewhere, Balestier Khalsa blew Geylang International away to put themselves in a strong position to finish fourth while Brunei DPMM climbed up a spot to seventh after defeating Young Lions. We recap all the action here…
White Swans the deserved champions
Tanjong Pagar 2-3 Albirex | Jurong East | 11 August   
Marin Mudražija 68', 82′ | Shuto Komaki 17', Tadanari Lee 52', Riku Fukashiro 76′
Komaki lashed home a piledriver from the edge of the box before Lee nodded in Asahi Yokokawa's cross to double Albirex's lead, but Tanjong Pagar halved the deficit through Mudražija, who diverted home Tajeli Salamat's free-kick. The White Swans then made it 3-1 with substitute Fukashira popping up at the back post to knock in Shodai Yokoyama's cross, before the Jaguars found a late consolation through Mudražija who netted a fine finish off Mirko Šugić's pass to complete his double.
Facts
This is Albirex's sixth league title in the last eight seasons – they overtook Tampines to go second behind Warriors FC (nine) in title wins.
Kazuaki Yoshinaga has now won the title in each of the four seasons that he has managed Albirex in the SPL – four league triumphs put him joint-most with former Warriors coach Richard Bok.
Hassan Sunny is the first and only player to have won the league four times with four different clubs – Tampines (2011), Warriors FC (2014), Sailors (2021) and Albirex (2023).
Albirex are unbeaten in their last 12 league games.
Fukashiro's goal made Albirex have 16 goals scored by substitutes this season – no club have more.
Tanjong Pagar: Fashah Iskandar (GK), Syed Akmal (Blake Ricciuto 66'), Azim Akbar (Shakir Hamzah 57'), Pedro Dias, Shahrin Saberin, Akram Azman (C) (Zulfadhmi Suzliman 81'), Mirko Šugić, Naqiuddin Eunos (Tajeli Salamat 57'), Faizal Roslan, Syukri Bashir (Khairul Amri 57'), Marin Mudražija.
Unused subs: Kenji Rusydi (GK), Khairul Hairie, Raihan Rahman.
Albirex: Hassan Sunny (GK), Sho Fuwa, Shunsaku Kishimoto, Koki Kawachi, Asahi Yokokawa (C), Kaisei Ogawa (Keito Hariya 90'+3), Shodai Yokoyama, Junki Yoshimura (Riku Fukashiro 46'), Shuto Komaki (Ryo Takahashi 75'), Seia Kunori, Tadanari Lee (Keito Komatsu 61').
Unused subs: Hyrulnizam Juma'at (GK), Masaya Watanabe, Zamani Zamri, Shakthi Vinayagavijayan, Hilman Norhisam.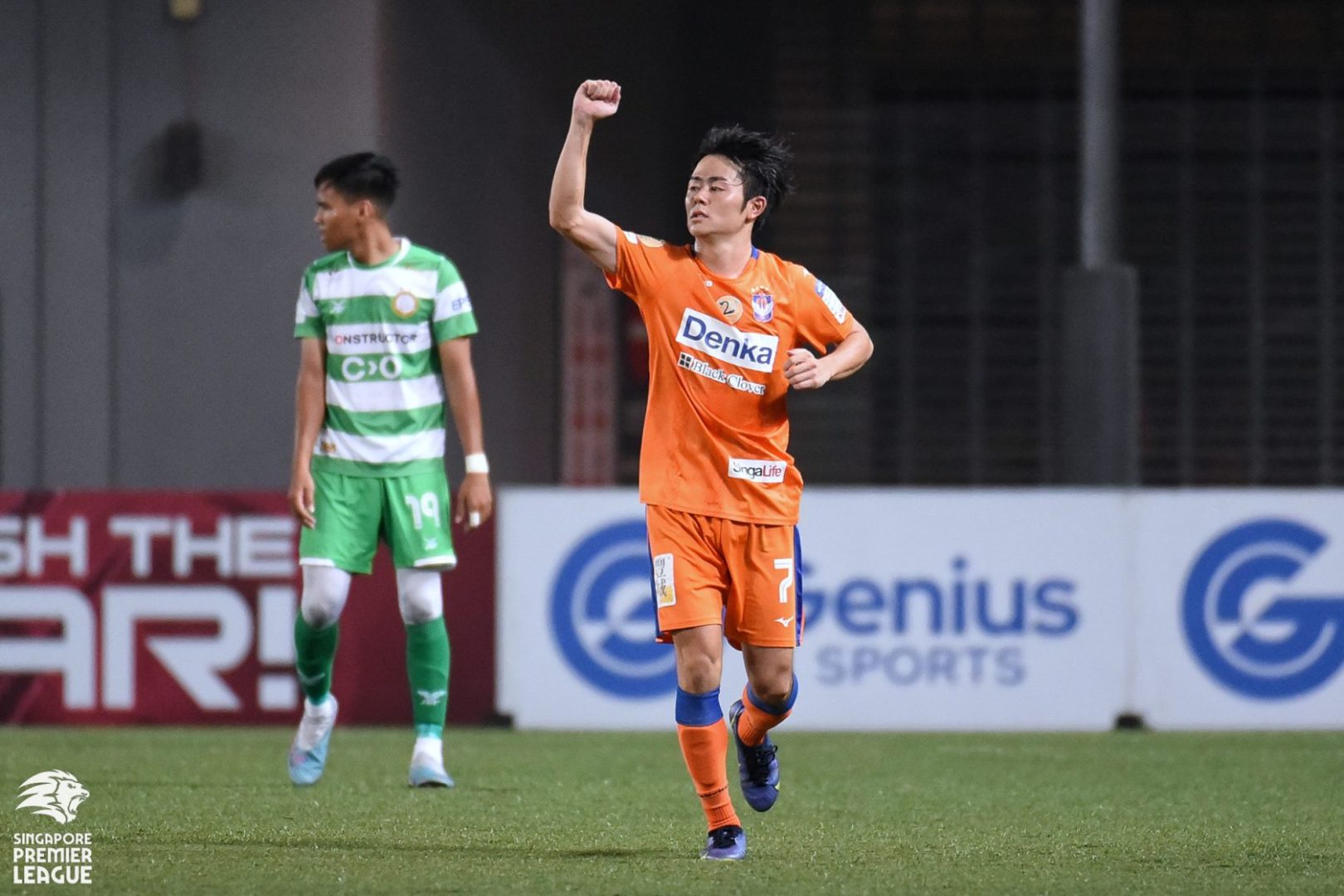 Albirex Niigata (S)'s Shuto Komaki in action against Geylang International, 3 August 2023.
DPMM rediscover winning feeling
Young Lions 0-2 DPMM | Jalan Besar | 12 August  
Nazirrudin Ismail 68′, 90+4′
Young Lions were made to rue their missed opportunities in this one as DPMM broke the deadlock midway through the second half, with Nazirrudin producing an acrobatic overhead kick before completing his double deep into injury time with a clever lob over Aizil Yazid.
Facts
DPMM kept just their third clean sheet of the season – two of those came against Young Lions.
Young Lions have now lost 14 straight matches and conceded in 86 straight SPL outings.
Nazirrudin Ismail scored his first-ever SPL goals.
Young Lions: Aizil Yazid (GK), Fairuz Fazli (Harith Kanadi 88'), Jun Kobayashi, Kieran Teo, Aqil Yazid, Jared Gallagher, Harhys Stewart (C), Iman Hakim (Syafi'ie Redzuan 65'), Ilhan Noor, Zikos Chua (Syahadat Masnawi 78'), Amiruldin Asraf (Haziq Kamarudin 88').
Unused subs: Umayr Sujuandy (GK), Ryan Praveen, Ikram Mikhail, Loo Kai Sheng, Sahffee Jubpre.
DPMM: Kristijan Naumovski (GK), Awangku Fakharrazi (Azwan Saleh 90'+1), Abdul Mu'iz Sisa (Hirzi Zulfaqar 74'), Hanif Hamir, Helmi Zambin, Najib Tarif, Hendra Azam (Razimie Ramlli 65'), Hanif Farhan, Naziruddin Ismail, Azwan Ali Rahman (C), Hakeme Yazid.
Unused subs: Haimie Nyaring (GK), Wardun Yussof (GK).
Brunei DPMM's Hakeme Yazid in action against Hougang United, 4 August 2023.
Tigers favourites for fourth
Geylang 2-6 Balestier | Our Tampines Hub | 12 August
Iqbal Hussain 22′, 68′ | Daniel Goh 4′, Shuhei Hoshino 29′, Joshua Pereira O.G. 45+2′, Syukri Noorhaizam 75′, Masahiro Sugita 82′, Ryoya Taniguchi 84′
A brilliant game started off with Goh lashing home an unerring shot to put Balestier ahead, before Iqbal rifled in a lethal shot to level it for Geylang. However, Hoshino powered a long-range drive past Hafiz Ahmad before Pereira unfortunately put through his own net while trying to clear as the Tigers went 3-1 up at the break. Iqbal did pull one back for Geylang through a fine individual effort, but two red cards sandwiching the goal would hurt their cause. Hoshino came to the fore, as he first teed up Syukri before repeating the trick for Sugita and Taniguchi as three late goals added to the gloss of the victory.
Facts
Geylang conceded 12 in their last two outings.
Hoshino scored one goal and collected three assists in this one.
Iqbal's brace meant this is already his best-ever scoring season with six goals.
Syukri scored his first-ever professional goal.
Balestier's Garv Sahoo made his SPL debut.
Geylang: Hafiz Ahmad (GK), Akmal Azman (Fadli Kamis 46'), Rio Sakuma, Amirul Adli, Joshua Pereira (C), Ahmad Syahir (Shahfiq Ghani 76'), Gareth Low (Shahfiq Ghani 46'), Takahiro Tezuka, Arshad Shamim (Naufal Azman 46'), Yushi Yamaya, Iqbal Hussain.
Unused subs: Rudy Khairullah (GK), Faisal Shahril, Nazhiim Harman, Danish Irfan, Izz Anaqi, Christos Chua.
Balestier: Hairul Syirhan (GK), Fudhil I'yadh, Alen Kozar (Emmeric Ong 74'), Jordan Emaviwe, Darren Teh, Ho Wai Loon (C) (Garv Sahoo 85'), Ryoya Taniguchi, Daniel Goh, Masahiro Sugita, Ignatius Ang (Syukri Noorhaizam 69'), Shuhei Hoshino.
Unused subs: Wayne Chew (GK), Syazwani Hashari (GK), Syabil Hisham, Amer Hakeem, Aidil Johari, Irfan Mika'il.
Red Cards – Ahmad Syahir 63', Naufal Azman 73' (both Geylang)
Balestier Khalsa's players celebrating a goal against Lion City Sailors, 31 July 2023.
Sailors cruise to second
Hougang 2-8 Sailors |Jalan Besar | 13 August
Richairo Živković O.G. 27', Gabriel Quak 68' | Diego Lopes 11', Abdul Rasaq Akeem 24', Richairo Živković 47′, 74', Christopher van Huizen 61', Maxime Lestienne 78', 83', Haiqal Pashia 90'+2
Lopes nodded home Nur Adam Abdullah's cross before turning provider for Rasaq to curl one past Zaiful Nizam as the Sailors led 2-0 early on, before Hougang pulled one back with Živković netting an unfortunate own goal. Živković then scored at the right end, before Van Huizen applied the finishing touch to a fine team move to make it 4-1 but Hougang did pull another one back with Sailors old boy Quak lashing a stunner past Zharfan Rohaizad. However, the Sailors would romp to victory with another four goals – Lestienne teed up Živković for his second and went on to convert a clinical double, before substitute Pashia rounded off the victory in injury time.
Facts
The Sailors have won their last four matches – scoring a total of 18 goals in their last three.
Van Huizen's and Pashia's goals meant the Sailors now have 14 different scorers this season, joint-second most in the league along with Albirex and one behind Young Lions (15).
Rasaq is now the top local scorer with 10 goals – this is the first time in his career that he has struck double digits in a season.
Živković has now scored six goals in six SPL appearances – already one more than his entire 2022/23 campaign with FC Emmen in the Dutch Eredivisie.
Lestienne scored two goals and collected three assists in this one – he has now scored and assisted in the same game for the eighth time this season, a league-leading tally.
Shahdan Sulaiman came off the bench for his Hougang debut – this is his first SPL appearance since October 2022.
Hougang: Zaiful Nizam (GK), Nazrul Nazari, Anders Aplin, Naoki Kuriyama, Kazuma Takayama, Zulfahmi Arifin (C), Irwan Shah (Shahdan Sulaiman 78'), Louka Vaissierre-Tan (Gabriel Quak 62'), Kristijan Krajček, Sahil Suhaimi (Hazzuwan Halim 62'), Đorđe Maksimović.
Unused subs: Zainol Gulam (GK), Jordan Vestering, Amy Recha, Ajay Robson, Idraki Adnan, Amir Zalani.
Sailors: Zharfan Rohaizad (GK), Christopher van Huizen (Hafiz Nor 82'), Lionel Tan, Bailey Wright, Nur Adam Abdullah (Zulqarnaen Suzliman 46'), M. Anumanthan (Hami Syahin 82'), Hariss Harun (C), Diego Lopes (Haiqal Pashia 84'), Maxime Lestienne, Richairo Živković, Abdul Rasaq Akeem (Adam Swandi 69').
Unused subs: Izwan Mahbud (GK), Adib Nur Hakim (GK), Rusyaidi Salime, Bill Mamadou.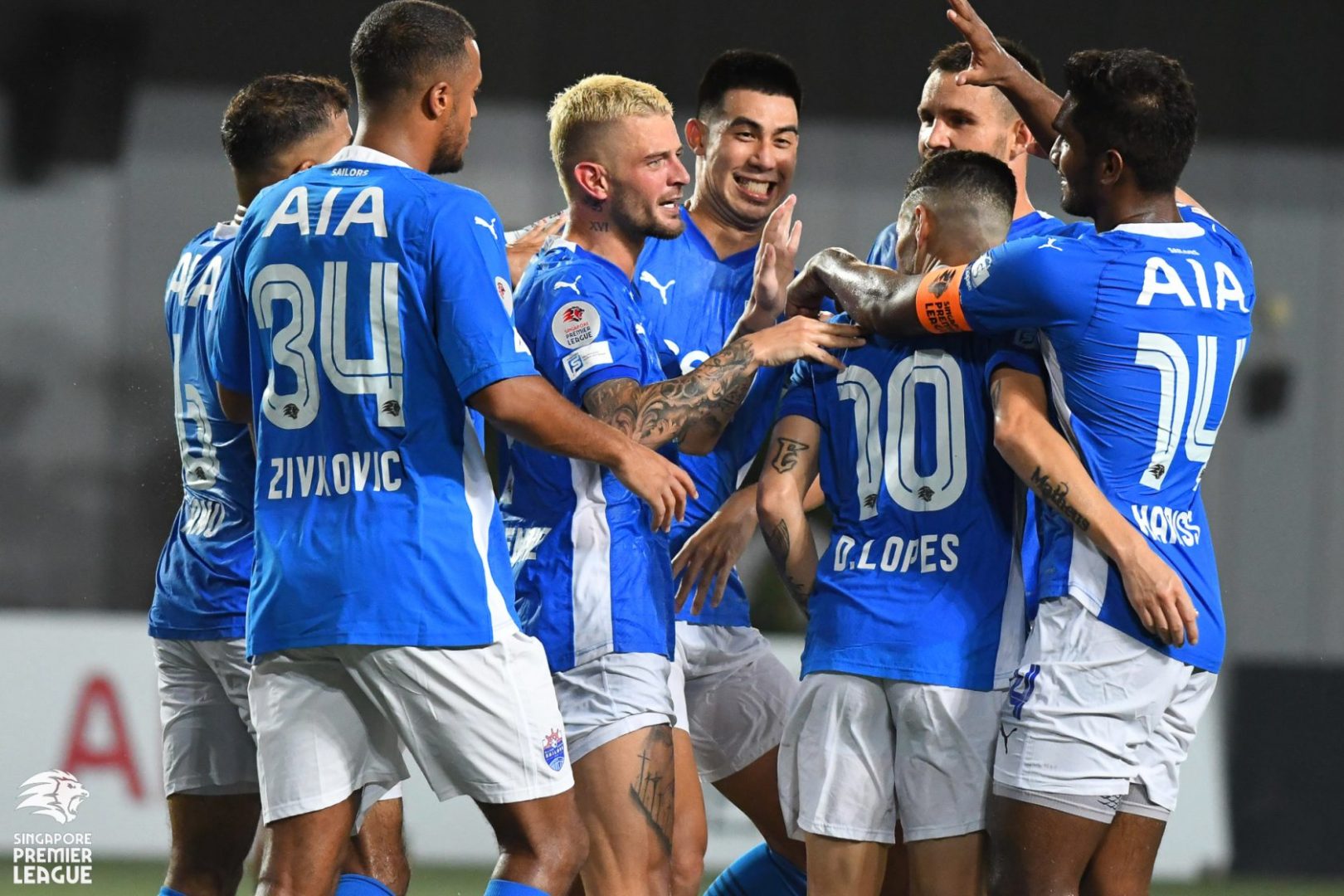 Lion City Sailors' players celebrating a goal against Tampines Rovers, 4 August 2023.