Singapore Premier League • August 21, 2023
2023 Singapore Premier League Matchweek 26: Roundup
Albirex Niigata (S)'s players celebrating a goal against Balestier Khalsa, 20 August 2023.
SINGAPORE, 21 AUGUST 2023 – Albirex Niigata (S) continued their relentless ways despite already being confirmed as champions as they swept Balestier Khalsa aside for a sixth straight victory. The Tigers' defeat coupled with Geylang International's easy win over Young Lions meant the race for fourth place between both sides will go down to the final Matchweek. Elsewhere, Tampines Rovers' struggles continued as they were held by Brunei DPMM, while Hougang United and Tanjong Pagar played out a thrilling draw. We recap all the action here…
Stags continue to flounder
Tampines 2-2 DPMM | Our Tampines Hub | 18 August   
Boris Kopitović 19′, Saifullah Akbar 71′ | Farshad Noor 56′, Nazirrudin Ismail 74′
Tampines led twice in this – Faris Ramli teed up Kopitović for a wonderful lobbed finish to put Tampines ahead, but DPMM pulled level with Farshad popping into the area to divert home Hakeme Yazid's free-kick. The Stags then went 2-1 ahead with Faris picking out Saifullah to head home, but the visitors grabbed a share of the spoils with Nazirrudin lashing home a grasscutter from the edge of the area.
Facts
Tampines have failed to win their last four matches – their worst run of form in a season since 2021.
Saifullah scored his first SPL goal since August 2022 when he netted in Sailors' 4-0 win over Balestier – that was also his first SPL goal for Tampines after previously scoring for the Stags in the 2016 League Cup and Singapore Cup campaigns.
Nazirrudin netted in successive league games for the first time in his career.
Tampines: Syazwan Buhari (GK), Irfan Najeeb, Shuya Yamashita, Miloš Zlatković, Glenn Kweh, Shah Shahiran, Joel Chew (Saifullah Akbar 66'), Kyoga Nakamura, Yasir Hanapi (C), Faris Ramli, Boris Kopitović.
Unused subs: Ridhuan Barudin (GK), Syed Firdaus Hassan, Rezza Rezky, Firdaus Kasman, Taras Goh, Kegan Phang, Caelan Cheong, Adam Reefdy.
DPMM: Haimie Nyaring (GK), Hirzi Zulfaqar (Awangku Fakharrazi 70'), Yura Indera Putera, Hanif Hamir, Abdul Mu'iz Sisa (Helmi Zambin 70'), Azwan Saleh (C) (Hendra Azam 84'), Hanif Farhan, Farshad Noor, Naziruddin Ismail (Abdul Azizi Rahman 84'), Hakeme Yazid, Razimie Ramlli.
Unused subs: Wardun Yussof (GK), Najib Tarif.
Brunei DPMM's Hakeme Yazid in action against Young Lions, 12 August 2023.
Eagles not giving up on top four
Geylang 3-0 Young Lions | Our Tampines Hub | 19 August  
Joshua Pereira 40′, 72′, Gareth Low 58'
Geylang cruised in this one, with Pereira heading home Takahiro Tezuka's corner before Low's firm low shot crept in to make it 2-0 despite Aizil Yazid's best attentions in the Young Lions goal. Pereira then capitalised on some uncertain defending by the away side to lash home a volley and seal an easy victory.
Facts
Young Lions have now lost 15 straight matches and conceded in 87 straight SPL outings.
Five points is Young Lions' poorest-ever points tally in a season since entering the league in 2003 – their previous lowest points record was six in 2017.
Pereira netted his first-ever career brace – this is the first time he has scored more than once in a season since he made his league debut in 2016.
That was only Geylang's fourth clean sheet of the season – two of those came against Young Lions.
Geylang's Rudy Khairullah kept his first clean sheet since April 2022.
Young Lions' Sahffee Jubpre made his first SPL appearance since April 2021.
Geylang's Christos Chua and Syady Sufwan made their SPL debuts.
Geylang: Rudy Khairullah (GK), Akmal Azman (Fadli Kamis 80'), Rio Sakuma, Amirul Adli, Joshua Pereira (C), Shahfiq Ghani (Christos Chua 88'), Gareth Low (Syady Sufwan 80'), Takahiro Tezuka, Arshad Shamim (Danish Irfan 88'), Yushi Yamaya, Iqbal Hussain (Zach Whitehouse 88').
Unused subs: Hafiz Ahmad (GK), Faisal Shahril, Nazhiim Harman, Izz Anaqi.
Young Lions: Aizil Yazid (GK), Aqil Yazid, Jun Kobayashi, Kieran Teo, Ilhan Noor (Danish Haqimi 86'), Jared Gallagher (Ikram Mikhail 77'), Harhys Stewart (C), Elijah Lim (Syafi'ie Redzuan 77'), Haziq Kamarudin (Sahffee Jubpre 82'), Zikos Chua (Amiruldin Asraf 82'), Syahadat Masnawi.
Unused subs: Prathip Ekamparam (GK), Umayr Sujuandy (GK), Loo Kai Sheng.
Geylang International's Amirul Adli in action against Balestier Khalsa, 12 August 2023.
Cheetahs confirmed for sixth spot
Hougang 3-3 Tanjong Pagar | Jalan Besar | 19 August
Kristijan Krajček pen. 30′, Amy Recha 31′, Nazrul Nazari 45'+6 | Syukri Bashir 42′, Khairul Amri 68', Faizal Roslan 90'+3
A six-goal thriller began with Hougang going two goals up with Krajček converting a penalty before Amy clinically finished off Đorđe Maksimović's cutback. Tanjong Pagar did pull one back through Syukri's header off Mirko Šugić's cross, but Hougang restored their two-goal advantage with Nazrul curling home a neat effort. Nonetheless, the Jaguars rallied in the second half with Amri capitalising on Zulfahmi Arifin's loose pass to lash one in from the edge of the box before Faizal popped up in the box deep into injury time to rescue an unlikely point for the Jaguars.
Facts
Finishing in sixth place is Hougang's poorest showing in the SPL since 2020 when they finished in a similar position.
Two goals in 2023 meant Nazrul has now equalled his best-ever scoring seasons in 2017 and 2019.
Three goals in 2023 meant this is already Faizal's best-ever scoring season in his career.
Hougang: Zaiful Nizam (GK), Anders Aplin, Naoki Kuriyama, Kazuma Takayama, Jordan Vestering, Zulfahmi Arifin (C), Irwan Shah, Nazrul Nazari (Gabriel Quak 72'), Kristijan Krajček, Amy Recha (Shahdan Sulaiman 80'), Đorđe Maksimović.
Unused subs: Zainol Gulam (GK), Hazzuwan Halim, Ajay Robson, Amir Zalani, Rauf Sanizal, Louka Vaissierre-Tan, Iryan Fandi.
Tanjong Pagar: Kenji Rusydi (GK), Syed Akmal (Shakir Hamzah 58'), Faizal Roslan, Pedro Dias, Shahrin Saberin, Akram Azman (C), Mirko Šugić, Tajeli Salamat (Naqiuddin Eunos 46'), Khairul Hairie (Azim Akbar 46'), Syukri Bashir (Khairul Amri 58'), Marin Mudražija (Zulfadhmi Suzliman 80').
Unused subs: Fashah Iskandar (GK), Raihan Rahman.
Hougang United's players celebrating a goal against Lion City Sailors, 13 August 2023.
Champions show usual class
Balestier 1-5 Albirex | Bishan | 20 August
Jordan Emaviwe 16' | Seia Kunori 5′, Tadanari Lee 44′, Shuto Komaki 52′, Asahi Yokokawa 70′, Keito Komatsu 76′

Balestier had tried their best to stay in this one with Emaviwe lashing home a sizzling volley off Masahiro Sugita's knock-on to cancel out Kunori's headed opener. However, Lee's delicate chip over Hairul Syirhan put Albirex 2-1 ahead just before half time before Komaki and Yokokawa added neat finishes after the break to kill off any hopes of a Tigers comeback. Super-sub Komatsu then rounded Hairul before slotting in an empty net to round off an emphatic victory.
Facts
Albirex is the first team go past the 80-goal mark this season – they are now on 81 goals after 23 matches.
Komatsu's goal meant Albirex have 17 goals scored by a substitute this season – no club has more.
Jordan scored his first-ever goal for Balestier and he has already matched his 2022 career-best of four goals.
Balestier's Irfan Mika'il made his SPL debut.
Balestier: Hairul Syirhan (GK), Fudhil I'yadh (Irfan Mika'il 84'), Emmeric Ong, Jordan Emaviwe, Darren Teh, Ho Wai Loon (C), Ryoya Taniguchi, Daniel Goh (Kian Jared Ghadessy 80'), Masahiro Sugita, Ignatius Ang (Syukri Noorhaizam 80'), Shuhei Hoshino.
Unused subs: Wayne Chew (GK), Suffian Abdullah (GK), Fabian Kwok, Amer Hakeem, Lewis Lee, Aidil Johari.
Albirex: Hassan Sunny (GK), Sho Fuwa, Shunsaku Kishimoto, Koki Kawachi, Asahi Yokokawa (C), Kaisei Ogawa, Shodai Yokoyama (Hilman Norhisam 89'), Junki Yoshimura (Ryo Takahashi 46'), Shuto Komaki (Riku Fukashiro 58'), Seia Kunori (Shakthi Vinayagavijayan 82'), Tadanari Lee (Keito Komatsu 58').
Unused subs: Hyrulnizam Juma'at (GK), Keito Hariya, Masaya Watanabe, Zamani Zamri.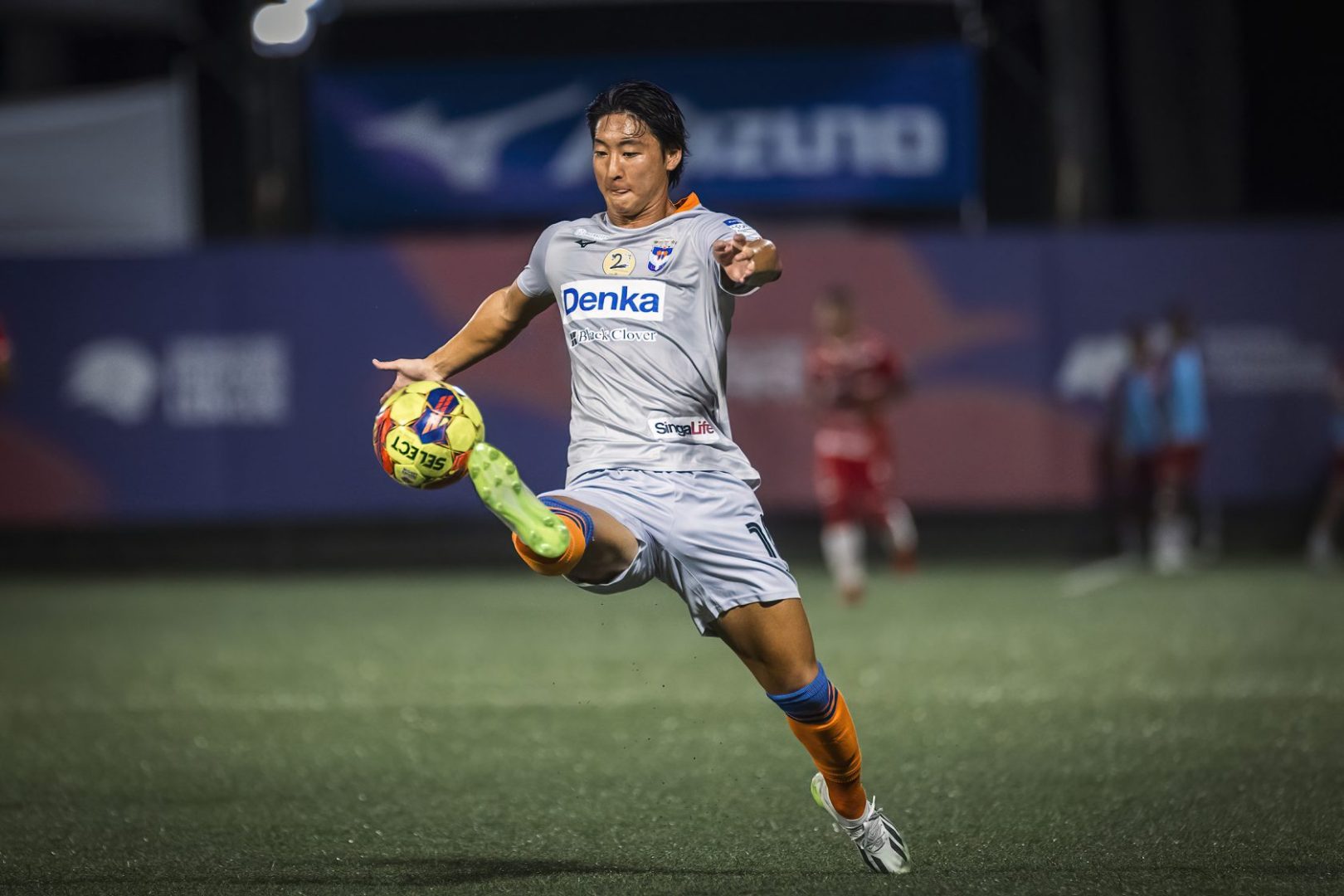 Albirex Niigata (S)'s Seia Kunori in action against Tanjong Pagar United, 11 August 2023.