Singapore Premier League • April 3, 2023
2023 Singapore Premier League Matchweek 6: Roundup
Kyoga Nakamura celebrates after scoring against the Sailors, 31 March 2023
SINGAPORE, 3 APRIL 2023 – The Singapore Premier League returned with a bang as Tampines Rovers edged Lion City Sailors in a top-of-the-table clash to pull four points clear at the top, while Albirex Niigata (S) smashed Geylang International to climb to second.
Elsewhere, Hougang United's struggles continued with a disappointing defeat to Brunei DPMM while Tanjong Pagar United overcame Young Lions for their second win of the season. We recap all the action below…
Can anyone catch the Stags?
Tampines Rovers 4-3 Lion City Sailors | Our Tampines Hub | 31 March 2023
Yasir Hanapi 20′, Kyoga Nakamura 30′, Faris Ramli 50′, Taufik Suparno 72′ | Shawal Anuar 8′, Glenn Kweh O.G. 55′, Manuel Lopez 90'+4
The Sailors got off to a dream start with Shawal clinically converting Maxime Lestienne's low cross into the box, but Tampines turned it around with Yasir sweeping in the rebound after a Zharfan Rohaizad goalkeeping error before Nakamura lashed one in from the edge of the area. Faris then came back to haunt his former side with an emphatic finish to make it 3-1 before Kweh fortuitously put through his own net to give the Sailors some hope. Super-sub Taufik then took just one minute to make an impact as he nodded home Ong Yu En's cross to restore the Stags' two-goal lead before Manuel Herrera grabbed a late consolation for the visitors.
Facts
Tampines are now unbeaten in their last 14 SPL matches stretching back to August 2022 – they are still the only undefeated team in the 2023 season.
The Sailors have conceded four in each of their two away outings this season.
The Sailors have lost four out of their last five away matches since September 2022.
Faris has already equalled his 2022 league tally of five goals and is now the league's leading scorer.
Maxime made his sixth assist of the season – a league-leading tally.
Saifullah made his first-ever SPL start for Tampines – his only appearance for the Stags came as a second-half substitute in a 1-0 defeat to DPMM back in October 2016.
Sailors' Nathan Mao became the SPL's youngest-ever debutant at 15 years and 5 days old – surpassing the previous record of 15 years and 239 days held by Young Lions' Raoul Suhaimi.
Tampines Rovers: Syazwan Buhari (GK), Irfan Najeeb, Shuya Yamashita, Milos Zlatkovic, Glenn Kweh, Kyoga Nakamura, Shah Shahiran, Saifullah Akbar (Joel chew 46′, Ong Yu En 55′), Faris Ramli (Amirul Haikal 81′), Yasir Hanapi (C) (Taufik Suparno 72′), Boris Kopitovic.
Unused subs: Ridhuan Barudin (GK), Danish Irfan, Syed Firdaus, Rezza Rezky, Firdaus Kasman.
Sailors: Zharfan Rohaizad (GK), Bill Mamadou (Zulqarnaen Suzliman 57′), Manuel Herrera Lopez, Lionel Tan, Christopher van Huizen, Hariss Harun (C) (M.Anumanthan 85′), Hami Syahin (Adam Swandi 57′), Hafiz Nor, Shawal Anuar (Nathan Mao 90′), Maxime Lestienne, Diego Lopes.
Unused subs: Adib Nur Hakim (GK), Rudy Khairullah (GK), Arshad Shamim, Rusyaidi Salime, Haiqal Pashia.
Faris Ramli celebrates after his side's victory over the Sailors, 31 March 2023
Cheetahs continue to struggle
Hougang United 0-3 Brunei DPMM | Jalan Besar Stadium | 31 March 2023
Hakeme Yazid 31′, Yura Putera 48′, Josip Baluc 89′
There was no looking back after Hakeme put DPMM ahead through an unerring finish in the area. Yura then lashed home a stunner from the edge of the box, before Balić repeated the trick late on to seal just a second victory of the season for Adrian Pennock's side.
Facts
Hougang's tally of three points in their first five matches is their worst since 2018 when they had a similar record.
Hougang have won just one out of the last nine encounters against DPMM in all competitions.
Hakeme – along with Tampines's Faris – have registered an attacking contribution – a goal or an assist – in all of the matches they have played this season.
Yura scored only his second-ever SPL goal – his first came back in August 2016 in a 2-1 win over Albirex.
Hougang: Zaiful Nizam (GK), Nazrul Nazari, Naoki Kuriyama, Kazuma Takayama, Irwan Shah (Anders Aplin 46′), Zulfahmi Arifin (C), Ajay Robson (Amir Zalani 56′), Gabriel Quak (Fairoz Hasan 81'), Hazzuwan Halim (Amy Recha 74′), Brian Ferreira, Sahil Suhaimi.
Unused subs: Zainol Gulam (GK), Umar Akhbar, Raimi Ishraq, Hariysh Krishnakumar, Iryan Fandi.
DPMM: Haimie Nyaring (GK), Hirzi Zulfaqar (Hanif Hamir 46′), Yura Putera, Angel Martinez, Najib Tarif (Abdul Mu'iz Sisa 46′), Hanif Farhan, Josip Balic, Awangku Fakharrazi, Azwan Ali Rahman (C), Andrei Varankov, Hakeme Yazid (Nazirrudin Ismail 67′)
Unused subs: Akmal Tursunbaev (GK), Azwan Saleh, Hendra Azam, Syafiq Hilmi, Eddy Izzat, Razimie Ramlli.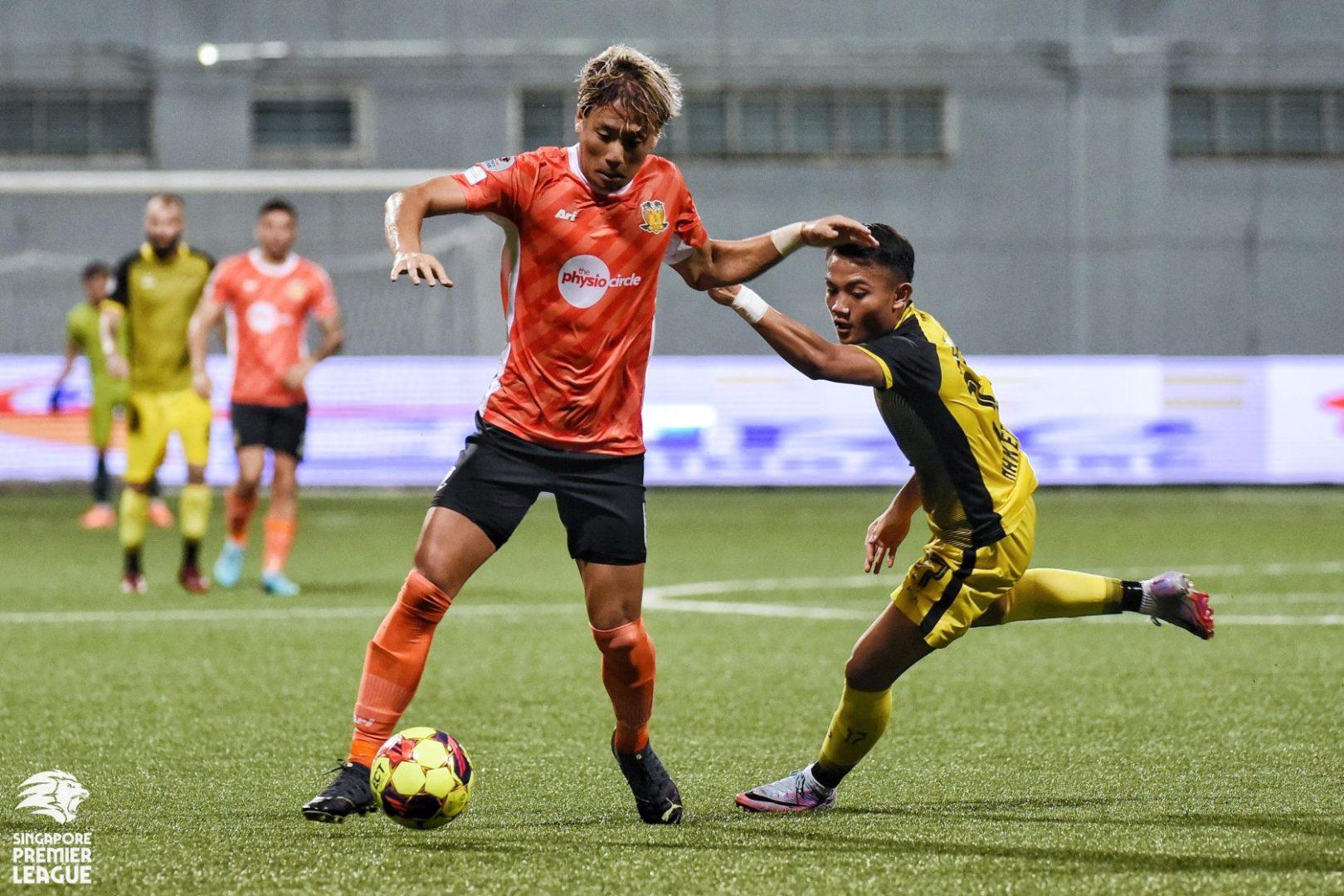 Hakeme Yazid against Hougang United, 31 March 2023
Jaguars edge tight affair
Tanjong Pagar United 2-1 Young Lions | Jurong East Stadium | 1 April 2023
Syukri Bashir 38′, Shakir Hamzah 53′ | Harhys Stewart 78′
Tanjong Pagar took advantage of Jacob Mahler's early sending off as they broke the deadlock through Syukri, who clinically finished off Marin Mudrazija's cut-back. Although they were also reduced to 10 men with Tajeli Salamat given a straight red, they doubled the lead with Shakir firing home an acrobatic volley before Harhys pulled one back for the visitors in what proved to be a consolation.
Facts
Tanjong Pagar have won four out of their last five home matches in all competitions.
Syukri netted only his third-ever professional goal – this was also his first since May 2019.
Tanjong Pagar's Febryan Putra made his professional debut.
Young Lions have now conceded in their last 69 SPL matches since September 2019.
Harhys equalled his career-best tally of two goals from the 2021 season.
Tanjong Pagar: Kenji Rusydi (GK), Febryan Putra (Naqiuddin Eunos 68'), Shakir Hamzah, Faizal Roslan, Tajeli Salamat, Blake Ricciuto, Mirko Sugic, Fathullah Rahmat (C) (Azim Akbar 87'), Akram Azman (Naufal Ilham 87'), Syukri Bashir (Khairul Amri 68′), Marin Mudrazija (Zulfadhmi Suzliman 90'+1).
Unused subs: Fashah Iskandar (GK), Travis Ang (GK), Shahrin Saberin, Khairul Hairie.
Young Lions: Aizil Yazid (GK), Jun Kobayashi, Jacob Mahler (C), Kieran Teo (Aqil Yazid 76'), Adam Reefdy (Ilhan Noor 46′), Jared Gallagher, Kan Kobayashi, Harhys Stewart, Amir Syafiz (Harith Kanadi 76′), Andrew Aw (Fairuz Fazli 88′), Syahadat Masnawi (Haziq Kamarudin 90'+2)
Unused subs: Wayne Chew (GK), Syafi'ie Redzuan, Iman Hakim, Elijah Lim.
Febryan Putra against Young Lions, 1 April 2023
Ruthless White Swans back on winning trail
Geylang International 1-6 Albirex Niigata (S) | Our Tampines Hub | 1 April 2023
Yushi Yamaya 17′ | Tadanari Lee 8′, Koki Kawachi 45'+3, Shuto Komaki 47′, Riku Fukashiro 54′, Keito Komatsu 57′, Seia Kunori 74′
Six different scorers got onto the scoresheet for Albirex in a convincing win and it all started through a well-worked move which was finished off by Lee. While Geylang did equalise through Yamaya's deflected shot, Albirex retook the lead at the stroke of half time with Kawachi prodding in after Sho Fuwa's header came back off the woodwork. It was all one-way traffic in the second half with Komaki converting a one-on-one before Fukashiro lashed one in at the near post. Komatsu then netted a stunning volley from the edge of the box two minutes after coming on, before Kunori completed the rout with another neat finish.
Facts
Albirex scored six goals or more for the first time since August 2022 in a 7-1 win over Young Lions.
This is Geylang's worst defeat since an 8-2 loss to the same opponents back in May 2022.
Geylang have yet to defeat Albirex in 11 meetings in all competitions since July 2019.
Nine different players have scored for Albirex this season – the most by any team.
Geylang's Fadli Kamis made his first appearance since April 2022.
Geylang: Hafiz Ahmad (GK), Fadli Kamis, Akmal Azman (Faisal Shahril 55′), Joshua Pereira (C) (Muhd Noor ariff 85′), Rio Sakuma, Amirul Adli, Huzaifah Aziz (Iqbal Hussain 55′), Takahiro Tezuka, Vincent Bezecourt, Yushi Yamaya, Naufal Azman (Shahfiq Ghani 86′).
Unused subs: Ridhwan Fikri (GK), Gareth Low, Nazhiim Harman, Azri Suhaili, Muthukumaran Navaretthinam.
Albirex: Hassan Sunny (GK), Ryo Takahashi, Koki Kawachi (Shakthi Vinayagavijayan), Shunsaku Kishimoto, Sho Fuwa (Masaya Watanabe 82′), Asahi Yokokawa (C), Shodai Yokoyama, Riku Fukashiro (Kaisei Ogawa 72′), Nicky Melvin Singh (Shuto Komaki 46′), Tadanari Lee (Keito Komatsu 55′), Seia Kunori.
Unused subs: Hyrulnizam Juma'at (GK), Keito Hariya, Junki Yoshimura, Kenji Austin.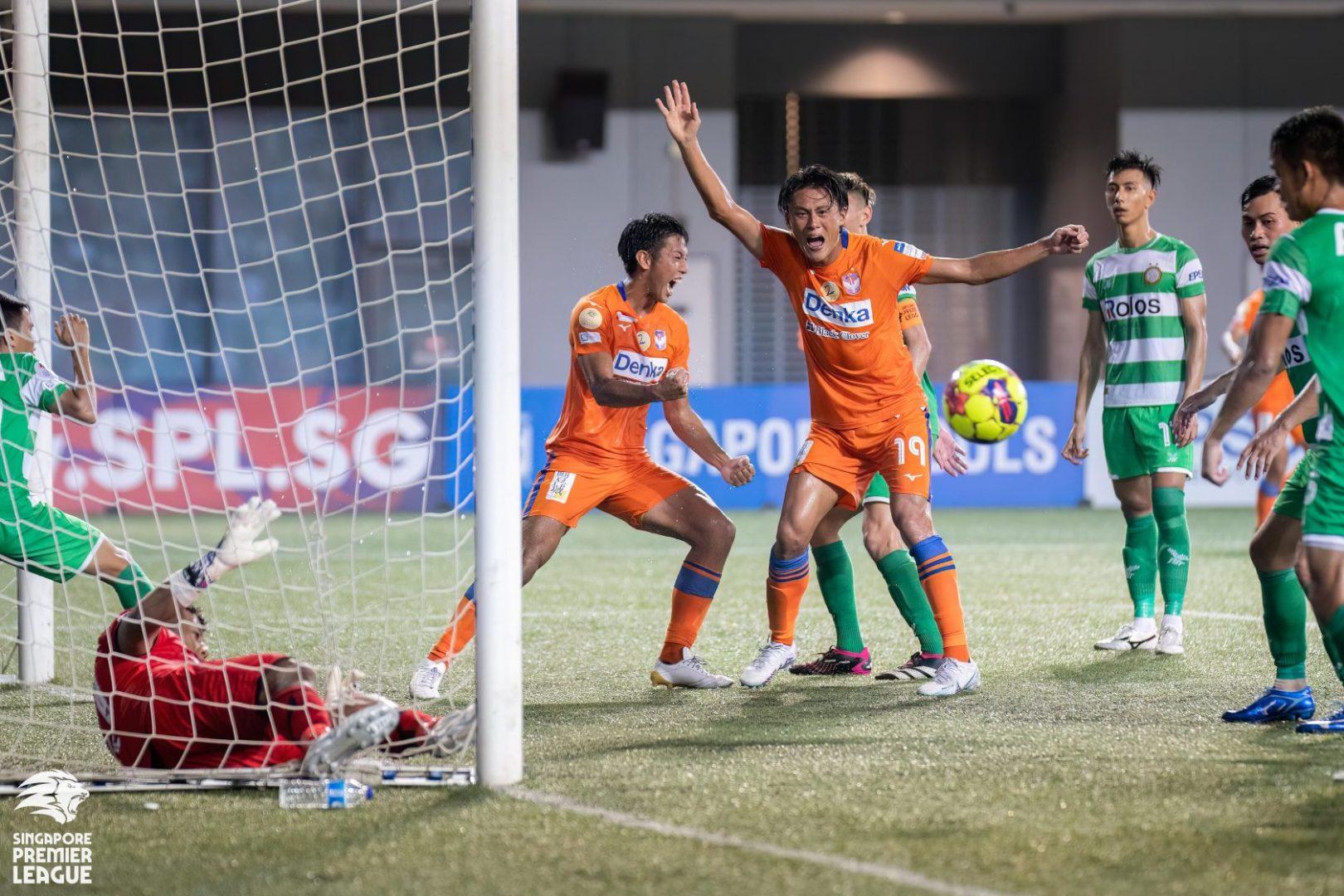 Koki Kawachi celebrates scoring his side's second goal, 1 April 2023
Geylang: Hafiz Ahmad (GK), Faisal Shahril (Nazhiim Harman 88′), Akmal Azman (Gareth Low 75′), Joshua Pereira (C), Rio Sakuma, Amirul Adli, Huzaifah Aziz (Muhd Noor Ariff 88'), Takahiro Tezuka, Vincent Bezecourt, Yushi Yamaya (Shahfiq Ghani 88′), Naufal Azman (Muthukumaran Navaretthinam 90'+3).
Unused subs: Aniq Yusoff (GK), Iqbal Hussain, Azri Suhalil, Danish Haziq.