Singapore Premier League • April 10, 2023
2023 Singapore Premier League Matchweek 7: Roundup
Seia Kunori celebrates after scoring against Balestier, 5 April 2023
SINGAPORE, 10 APRIL 2023 – The Singapore Premier League keeps delivering as Albirex Niigata (S) smashed Balestier Khalsa to go within a point of leaders Tampines Rovers while Balestier did recover from that defeat by beating Young Lions three days later to snap a three-game losing run.
Elsewhere, Hougang United's struggles continue as they were edged out by Tanjong Pagar United for a fifth straight defeat. We recap all the action below…
White Swans show ruthlessness
Balestier Khalsa 1-6 Albirex Niigata (S) | Bishan Stadium | 5 April 2023
Ignatius Ang 86′ | Seia Kunori 18′, 45'+1, 77′, Riku Fukashiro 30′, 33′, Keito Komatsu 90'+2
The floodgates opened early with Fukashiro teeing up Kunori for a slick finish before netting a quick-fire double – one of which was a stunning curler into the top corner to make it 3-0 to Albirex. The lethal Kunori then converted a header off Sho Fuwa's cross before benefitting from Mashiro Sugita's slack backpass to complete his hat-trick. Ang did pull one back for Balestier through a great near-post finish, but the visitors sealed the win late on through another neat finish from Komatsu.
Facts
Albirex are the first team to win two straight games by five goals or more since the Sailors did so in a three-game streak in August 2022 (10-1 vs Young Lions, 7-0 vs Tanjong Pagar and 9-4 vs Hougang).
Kunori is the second player to score a hat-trick this season after Ryoya Taniguchi did so in Balestier's 4-3 win over Brunei DPMM on 10 March – he is now the league's leading scorer with seven goals.
Kunori is also the first player this season to record four attacking contributions – three goals and an assist – in a single game.
Albirex's Shakthi Vinayagavijayan made his first professional start.
Kian Jared Ghadessy made his SPL debut when he came on in the 84th minute.
Balestier: Hairul Syirhan (GK), Aidil Johari (Iqram Rifqi 46'), Madhu Mohana, Fabian Kwok (Emmeric Ong 65'), Darren Teh (Syukri Noorhaizam 80'), Alen Kozar, Ryoya Taniguchi, Ho Wai Loon (C) (Ignatius Ang 65'), Daniel Goh, Masahiro Sugita (Kian Jared Ghadessy 84'), Shuhei Hoshino.
Unused subs: Mukudan Maran (GK), Syabil Hisham, Puvan Raj, Irfan Mika'il.
Albirex: Hassan Sunny (GK), Ryo Takahashi (Masaya Watanabe 59′), Koki Kawachi, Shunsaku Kishimoto, Sho Fuwa, Asahi Yokokawa (C), Shodai Yokoyama (Kaisei Ogawa 46′), Riku Fukashiro (Junki Yoshimura 77′), Shakthi Vinayagavijayan (Shuto Komaki 46′), Tadanari Lee (Keito Komatsu 46′), Seia Kunori.
Unused subs: Hyrulnizam Juma'at (GK), Keito Hariya, Hilman Norhisam, Kenji Austin.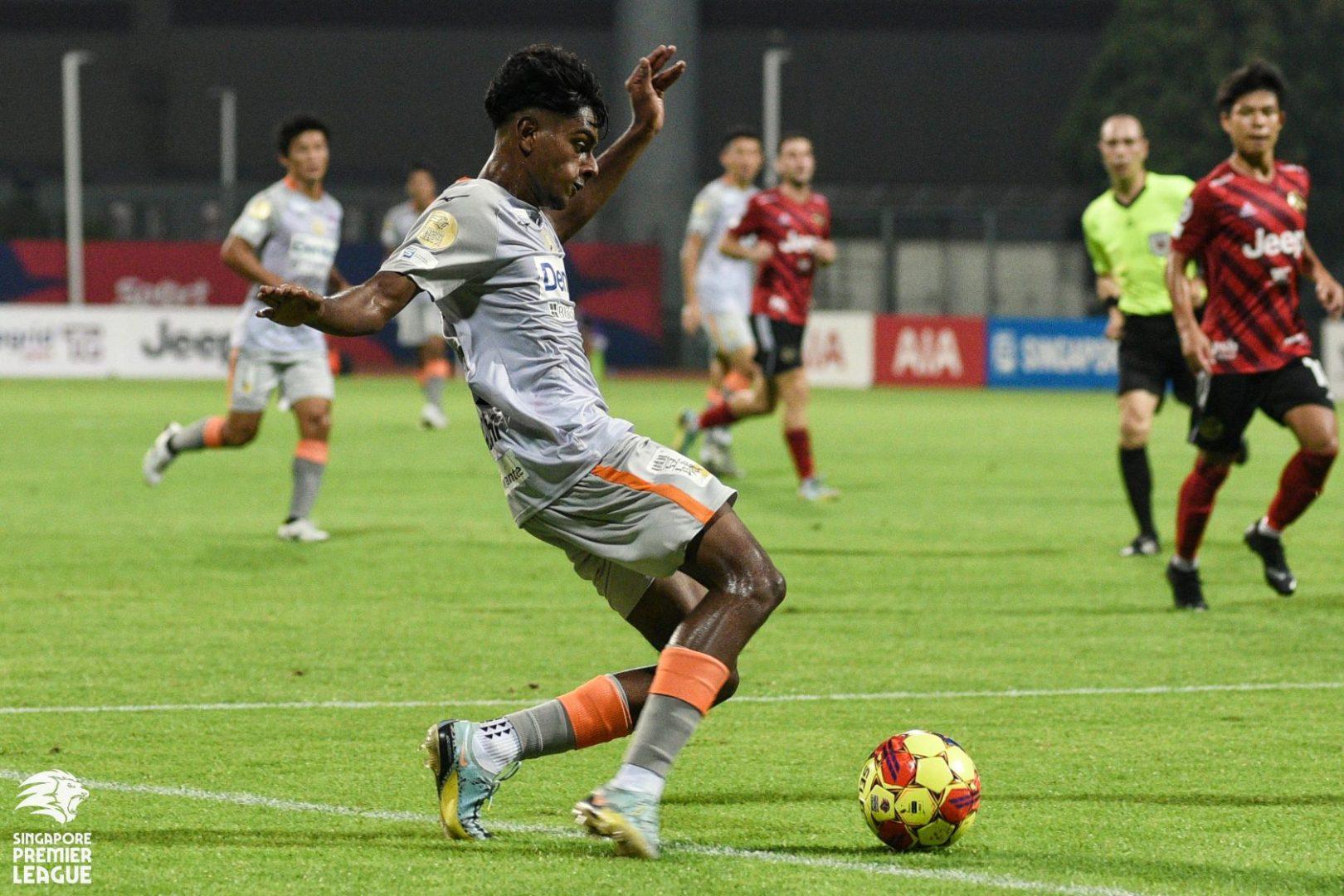 Shakthi Vinayagavijayan against Balestier, 5 April 2023
Cheetahs struggle to hit stride
Hougang United 1-2 Tanjong Pagar United | Jalan Besar Stadium | 6 April 2023
Hazzuwan Halim 42′ | Marin Mudrazija pen. 65′, Khairul Amri 75′
Things had looked good for Hougang when Hazzuwan benefited from Brian Ferreira's through ball to calmly lift the ball beyond Kenji Rusydi to put them up at the break. However, Tanjong Pagar turned it around in the second half with Mudrazija converting from the spot before super-sub Amri rolled back the years with a stunning scissors-kick off Naufal Ilham's cross to complete the comeback.
Facts
Tanjong Pagar are unbeaten in the last eight league meetings against Hougang since a 3-2 loss in November 2020.
Tanjong Pagar won back-to-back games for the first time since October 2022.
The Jaguars recorded their first away victory of the season.
Amri is the oldest outfield player to make an appearance this season at 38 years and 22 days.
Hougang lost five straight games for the first time since a run of six losses between August to September 2018.
Hougang have conceded in their last 21 SPL games since a 4-0 win over Young Lions in July 2022.
The Cheetahs have gone on to lose from a winning position three times now – the most in the league.
Hougang: Zaiful Nizam (GK), Anders Aplin, Naoki Kuriyama, Kazuma Takayama, Irwan Shah (Jordan Vestering 83′), Zulfahmi Arifin (C), Ajay Robson (Amir Zalani 79′), Gabriel Quak (Sahil Suhaimi 74'), Hazzuwan Halim, Amy Recha (Fairoz Hassan 74′), Brian Ferreira.
Unused subs: Zainol Gulam (GK), Umar Akhbar, Raimi Ishraq, Iryan Fandi.
Tanjong Pagar: Kenji Rusydi (GK), Febryan Putra (Naufal Ilham 66′), Naqiuddin Eunos (Khairul Hairie 83′), Shakir Hamzah, Faizal Roslan, Blake Ricciuto, Mirko Sugic, Fathullah Rahmat (C) (Azim Akbar 71'), Akram Azman, Syukri Bashir (Khairul Amri 71′), Marin Mudrazija.
Unused subs: Fashah Iskandar (GK), Travis Ang (GK), Shahrin Saberin, Zulfahdmi Suzliman.
Khairul Amri celebrates after scoring against Hougang United, 6 April 2023
Terrific Taniguchi the Tigers' hero
Young Lions 1-3 Balestier Khalsa | Jalan Besar Stadium | 8 April 2023
Kan Kobayashi 10′ | Ryoya Taniguchi 16′, 86′, Daniel Goh 23′
Balestier had to do things the hard way after letting in the first goal with Kobayashi steering home a neat header off Harith Kanadi's cross. Taniguchi came to the fore by netting an unerring free-kick to equalise before producing a defence-splitting pass for Goh to put them ahead. The Japanese playmaker then scored an opportunistic volley from the edge of the area to seal the Tigers' victory late on.
Facts
Balestier have conceded the most goals from crosses this season (9).
Balestier are the joint third-highest scoring team along with Tampines with 14 goals, but have the worst defensive record so far having conceded 20 times.
No other player has scored more goals from outside the box than Taniguchi so far this season (3).
Taniguchi has been directly involved in 57 per cent of Balestier's goals this season.
Young Lions have now conceded in their last 70 SPL matches since September 2019, while Balestier have no clean sheets in their last 23 matches in all competitions.
Young Lions: Wayne Chew (GK), Jun Kobayashi, Kieran Teo, Aqil Yazid (Adam Reefdy 46′), Harith Kanadi, Andrew Aw (Fairuz Fazli 21′), Jared Gallagher, Kan Kobayashi (Haziq Kamarudin 88′), Harhys Stewart (C),  Syahadat Masnawi (Elijah Lim 73′), Jordan Emaviwe
Unused subs: Aizil Yazid (GK), Ryu Hardy, Iman Hakim, Ryan Praveen, Syafi'ie Redzuan.
Ryoya Taniguchi celebrates after scoring his second goal against Young Lions, 8 April 2023