Singapore Premier League • April 13, 2023
2023 Singapore Premier League Matchweek 8: Roundup
Albirex celebrate after winning the match against Tanjong Pagar 2-0, 10 April 2023. 
SINGAPORE, 12 APRIL 2023 – There is a new leader in the AIA Singapore Premier League with Albirex Niigata (S) defeating Tanjong Pagar United to go top, while Lion City Sailors smashed Hougang United to close within one point of second-placed Tampines Rovers.
Elsewhere, Geylang International strengthened their hold on fourth spot after dispatching Balestier Khalsa while Young Lions climbed off the bottom after a battling draw with Brunei DPMM. We recap all the action below…
Magnificent Maxime runs the show
Hougang United 0-5 Lion City Sailors | Jalan Besar Satdium | 10 April
Maxime Lestienne 5', 90'+1, Abdul Rasaq 44', 72', Diego Lopes 88'
Lestienne put on quite a show for the Sailors with two goals and two assists in this one. After belting home a stunning free-kick from the edge of the area, he then teed up Rasaq to sweep home the Sailors' second. Rasaq added a second off Hami Syahin's slide-rule pass, before Lestienne ended the night by setting up Lopes for a close-range finish and curling home a sumptuous finish past a hapless Zaiful Nizam to round off a handsome victory.
Facts
Hougang have now lost six straight games for the first time since September 2018.
Hougang have now conceded in their last 22 SPL games since July 2022.
The Cheetahs have lost all their home matches in the league this season.
Sailors have now scored seven goals in additional time this season – the most in the league.
Lestienne has five goals and eight assists this season – he is the league's top assist-provider, ahead of teammate Lopes who has five.
Rasaq scored his fourth and fifth goal of the season. He not only surpassed his 2022 league tally of four goals with Young Lions, his five goals also mean this is already his best-ever scoring season.
Sailors' Zharfan Rohaizad claimed his third clean sheet of the season – he is the goalkeeper with the joint-second highest shutouts along with Tampines' Syazwan Buhari.
Hougang: Zaiful Nizam (GK), Anders Aplin, Naoki Kuriyama, Kazuma Takayama, Jordan Vestering (Irwan Shah 61'), Zulfahmi Arifin (C), Kristijan Krajček, Gabriel Quak (Amy Recha 71'), Sahil Suhaimi (Fairoz Hasan 88'), Brian Ferreira (Amir Zalani 88'), Hazzuwan Halim.

Unused subs: Zainol Gulam (GK), Umar Akhbar, Rauf Sanizal, Raimi Ishraq, Iryan Fandi.
Sailors: Zharfan Rohaizad (GK), Zulqarnaen Suzliman, Manuel Herrera Lopez, Lionel Tan, Christopher van Huizen, Hariss Harun (C) (M. Anumanthan 54'), Adam Swandi (Hami Syahin 70'), Hafiz Nor (Shawal Anuar 54'), Maxime Lestienne, Diego Lopes, Abdul Rasaq Akeem (Bernie Ibini-Isei 76').

Unused subs: Adib Nur Hakim (GK), Rusyaidi Salime, Arshad Shamim, Bill Mamadou, Nur Adam Abdullah.
Abdul Rasaq celebrates after scoring against Hougang United, 10 April 2023. 
White Swans remain in cruise control
Tanjong Pagar United 0-2 Albirex Niigata (S) | Jurong East Stadium | 10 April  
Shodai Yokoyama 7', Shuto Komaki 90'
After Yokayama stabbed home an early opener amidst confusion in the Tanjong Pagar box, Albirex were kept at bay by an impressive Fashah Iskandar who made several saves for the Jaguars. Nonetheless the champions would seal victory in the final minute of regulation time with Komaki benefitting from Riku Fukashiro's pass to net a clinical finish and continue their impressive start to the season.
Facts
Albirex have now won six out of their opening seven matches.
Fukashiro is the first player this season to make an assist for three straight games.
Albirex's Hassan Sunny kept his fourth clean sheet of the season – a league-leading tally.
Tanjong Pagar's George Thomas is the fourth-youngest player to make his SPL debut this season at 16 years 9 months and 29 days – he is the 17th youngest player to do so in the all-time records list.
Albirex's Junki Yoshimura made only his second-ever SPL start – his first came back in August 2021 in the White Swans' 4-0 win over Balestier.
Tanjong Pagar: Fashah Iskandar (GK), Shahrin Saberin (Zulfadhmi Suzliman 80'), Shakir Hamzah, Faizal Roslan, George Thomas (Azram Azman 46'), Blake Ricciuto, Mirko Sugic, Raihan Rahman, Azim Akbar (Naqiuddin Eunos 46'), Khairul Hairie (Fathullah Rahmat 75'), Syukri Bashir (Marin Mudrazija 67').
Unused subs: Kenji Rusydi (GK), Travis Ang (GK), Naufal Ilham, Khairul Amri.
Albirex: Hassan Sunny (GK), Koki Kawachi, Shunsaku Kishimoto, Asahi Yokokawa (C), Sho Fuwa (Ryo Takahashi 90'+1), Shodai Yokoyama, Kaisei Ogawa, Shuto Komaki (Keito Hariya 90'+4), Junki Yoshimura (Riku Fukashiro 46'), Tadanari Lee (Keito Komatsu 60'), Seia Kunori (Masaya Watanabe 90'+1).
Unused subs: Hyrulnizam Juma'at (GK), Shakthi Vinayagavijayan, Hilman Norhisam, Kenji Austin.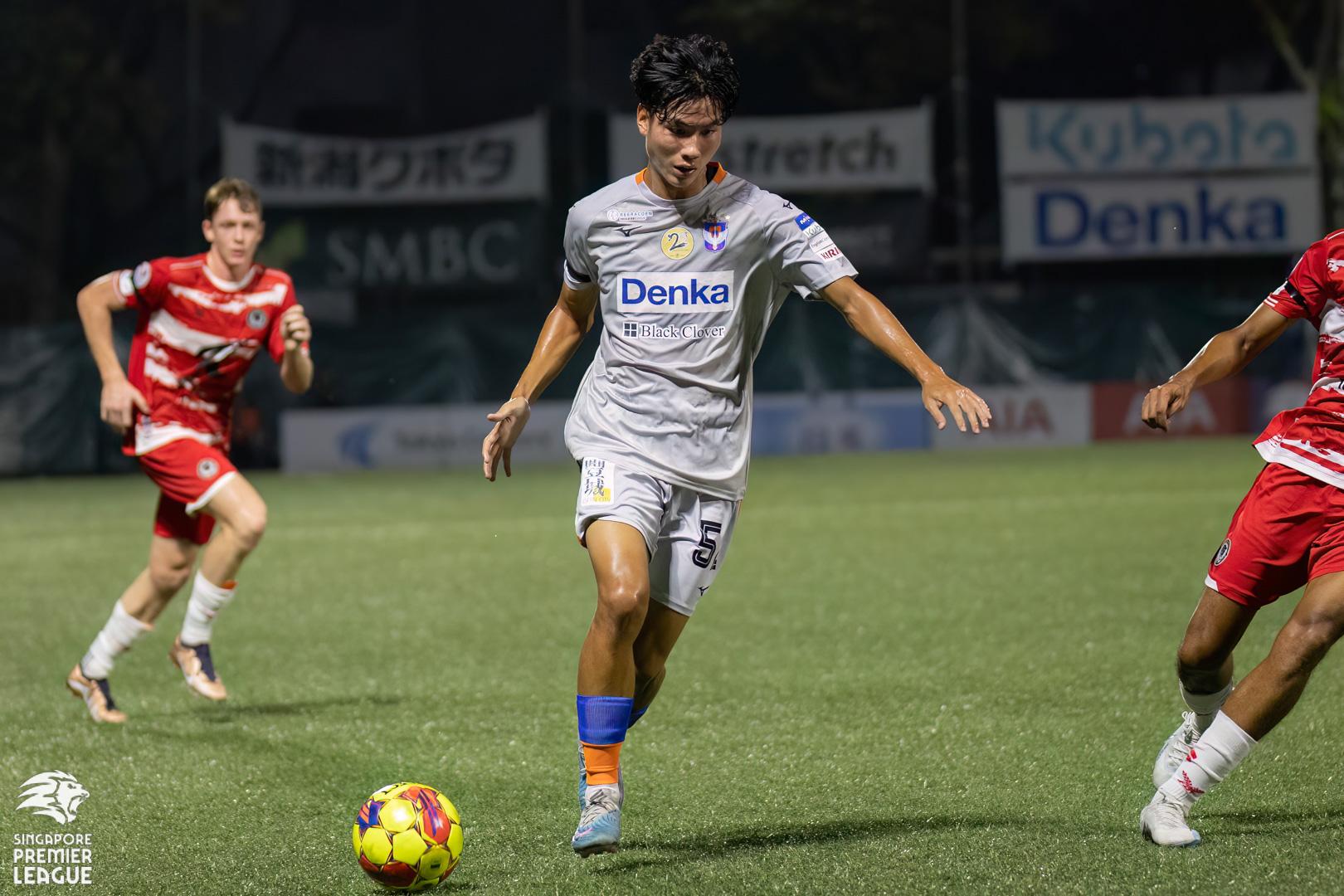 Junki Yoshimura against Tanjong Pagar, 10 April 2023. 
Young Lions show heart
Young Lions 2-2 Brunei DPMM | Jalan Besar Stadium | 11 April
Kieran Teo 87', Jordan Emaviwe 89' | Angel Martínez 45'+3, Andrei Voronkov 81'
It looked like DPMM would run out winners after Martínez's header on the stroke of half-time was followed up by another towering Varankou header off Hakeme Yazid's cross. However, Young Lions came roaring back with two quick-fire goals – Teo first flicked home Kan Kobayashi's inswinging corner before Emaviwe played a superb one-two with Kobayashi en route to netting a stylish equaliser for the home side.
Facts
Young Lions have scored four goals between the 81st and 90th minute this season – the most in the league.
Young Lions have now conceded in their last 71 league matches since September 2019.
Young Lions conceded their sixth goal from a corner – the most in the league.
DPMM have won just two out of six matches since returning to the SPL.
Emaviwe also scored a last-minute equaliser the last time Young Lions came from two goals down or more in a 4-4 league draw with Balestier in October 2022.
Kobayashi has now recorded four attacking contributions (goal or assist) in the last three matches.
Teo scored his first-ever professional goal.
Young Lions: Aizil Yazid (GK), Jun Kobayashi, Jacob Mahler (C), Kieran Teo, Keshav Kumar (Adam Reefdy 71'), Jared Gallagher (Ryu Hardy 83'), Kan Kobayashi, Iman Hakim (Harhys Stewart 59'), Elijah Lim (Syahadat Masnawi 59'), Fairuz Fazli (Haziq Kamarudin 71'), Jordan Emaviwe.
Unused subs: Wayne Chew (GK), Ryan Praveen, Syafi'ie Redzuan, Aqil Yazid.
DPMM: Haimie Nyaring (GK), Awangku Fakharrazi, Yura Indera Putera, Angel Martinez, Najib Tarif (Abdul Mu'iz Sisa 76', Hirzi Zulfarqar 90'+2), Hanif Farhan, Josip Balić, Hanif Hamir (Nazirrudin Ismail 46', Razimie Ramlli 90'+2), Azwan Ali Rahman (C), Andrei Varankov, Hakeme Yazid (Abdul Azizi Rahman 90'+2).
Unused subs: Akmal Tursunbaev (GK), Hendra Azam, Helmi Zambin, Syafiq Hilmi.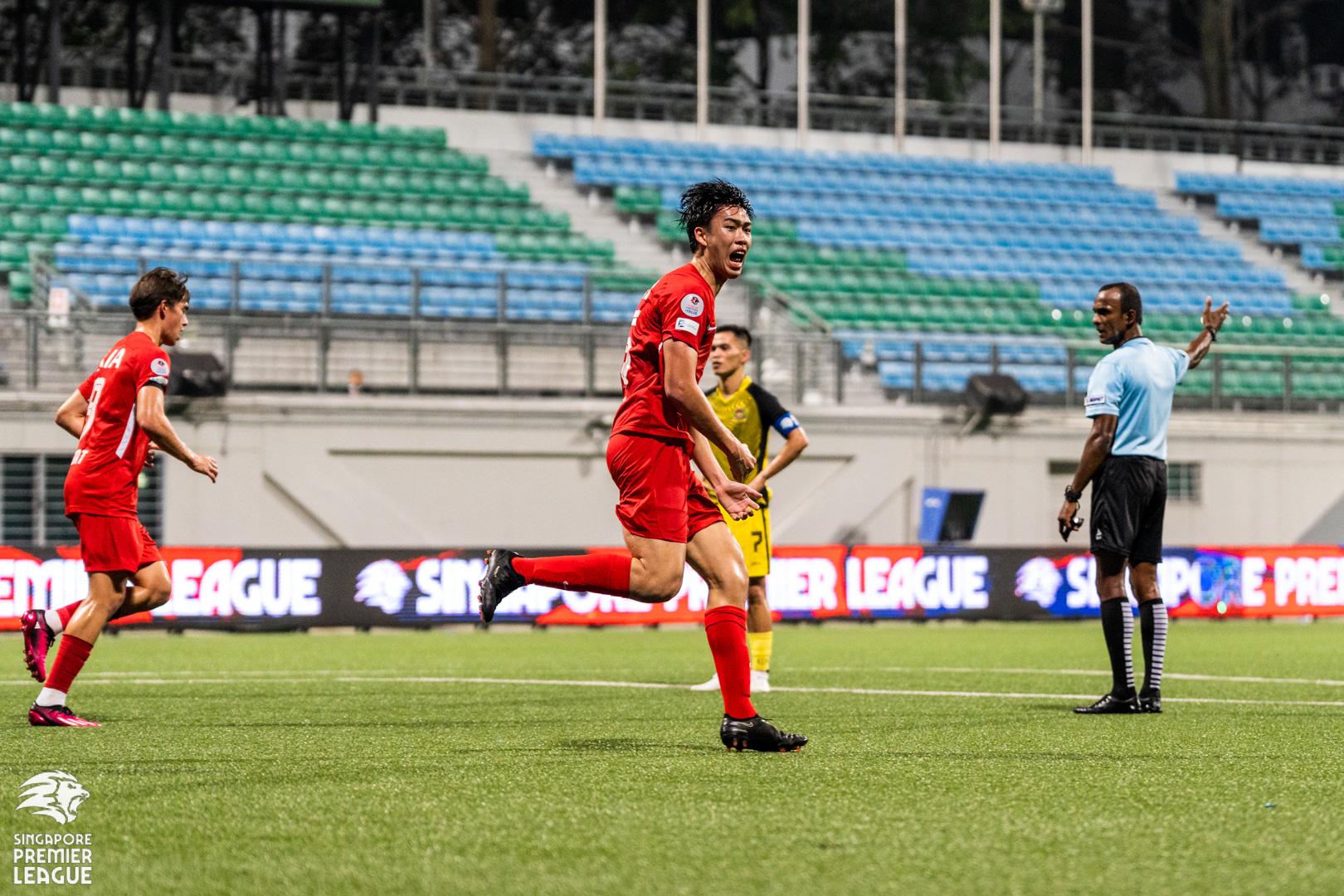 Kieran Teo celebrates after scoring against DPMM, 11 April 2023.
Eagles claim fourth win of season
Geylang International 3-0 Balestier Khalsa | Jalan Besar Stadium | 12 April
Iqbal Hussain 31', Yushi Yamaya 41', Gareth Low 77'
There was no way back for Balestier after Iqbal put Geylang ahead with a close-range finish. Yamaya then cut inside his man to add a second, before Low capitalised on a botched Hairul Syirhan clearance to whip home an opportunistic volley from way out to seal an emphatic win for the Eagles.
Facts
Geylang kept their first clean sheet of the season – this is Hafiz Ahmad's first-ever career clean sheet after nine appearances.
Iqbal scored his first SPL goal since March 2020 when he netted twice in Geylang's 3-0 win over Young Lions.
Low scored only his second-ever professional goal – his first came in May 2022 when he netted for Balestier in a 2-1 defeat to Tampines.
Geylang's Sham Syed Mohamed made his professional debut.
Geylang: Hafiz Ahmad (GK), Fadli Kamis (Delwinder Singh 82'), Rio Sakuma (C), Amirul Adli, Huzaifah Aziz, Takahiro Tezuka, Vincent Bezecourt, Yushi Yamaya, Akmal Azman, Sham Syed Mohamed (Gareth Low 58'), Iqbal Hussain (Faisal Shahril 82').
Unused subs: Ridhwan Fikri (GK), Nazhiim Harman, Muhd Noor Ariff, Azri Suhaili, Muthukumaran Navaretthinam, Danish Haziq.
Balestier: Hairul Syirhan (GK), Fudhil I'yadh (Syukri Noorhaizam 67'), Madhu Mohana, Fabian Kwok, Darren Teh, Alen Kozar, Ryoya Taniguchi, Ho Wai Loon (C), Daniel Goh (Puvan Raj 73'), Masahiro Sugita, Max McCoy (Ignatius Ang 64').
Unused subs: Mukundan Maran (GK), Syabil Hisham, Emmeric Ong, Amer Hakeem, Aidil Johari, Kian Jared Ghadessy.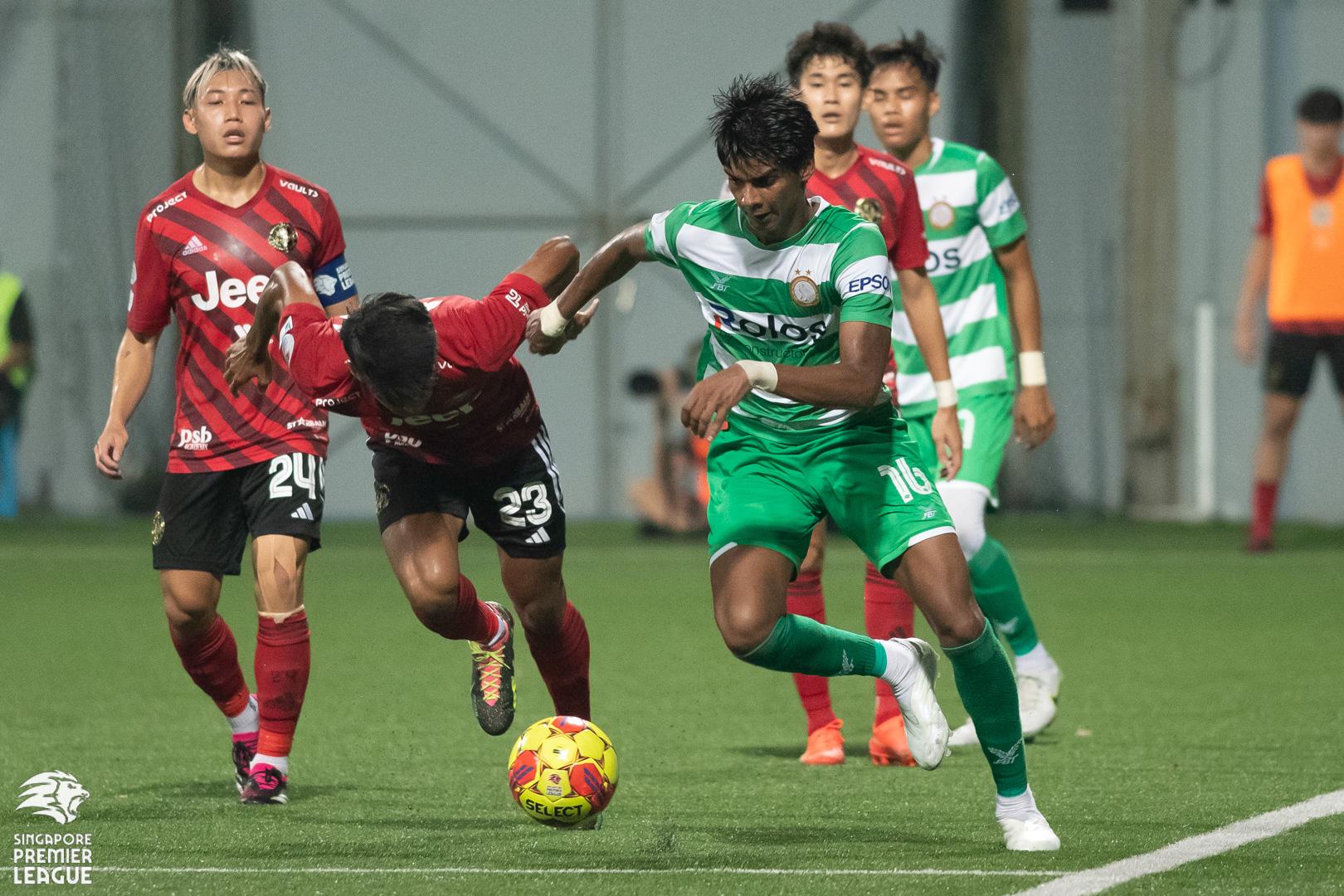 Iqbal Hussain against Balestier Khalsa, 12 April 2023. 
Follow us on Facebook, Twitter and Instagram!