Singapore Premier League • August 5, 2019
Singapore Premier League Week 20: Roundup
SINGAPORE, 5 AUGUST 2019 – The top three sides all bagged maximum points as the league inches closer to the finish line. Brunei DPMM and Tampines Rovers both sealed comfortable wins, though Hougang United had to dig deep for their victory. Elsewhere, Warriors FC returned to action in style as they saw off the Young Lions. We recap the weekend's action below…
DPMM 3-0 Geylang | Hassanal Bolkiah | 2 August
Hakeme Said 48′, Hendra Azam 54′, Adi Said 86′

The leaders snapped a two-game losing streak by returning to winning ways at their home fortress. An even first half was followed by a two-goal blitz within the first 10 minutes of the restart that left Geylang with an uphill task. Debutant Hakeme Yazid Said (pictured; credit to A•K•K Design), just 16, pounced on a loose back-pass in a flash and advanced into the area before calmly finishing past Zainol Gulam. The lead was doubled through Hendra Azam, whose 30-yard free-kick nestled into the bottom left corner before substitute Adi Said smashed a powerful effort in from 25 yards to cap a counter-attack and seal the points.
Facts
– DPMM have now won on all 11 occasions they have taken the lead in a match this season.
– DPMM are now undefeated in their last 12 games at home, winning 10 of those – including their last four in a row.
– At 16 years and 175 days, Hakeme became the second-youngest scorer in the league – only one day older than Hariss Harun's mark of 16 years and 174 days.
– Hakeme also overtook Farhan Zulkifli to become the third-youngest ever debutant in league history and is the fifth Said sibling to play for DPMM.
– Adi has also previously scored in the same match with another brother, Shah Razen.
– Geylang have now not won against DPMM in their last six encounters, losing five of those.
DPMM XI: Wardun Yussof (C)(GK), Awangku Fakharrazi (Helmi Zambin 74'), Charlie Clough, Hanif Hamir, Yura Indera Putera, Nurikhwan Othman, Hendra Azam, Najib Tarif (Abdul Mu'iz Sisa 89'), Hakeme Yazid Said (Adi Said 74'), Abdul Azizi Rahman (Razimee Ramlli 75'), Blake Ricciuto.
Unused subs: Haimie Nyaring (GK), Hazwan Hamzah, Azwan Saleh, Razimee Ramlli.
Geylang XI: Zainol Gulam (GK), Jufri Taha, Darren Teh, Yuki Ichikawa (C), Umar Akhbar (Fareez Farhan 75'), Barry Maguire, Christopher van Huizen, Danish Irfan (Anders Aplin 46'), Amy Recha, Muhd Noor Ariff (Matthew Palmer 61'), Shawal Anuar.
Unused subs: Hairul Syirhan (GK), Bryan Tan, Ifwat Ismail, Firdaus Kasman.
Tampines 3-0 Home | Our Tampines Hub | 3 August
Shahdan Sulaiman 18′, Shah Shahiran 28′, Ryutaro Megumi 73′

Tampines captain Shahdan Sulaiman pulled all the strings here as the Stags cruised to a fifth home win of the season. Hafiz Nor was denied early on by a smart stop from Syazwan Buhari, but it was all one-way traffic otherwise. The playmaker curled in a splendid free-kick from 25 yards to open the scoring, before Yasir Hanapi provided a sumptuous no-look reverse ball to set up Shah Shahiran to rifle in a second. A laser-guided 40-yard pass from Shahdan then played in Ryutaro Megumi, who outpaced his man before finding the bottom right corner to wrap things up.
Facts
– Shahdan netted his fourth goal of the season; all of those have come from direct free-kicks.
– Zakri Ee made his professional debut.
– Tampines kept a clean sheet for the first time in eight games.
– Jordan Webb's consecutive scoring streak ended at eight games.
Tampines XI: Syazwan Buhari (GK), Akmal Azman (Zakri Ee 89'), Madhu Mohana, Daniel Bennett, Irwan Shah (Safirul Sulaiman 71'), Yasir Hanapi (Zehrudin Mehmedović 78'), Amirul Adli, Shahdan Sulaiman (C), Shah Shahiran, Ryutaro Megumi, Jordan Webb.
Unused subs: Zulfairuuz Rudy (GK), Zulfadhmi Suzliman, Joel Chew, Elijah Lim.
Home XI: Nazri Sabri (GK), Suhairi Sabri (Juma'at Jantan 62'), Abdil Qaiyyim (C), Faizal Roslan, Ho Wai Loon, Taufiq Muqminin (Shahril Ishak 46'), Song Uiyoung, Arshad Shamim, Hami Syahin, Hafiz Nor, Amiruldin Asraf (Bill Mamadou 86').
Unused subs: Haikal Hasnol (GK), Aqhari Abdullah, Iqram Rifqi, Muhelmy Suhaimi.
Warriors 2-0 Young Lions | Jurong East | 3 August
Jonathan Behe 62′, 79′

A clinical brace from Jonathan Behe took his tally to 11 for the season and helped the hosts to victory against a spirited Young Lions side, who were hoping to extend their unbeaten run to three games. After a goal-less first half where Jacob Mahler wasted the best chance by heading wide from six yards, the deadlock was broken just after the hour mark thanks to a moment of brilliance. Latching onto Faizal Raffi's sweeping cross-field pass, Behe took the ball into the area and deftly lifted it over the onrushing goalkeeper from a tight angle. The striker then showed his predatory instincts by reacting quickest to a loose ball to stab it home in the closing stages to seal all three points.
Facts
– Behe scored his second brace of the season.
– Behe has scored in all three of his matches against Young Lions this season, tallying four goals.
– Warriors have won all three encounters against Young Lions this season by the same scoreline.
– Warriors kept a clean sheet for the first time in nine games.
– Ruzree Rohzaini made his Young Lions debut.
Warriors XI: Fashah Iskandar (GK), Ryhan Stewart, Delwinder Singh, R. Aaravin, Kento Fukuda, Tajeli Salamat, Faizal Raffi, Gabriel Quak (C)(Poh Yi Feng 88'), Fairoz Hasan (Ignatius Ang 19' (Suria Prakash 84')), Sahil Suhaimi, Jonathan Behe.
Unused subs: Riki Kimura (GK), Emmeric Ong, Ammirul Emmran, Daniel Shafiq.
Young Lions XI: Zharfan Rohaizad (GK), Zulqarnaen Suzliman, Lionel Tan, Irfan Najeeb, Syahrul Sazali, Naqiuddin Eunos (Saifullah Akbar 86'), Jacob Mahler, Joshua Pereira (C), Syed Firdaus Hassan, Nur Luqman Rahman (Ruzree Rohzaini 74'), Sharul Nizam (Haiqal Pashia 57').
Unused subs: Kenji Rusydi (GK), Asraf Zahid, Qayyum Raishyan, Ilhan Fandi.
Balestier 3-4 Hougang | Bishan | 4 August
Fadli Kamis 15′, Hazzuwan Halim 37′, 76′ | Stipe Plazibat 43′, Shahfiq Ghani 59′, 66′, Faris Ramli 79′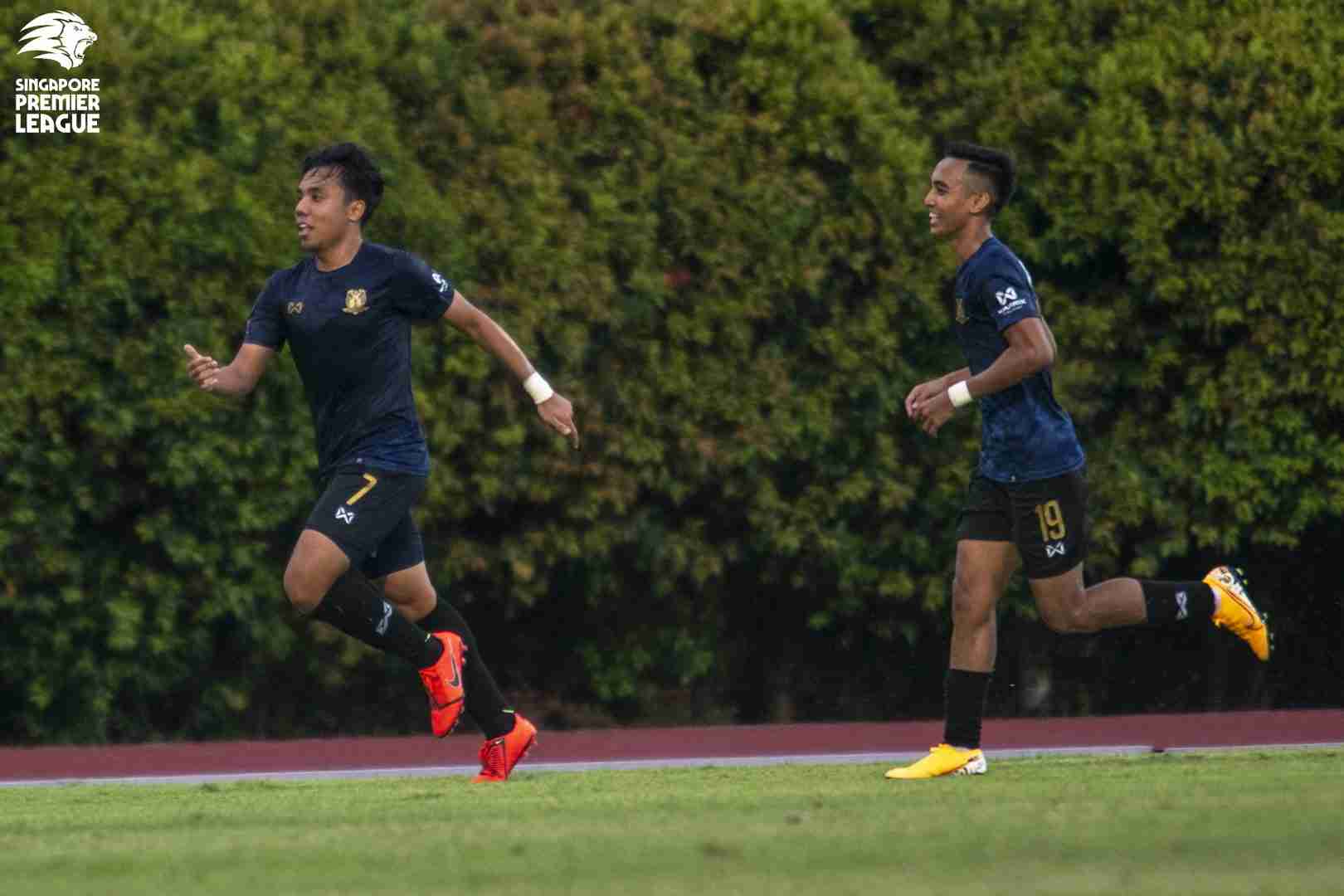 A brilliant performance by substitute Shahfiq Ghani inspired Hougang United to a comeback win against Balestier, who had gone two goals up in the first 40 minutes. Fadli Kamis flicked in Fariz Faizal's header and Hazzuwan Halim tapped in Šime Žužul's cutback to give the Tigers hope of ending a torrid win-less streak, but they were dealt a blow when Stipe Plazibat reduced the deficit just before half-time. Shahfiq, who came on at the start of the second half, was somehow left unmarked to head in Zulfahmi Arifin's corner before reacting quickest to Nikesh Singh's parried effort and rounding the goalkeeper to put Hougang ahead. Hazzuwan stabbed in a fine effort against the run of play to level, but the Cheetahs were not to be denied. Good play from Shahfiq sent Iqbal Hussain away down the right and his low cross was easily converted by Faris Ramli from close range as Hougang moved to third spot.
Facts
– Faris scored a match-winning goal for the third time this season, joint-most with Zikos Chua of Geylang.
– Hougang won for the first time this season in a match they conceded first (six defeats from previous seven occasions).
– Hougang have conceded five times at corners, the most of any team in the league.
– Balestier have now lost a fourth game in which they took the lead first; only two other teams have done so this season (Geylang once, Warriors twice).
– Balestier have now failed to win any of their last 10 games, losing nine of those.
– Balestier have now failed to keep a clean sheet in any of their last 14 league games, their worst such streak since October 2016.
Balestier XI: Faris Danial (GK), Fadli Kamis (C), Sheikh Abdul Hadi, Khalili Khalif (Sufianto Salleh 73'), Hazzuwan Halim, Ahmad Syahir, Huzaifah Aziz (Suriya Ramesh 88'), Raihan Rahman, Kristijan Krajček, Fariz Faizal (Sanjib Vrebac 74'), Šime Žužul.
Unused subs: Zacharial Leong (GK), Ahmad Zaki, Daniel Goh, Gaye Sameer.
Hougang XI: Ridhuan Barudin (GK), Alif Iskandar (Muhaimin Suhaimi 80'), Afiq Yunos, Kong Howon, Hafiz Sujad, Zulfahmi Arifin (C), Afiq Noor, Nikesh Singh (Iqbal Hussain 75'), Timothy Yeo (Shahfiq Ghani 46'), Stipe Plazibat, Faris Ramli.
Unused subs: Khairulhin Khalid (GK), Fabian Kwok, Mahathir Azeman, Paulin Mbaye.