Singapore Premier League • April 25, 2019
Singapore Premier League Week 8: Roundup
SINGAPORE, 25 APRIL 2019 – Leaders Brunei DPMM stumbled at home to the Young Lions, allowing Hougang United to narrow the gap on them after emerging victorious against Albirex Niigata (S) in a thriller. Home United got back to winning ways with a comfortable win over Geylang International, while Warriors FC finally took their first point of the season after holding Tampines Rovers. We recap the midweek action below…
Home 3-0 Geylang | Bishan | 24 April
Oliver Puflett 9′, 42′, Adam Swandi 57′
The Protectors gave interim head coach Noh Rahman a winning start to his reign as they inflicted a second consecutive defeat upon the visitors. Anders Aplin's under-hit back-pass was intercepted by Oliver Puflett and then dispatched beyond an exposed Hairul Syirhan for the opening goal. The Australian then doubled his tally by deftly flicking in Adam Swandi's cut-back a few minutes before the break, before Adam bundled in Faritz Hameed's cross to all but seal the game. There was a straight red for Barry Maguire with about 10 minutes left for a dangerous challenge, with Home captain Izzdin Shafiq following suit soon after, having appeared to talk himself into a red card.
Facts
– Home have now won their last seven encounters against Geylang.
– Adam scored his third league goal of the season, equalling his tally from last season.
Home XI: Nazri Sabri (GK), Faritz Hameed, Faizal Roslan, Abdil Qaiyyim, Juma'at Jantan, Izzdin Shafiq (C), Hami Syahin, Iqram Rifqi (Aqhari Abdullah 75'), Adam Swandi, Oliver Puflett (Arshad Shamim 87'), Song Uiyoung (Ho Wai Loon 90'+2).
Unused subs: Rudy Khairullah (GK), Hafiz Nor, Nur Hizami, Amiruldin Asraf.
Geylang XI: Hairul Syirhan (GK), Anders Aplin (Firdaus Kasman 46'), Darren Teh, Jufri Taha, Muhd Noor Ariff, Amy Recha, Barry Maguire, Danish Irfan, Yuki Ichikawa (C), Christopher van Huizen (Zikos Chua 60'), Fareez Farhan (Danish Qayyum 78').
Unused subs: Nicholas Ong (GK), Umar Akhbar, Ifwat Ismail, Harith Kanadi.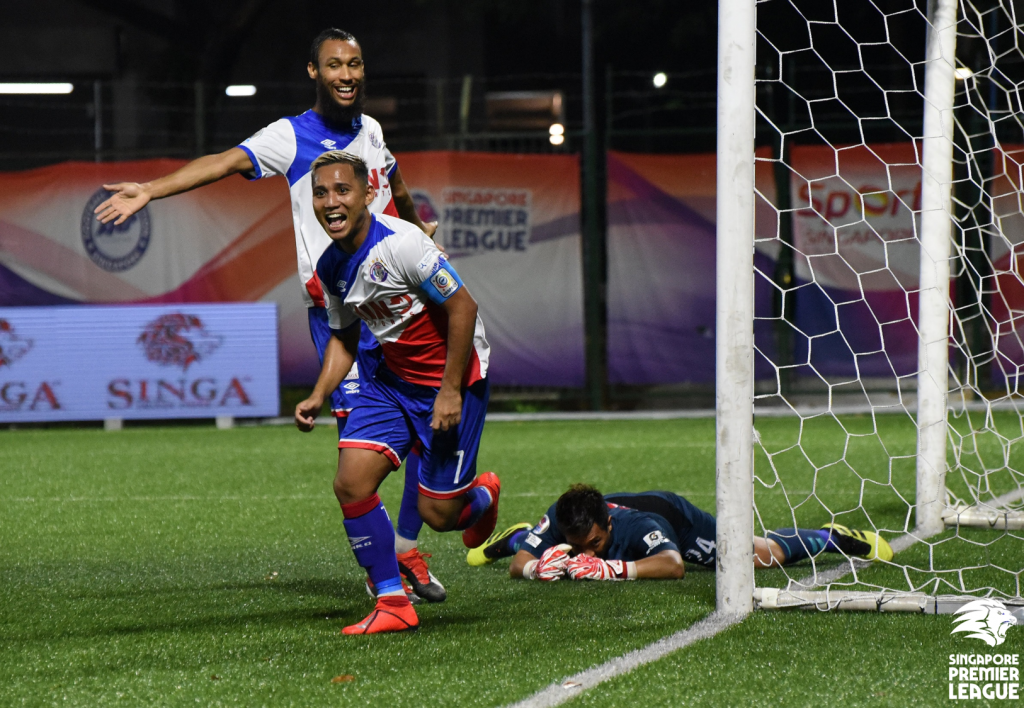 Warriors 1-1 Tampines | Jurong East | 24 April
Sahil Suhaimi 53′ | Shahdan Sulaiman 27′
Nine-time champions Warriors bagged their first point of the season at the sixth time of asking after coming from a goal down to hold Tampines. The visitors were looking to end a three-game win-less run in the league and went ahead through a precise free-kick from Shahdan Sulaiman. But an error from goalkeeper Syazwan Buhari allowed Sahil Suhaimi to level and both sides had to settle for a share of the spoils.
Facts
– Sahil scored in back-to-back games for the first time since October 2016.
– This was the first time Warriors did not lose a game after conceding first.
– Emmeric Ong made his 100th appearance for Warriors.
– Shahdan scored his second free-kick goal of the season, a league-best.
Warriors XI: Fashah Iskandar (GK), Daniel Shafiq, Delwinder Singh, Kento Fukuda, Sahil Suhaimi (C), Jonathan Behe, Ryhan Stewart, Gabriel Quak (Emmeric Ong 82'), Tajeli Salamat, Fadhil Noh (Poh Yi Feng 22'), Faizal Raffi (Khairul Nizam 46').
Unused subs: Riki Kimura (GK), Ignatius Ang, Fairoz Hasan, Afiq Azrhy.
Tampines XI: Syazwan Buhari (GK), Madhu Mohana, Amirul Adli, Akmal Azman (Irwan Shah 46'), Daniel Bennett, Shahdan Sulaiman (C), Ryutaro Megumi, Yasir Hanapi, Joel Chew (Jordan Webb 46'), Khairul Amri (Taufik Suparno 76'), Zehrudin Mehmedović.
Unused subs: Zulfairuuz Rudy (GK), Zulfadhmi Suzliman, Shah Shahiran, Elijah Lim.
Hougang 4-2 Albirex | Jalan Besar | 24 April
Faris Ramli 9′, 29′, Nikesh Singh 56′, Shahfiq Ghani 70′ | Daizo Horikoshi 67′, Yoshikatsu Hiraga 90'+2
Another big win for Hougang saw them move to within two points of leaders DPMM as they blitzed past the defending champions. Faris Ramli got them started inside the first 10 minutes with a smart first-time finish off Amir Zalani's cross and he was as clinical on the half-hour mark when he latched onto Kong Howon's 50-yard ball and dispatched it past the goalkeeper. It was 3-0 when youngster Nikesh Singh, who only made his professional debut in their last game, smashed in the rebound after M. Anumanthan's shot came off the post. Daizo Horikoshi gave Albirex a glimmer of hope when he fired in a low effort after robbing a defender, but Shahfiq Ghani soon restored the three-goal cushion by finishing off Stipe Plazibat's pass on a counter-attack. Poor marking allowed Yoshikatsu Hiraga to head in a corner deep into injury time but it was mere consolation for the White Swans.
Facts
– Hougang won three consecutive league games for the first time since June 2014.
– Hougang scored four goals in a game for the second consecutive game.
– Faris has matched his league tally of six goals (for PKNS) from last season.
– Nikesh scored his first ever professional goal.
– Shahfiq's last league goal also came against Albirex.
Hougang XI: Khairulhin Khalid (GK), Nazrul Nazari (Fabian Kwok 45'), Kong Howon, Afiq Yunos, Jordan Vestering, Nikesh Singh (Shahfiq Ghani 65'), Zulfahmi Arifin (C), Afiq Noor (M. Anumanthan 27'), Amir Zalani, Faris Ramli, Stipe Plazibat.
Unused subs: Ridhuan Barudin (GK), Hafiz Sujad, Fazrul Nawaz, Timothy Yeo.
Albirex XI: Kengo Fukudome (GK), Shuhei Sasahara, Naruki Takahashi, Shoki Ohara, Sota Sugiyama, Kaishu Yamazaki, Daizo Horikoshi, Firas Irwan (Daichi Tanabe 46'), Zamani Zamri (Yoshikatsu Hiraga 46'), Kyoga Nakamura (C), Hiroyoshi Kamata.
Unused subs: Hyrulnizam Juma'at (GK), Kodai Sumikawa, Gamu Tasaka, Shunsuke Fukuda.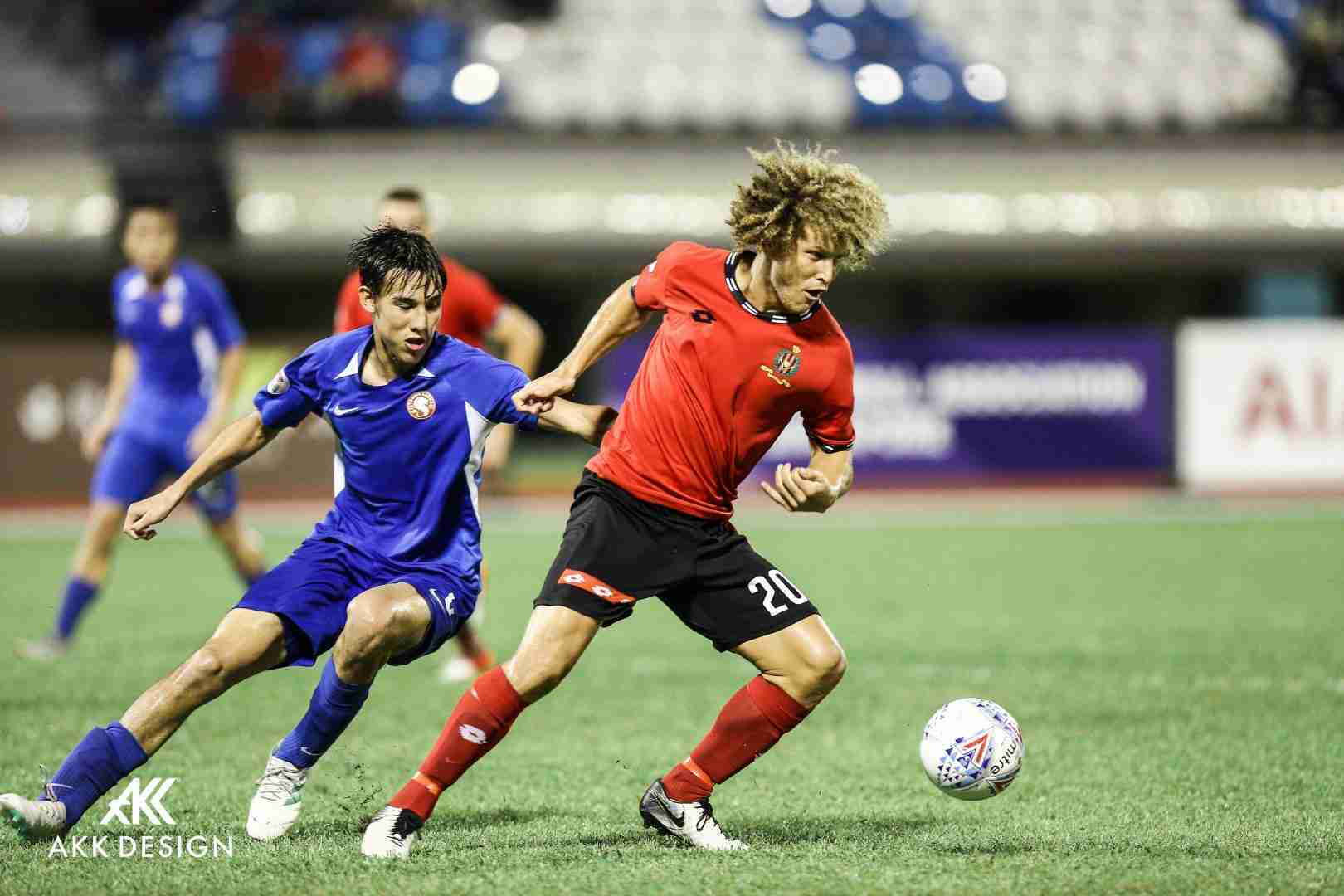 DPMM 0-0 Young Lions | Hassanal Bolkiah | 24 April
Adrian Pennock's league leaders missed the opportunity to notch a club-record seventh consecutive home win after being frustrated by the Young Lions. The hosts struggled to break down their visitors and did not trouble goalkeeper Kenji Rusydi too much, while Syukri Bashir will feel he could have done better at the other end when he shanked a header wide off an excellent cross from Zulqarnaen Suzliman.
Facts
– Wardun Yussof recorded a league-leading fourth clean sheet of the season.
– DPMM have been involved in two of the four goal-less matches so far this season.
– This is the first time the Young Lions did not go on to lose a game from a draw position at half-time.
– The Young Lions ended a three-game losing streak.
– The Young Lions recorded their first clean sheet of the season.
DPMM XI: Wardun Yussof (GK)(C), Wafi Aminuddin (Nurikhwan Othman 79'), Charlie Clough, Azwan Ali Rahman, Andrei Varankou, Najib Tarif, Helmi Zambin, Hazwan Hamzah, Razimee Ramlli (Abdul Azizi Rahman 66'), Blake Ricciuto, Shah Razen Said (Hendra Azam 69').
Unused subs: Haimie Nyaring (GK), Abdul Mu'iz Sisa, Azwan Saleh, Yura Indera Putera.
Young Lions XI: Kenji Rusydi (GK), Jacob Mahler, Zulqarnaen Suzliman (Syed Firdaus Hassan 88'), Haiqal Pashia, Syahrul Sazali, Sharul Nizam (Syukri Bashir 46'), Nur Luqman Rahman (Qayyum Raishyan 90'+1), Lionel Tan, Joshua Pereira (C), Gareth Low, Syed Akmal. 
Unused subs: Zharfan Rohaizad (GK), Asraf Zahid, Rezza Rezky, Prakash Raj.