News Singapore Premier League • November 18, 2020
Singapore Premier League Week 11: Roundup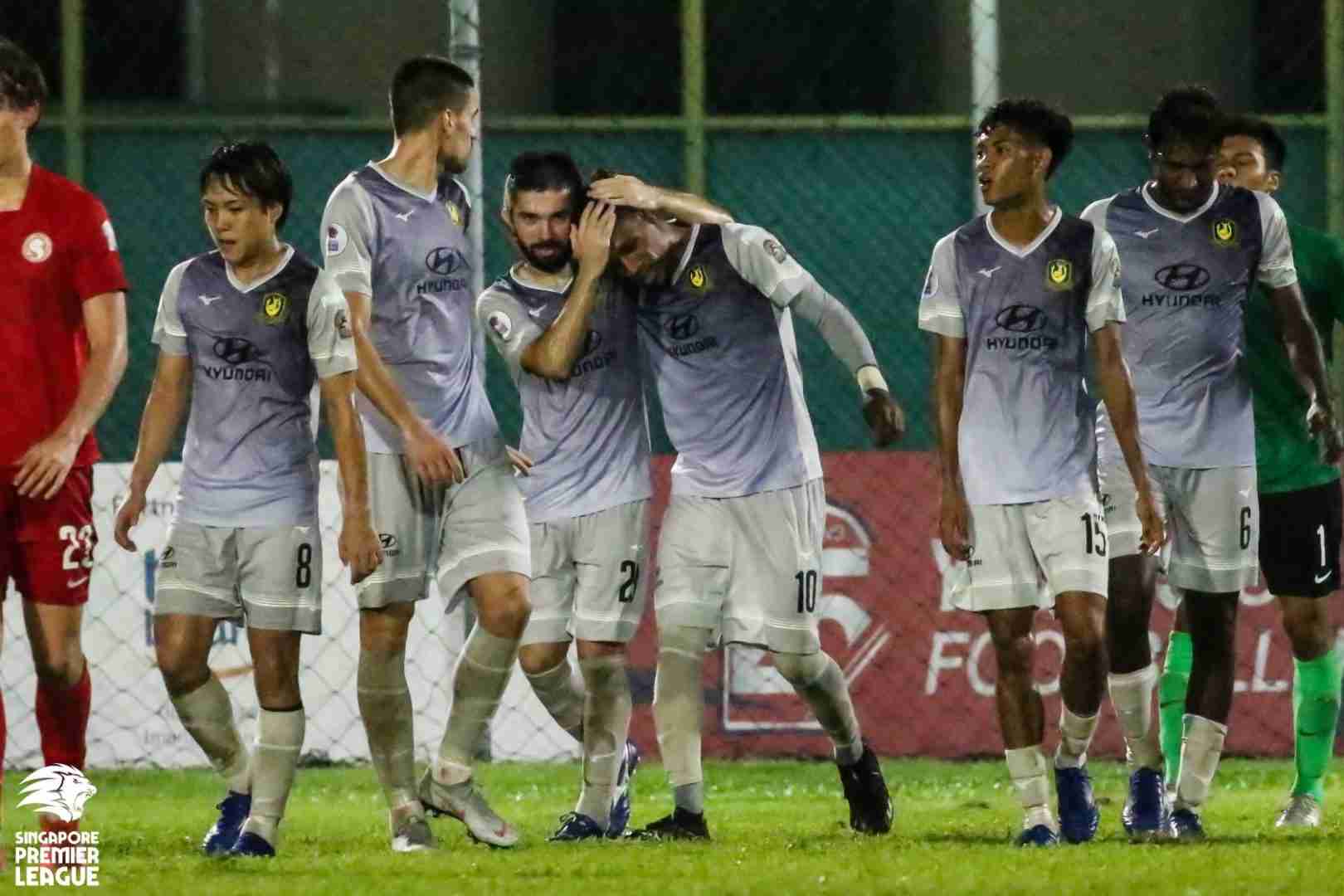 Jordan Webb (10) is the latest member of the SPL's century-goal club
SINGAPORE, 18 NOVEMBER 2020 – The AIA Singapore Premier League (SPL) action continues, with frontrunners Albirex Niigata (S) and Tampines Rovers putting up second-half shows to remain in first and second respectively. Lion City Sailors brushed aside Hougang United to remain three points off the top, while Geylang International edged Tanjong Pagar United to go fourth. We recap all the action below…
Eagles rediscover wings against hapless Jaguars
Geylang 2-1 Tanjong Pagar | Our Tampines Hub | 17 Nov
Shahrin Saberin 22′, Fareez Farhan 69′ | Luiz Junior 80'
After just one win out of five games since the SPL restart, Geylang were determined to change their fortunes and went ahead midway through the first half. Seven minutes after striking the woodwork with a free-kick, Amy played in a teasing set-piece that Barry Maguire nodded onto the post before Shahrin reacted the quickest to thump home from eight yards out. Zulkiffli Hassim was then denied an equaliser by the post shortly after the break, before substitute Fareez Farhan produced an opportunistic finish to double the Eagles' advantage after Christopher Van Huizen's shot was deflected into his path. Tanjong Pagar would pull one back through Luiz's stunning first-time shot from outside the area that struck the underside of the bar before going in, but it was too little too late for the Jaguars.
Facts
Geylang are now undefeated in the last eight encounters.
Two of Geylang's four wins this season have come against Tanjong Pagar.
Tanjong Pagar are still waiting for their first win since October 2014.
Shahrin scored his first goal since June 2016 when he netted for Home United against the Eagles in a 2-1 defeat at Bishan.
Fareez is the third player to score a match-winning goal for Geylang – the most in the league.
Fareez and Shahrin both netted their first goal of the season after being sent off in Geylang's season-opening 4-0 defeat to Albirex.
Geylang's Wayne Chew made his first professional appearance.
Tanjong Pagar's Shodai Nishikawa has two assists in as many games.
Luiz's two goals so far have come in defeats.
Geylang: Wayne Chew (GK) (Hairul Syirhan 46'), Darren Teh, Yuki Ichikawa (C), Shahrin Saberin, Harith Kanadi, Umar Akhbar, Firdaus Kasman, Barry Maguire, Nur Luqman Rahman (Christopher Van Huizen 46'), Amy Recha (Khairul Nizam 81'), Iqbal Hussain (Fareez Farhan 58').
Unused subs: Nurullah Hussein, Azri Suhaili, Danish Qayyum.
Tanjong Pagar: Kenji Rusydi (GK), Faritz Hameed (C), Delwinder Singh, Yann Motta, Takahiro Tanaka, Nashrul Amin (Suria Prakash 46'), Suhairi Sabri, Raihan Rahman (Ammirul Emmran 56'), Elfy Danish (Farihin Farkhan 31', Zulkiffli Hassim 46'), Shodai Nishikawa, Luiz Junior.
Unused subs: Fashah Iskandar (GK), Syabil Hisham, Julian Tan.
Sailors up for the title challenge
Hougang 1-3 Sailors | Hougang | 17 Nov
Charlie Machell pen. 90'+3 | Gabriel Quak 12', Hafiz Nor 57', Shahdan Sulaiman 86'
The Sailors continued their impressive run of form by dispatching a difficult opponent. After going ahead through Quak's stunning free-kick from the edge of the area, Aurelio Vidmar's side then lost top scorer Stipe Plazibat just before the break due to injury. Despite that setback, they doubled their lead with winger Hafiz putting the finishing touch to Aqhari Abdullah's low cross into the area. Shahdan then sealed the three points for the away side with an instinctive header after Quak's shot was deflected by Lionel Tan into his path. There was to be no clean sheet for the Sailors, however, with Hougang grabbing a consolation through Machell's penalty conversion deep into injury time.
Facts
Hougang have won just one out of their last 17 league games at Hougang Stadium.
The Sailors have scored 16 goals in their last three matches.
The Sailors have scored within the first 15 minutes in their last three matches.
The Sailors have scored in the second half for seven straight SPL matches.
The Sailors are one of two teams, together with Albirex, to win three successive matches this season.
The Sailors have conceded one goal in each of their last four matches.
Quak scored the first free-kick of his professional career.
Hafiz scored his first goal of the season.
Shahdan has two goals in as many games against Hougang, with both coming in open play after just one in his previous 12 (six penalties and five free-kicks) goals since 2017.
Machell has two goals in as many games for Hougang.
Hougang: Ridhuan Barudin (GK), Nazrul Nazari, Anders Aplin, Lionel Tan, Zachary Anderson, Hafiz Sujad (Maksat Dzhakybaliev 73'), Fabian Kwok (C) (Nikesh Singh 84'), Afiq Noor, Charlie Machell, Farhan Zulkifli (Faiz Salleh 88'), Daniel Martens (Justin Hui 46').
Unused subs: Daniel Ong (GK), Shawal Anuar, Emmeric Ong.
Sailors: Hassan Sunny (GK) (C), Aqhari Abdullah, Kaishu Yamazaki, Tajeli Salamat, Naqiuddin Eunos (Faizal Roslan 84'), Shahdan Sulaiman, Saifullah Akbar (Izzdin Shafiq 84'), Gabriel Quak, Haiqal Pashia (Arshad Shamim 74'), Hafiz Nor (Shahril Ishak 84'), Stipe Plazibat (Adam Swandi 39').
Unused subs: Rudy Khairullah (GK), Abdil Qaiyyim.
Webb hits 100-goal landmark as Stags return to winning ways
Young Lions 1-3 Tampines | Jurong West | 17 Nov
Khairin Nadim 20' | Jordan Webb 49′, 70', pen. 84'
Tampines looked to be heading for a third straight game without a victory after teenager Khairin capitalised on a defensive lapse to curl an excellent finish past Syazwan Buhari for his first professional goal. However, Gavin Lee's men turned things around in the second half through an inspired Jordan Webb. Initially equalising through a neat finish off Zehrudin Mehmedović's reverse pass, the 32-year-old Canadian benefitted from another inch-perfect through ball from the same player to curl home from 18 yards – scoring his 100th SPL goal in the process. He would complete his hat-trick late on from the spot after being brought down by Young Lions custodian Nurshafiq Zainal to put the Stags' title challenge back on track.
Facts
Webb is now up to 101 goals in the SPL.
This is Webb's second hat-trick of his career – his first was also against Young Lions in a 6-1 win for Tampines at the same venue in June 2016.
Mehmedović grabbed two assists in the same game for the first time.
Khairin is the third-youngest scorer in the history of the league at 16 years 194 days – behind Hariss Harun and Hakeme Said.
Tampines' Andrew Aw made his professional debut.
Young Lions scored the first goal of the game against Tampines for the first time in 15 outings – since Shameer Aziq did so in a 3-1 defeat at Jalan Besar in September 2015.
Tampines have now scored in 29 straight SPL games.
Young Lions have conceded three penalties, the most of any team so far.
Young Lions: Nurshafiq Zainal (GK), Sahffee Jubpre, Syed Akmal, Jacob Mahler (C), Danish Irfan, Ryhan Stewart, Harhys Stewart (Nor Hakim 87'), Amirul Haikal, Shahib Masnawi (Marc Ryan Tan 57'), Idraki Adnan (Zamani Zamri 63'), Khairin Nadim.
Unused subs: Ridhwan Fikri (GK), Fikri Junaidi, Danial Crichton.
Tampines: Syazwan Buhari (GK), Ryaan Sanizal (Irwan Shah 46'), Daniel Bennett, Amirul Adli, Andrew Aw (Madhu Mohana 46'), Kyoga Nakamura, Shah Shahiran, Zehrudin Mehmedović (Baihakki Khaizan 86'), Yasir Hanapi (C) (Taufik Suparno 81'), Jordan Webb (Danish Siregar 90'+1), Boris Kopitovic.
Unused subs: Zulfairuuz Rudy (GK), Fazrul Nawaz.
White Swans grind out another win
Albirex 2-0 Balestier | Jurong East | 17 Nov
Hiroyoshi Kamata 64′, Tomoyuki Doi 79′
Albirex had to dig deep again to get the three points against a resilient Balestier side that did well to keep them at bay for the first hour. However, the White Swans eventually found the breakthrough with the long-serving Kamata finishing off Ryosuke Nagasawa's delightful through ball into the area. The visitors should have equalised thereafter, but Zulfadhmi Suzliman was denied by the post while Šime Žužul spurned a one-on-one opportunity. They were made to rue those misses as Doi popped up at the back post to nod in Yasuhiro Hanada's inswinging cross to seal a third straight win for Albirex.
Facts
Balestier had more shot attempts and shot on targets (15/7) as compared to Albirex (13/6).
Balestier have not defeated Albirex in the last 17 encounters in all competitions.
The Tigers have lost their last nine visits to Jurong East in all competitions – conceding 23 and scoring just two.
Albirex are one of two teams, along with the Sailors, to win three successive matches this season.
Kamata also scored the opening goal in an identical 2-0 victory in the previous visit at this venue in September 2019.
Six out of Kamata's last seven goals have been the opening goal of the match, with all coming at Jurong East and resulting in wins.
Doi has scored in seven out of nine games this season.
Doi has accumulated the most number of shots in each of his last four appearances.
Hanada has the joint-most number of assists (3) as a defender alongside team-mate Kazuki Hashioka.
Okawa has joined Tampines' Syazwan Buhari on five clean sheets – the joint-most in the league.
Balestier's Hoshino has not scored in five straight matches – his longest goal drought since a four-match barren run for Albirex in September 2018.
Albirex: Kei Okawa (GK), Kazuki Hashioka (C), Rio Sakuma, Kotaro Takeda, Hiroyoshi Kamata, Kenta Kurishima, Iman Hakim (Ryuya Mitsuzuka 59'), Ryosuke Nagasawa, Fairoz Hasan (Yasuhiro Hanada 46'), Ryoya Taniguchi (Mahiro Takahashi 90'+2), Tomoyoki Doi.
Unused subs: Hyrulnizam Juma'at (GK), Gareth Low, Ren Ishihara, Ong Yu En.
Balestier: Zaiful Nizam (GK)(C), Gaye Sameer (Keshav Kumar 80'), Fadli Kamis, R. Aaravin, Ahmad Syahir, Aarish Kumar (Šime Žužul 70'), Jordan Emaviwe (Elijah Lim 70'), Kristijan Krajček, Hazzuwan Halim, Zulfadhmi Suzliman (Yeo Hai Ngee 72'), Shuhei Hoshino.
Unused subs: Zacharial Leong (GK), Danish Uwais, Aiman Zavyan.