News Singapore Premier League • November 23, 2020
Singapore Premier League Week 12: Roundup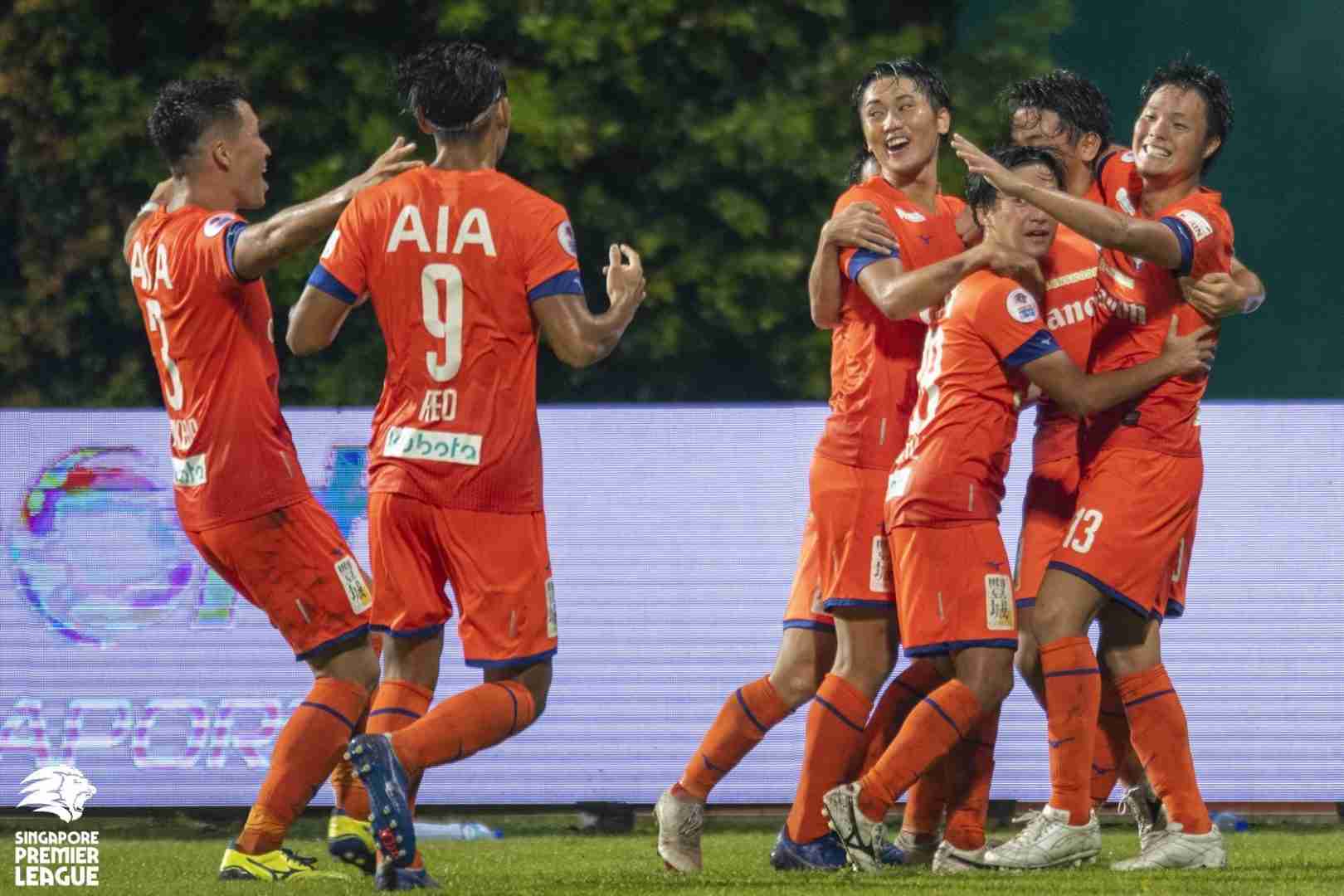 Albirex enjoyed a happy Sunday as they extended their lead at the top
SINGAPORE, 23 NOVEMBER 2020 – Leaders Albirex Niigata (S) were the big winners in the AIA Singapore Premier League (SPL) this weekend as they edged Lion City Sailors in a five-goal thriller to go two points clear at the top, while fellow title challengers Tampines Rovers dropped valuable points in a frustrating draw with Tanjong Pagar United. Elsewhere, Geylang International dispatched Hougang United to boost their hopes of qualification for the 2021 Asian Football Confederation (AFC) Cup, while Young Lions defeated Balestier Khalsa to move off the bottom of the table. We recap all the action below…
Eagles sniff AFC Cup qualification
Geylang 2-0 Hougang | Our Tampines Hub | 21 Nov
Barry Maguire 42', Amy Recha 60′
Geylang can now dream of qualification for next year's AFC Cup after a dominant display that put them four points clear in the race to finish as the third-best local team with four matches left. After going close with an earlier header, Dutch midfielder Maguire was not to be denied just before half-time as he nodded home Fareez Farhan's pinpoint corner delivery. The Eagles then doubled the lead when substitute Amy produced a delightful back-heeled finish from five yards out after Hougang failed to clear their lines from another corner. The visitors tried to muster a response but it was to no avail, as they fell to a third defeat in four games.
Facts
Hougang are win-less in the last five encounters in all competitions and have conceded at least twice on each occasion.
Hougang have kept just one clean sheet from 13 competitive games this season.
Both of Maguire's goals this season have come from headers.
Amy also opened the scoring the last time Geylang defeated Hougang 2-0 in a RHB Singapore Cup group stage clash in October 2019.
Justin Hui made his first start since March 2019 when he was sent off in Hougang's 5-1 away defeat to Tampines.
Geylang: Hairul Syirhan (GK), Darren Teh, Shahrin Saberin, Yuki Ichikawa (C), Adam Hakeem, Harith Kanadi, Umar Akhbar, Firdaus Kasman, Nur Luqman Rahman (Amy Recha 46'), Barry Maguire, Fareez Farhan (Iqbal Hussain 74').
Unused subs: Wayne Chew (GK), Azri Suhaili, Christopher Van Huizen, Safirul Sulaiman, Ilhan Noor.
Hougang: Ridhuan Barudin (GK)(C), Nazrul Nazari, Anders Aplin, Zachary Anderson, Lionel Tan, Justin Hui (Anumanthan Kumar 46'), Afiq Noor (Fabian Kwok 77'), Charlie Machell, Farhan Zulkifli (Hafiz Sujad 67'), Shahfiq Ghani, Shawal Anuar.
Unused subs: Daniel Ong (GK), Maksat Dzhakybaliev, Faiz Salleh, Nikesh Singh.
Young Lions punish lacklustre Tigers
Balestier 1-2 Young Lions | Bishan | 21 Nov
R. Aaravin 57′ | Jacob Mahler pen. 45'+1, Ryhan Stewart 86′
The Young Lions finally came off the foot of the table after a sparkling display to upset their more-fancied opponents. Nazri Nasir's boys went ahead on the stroke of half-time when captain Mahler sent Zaiful Nizam the wrong way from the spot after Fadli Kamis was penalised for handball. Balestier equalised through a clever hooked finish by centre-back Aaravin after Hazzuwan Halim's inswinging corner was spilled, but then went down to ten men when Fadli was shown a direct red card for an off-the-ball incident with Hami Syahin. The visitors would capitalise on the numerical advantage, with Ryhan slotting home a late winner from unmissable range for their second win of the season after great work from Khairin Nadim to cause chaos in the area.
Facts
Young Lions have won at Bishan for a second straight season – following up the 1-0 victory over the Tigers in May 2019.
This is the second time Young Lions have led at half time – they led 1-0 in last week's 3-1 loss to Tampines.
Young Lions are still waiting for their first clean sheet of the season.
Balestier have now gone four games without a win.
Balestier are win-less in all five home games this season.
Balestier have yet to win in 14 matches in all competitions as the designated home team at Bishan, since defeating Warriors FC 2-1 in April 2019 – their identical 3-1 wins over Home United across two competitions last year came when they were the designated away sides.
Balestier have conceded the first goal in their last five outings.
There has been at least three goals in each of Balestier's five home games this season.
Aaravin scored his first goal since September 2018 when he netted for Young Lions in a 2-2 draw with Geylang.
Ryhan scored his first professional goal after 34 appearances in all competitions.
Balestier's Shuhei Hoshino has now gone six games without a goal.
Balestier: Zaiful Nizam (GK)(C), Gaye Sameer (Jufri Taha 87'), Fadli Kamis, R. Aaravin, Ahmad Syahir, Jordan Emaviwe (Keshav Kumar 66'), Elijah Lim (Zulfadhmi Suzliman 46'), Hazzuwan Halim (Yeo Hai Ngee 77'), Kristijan Krajček, Šime Žužul, Shuhei Hoshino.
Unused subs: Hafiz Ahmad (GK), Aarish Kumar, Puvan Raj.
Young Lions: Nurshafiq Zainal (GK), Danial Crichton (Sahffee Jubpre 59'), Irfan Najeeb, Jacob Mahler (C), Nur Adam Abdullah, Ryhan Stewart (Marc Ryan Tan 90'+2), Harhys Stewart, Hami Syahin, Shahrulnizam Mazlan (Ilhan Fandi 68'), Amirul Haikal, Khairin Nadim.
Unused subs: Ridhwan Fikri (GK), Zamani Zamri, Nor Hakim, Idraki Adnan.
Stags stumble
Tanjong Pagar 2-2 Tampines | Jurong East | 22 Nov
Luiz Junior 61′, 81′ | Boris Kopitovic 5′, 75′
It had looked like Tampines were on the way to a routine victory after Montenegrin forward Kopitovic benefited from Zehrudin Mehmedović's lovely outside-foot pass to put them ahead. However, the tide turned just before half-time when Canadian hotshot Jordan Webb was dismissed for using abusive language to leave the Stags with ten men. Tanjong Pagar duly levelled matters after the break with Luiz's close-range shot getting a deflection off Irwan Shah before rolling past Syazwan Buhari. Kopitovic put the away side back ahead as he diverted home Madhu Mohana's inswinging cross from eight yards, but the spirited Jaguars found a second equaliser through Brazilian Luiz, who rifled home a stunning volley from the edge of the box to bring some joy for coach Hasrin Jailani on his 44th birthday.
Facts
This is the third time Tampines have drawn after scoring first – the most amongst the nine teams in the league.
Tampines have now drawn three out of their last four matches.
Tampines conceded from a cross (Luiz's first goal) for the first time this season.
Tanjong Pagar's four points so far have all come via draws, with three of those being 2-2 affairs.
This is the first time Tanjong Pagar have avoided defeat after conceding first – they lost on the previous six occasions.
Both Kopitovic and Luiz netted their first braces and netted in successive games for the first time in the SPL – they are the seventh and eighth player to score braces this season.
Luiz scored his second goal from outside the box – the joint-most along with Balestier's Kristijan Krajček.
Webb got his first red card in a competitive match since September 2015 in Young Lions' 1-0 win over the Stags.
Mehmedović assisted for a third straight game – the third player to do so this season.
Takahiro Tanaka has the most assists for Tanjong Pagar with three.
Tanjong Pagar's Farihin Farkhan made his first professional start.
Tanjong Pagar: Kenji Rusydi (GK), Faritz Hameed (C), Delwinder Singh, Yann Motta (Syabil Hisham 42'), Takahiro Tanaka, Nashrul Amin (Suria Prakash 46'), Ammirul Emmran, Raihan Rahman (Suhairi Sabri 60'), Farihin Farkhan (Zulkiffli Hassim 46'), Shodai Nishikawa, Luiz Junior.
Unused subs: Fashah Iskandar (GK), Julian Tan, Elfy Danish.
Tampines: Syazwan Buhari (GK), Ryaan Sanizal (Irwan Shah 46'), Daniel Bennett, Amirul Adli, Andrew Aw (Madhu Mohana 46'), Kyoga Nakamura, Shah Shahiran, Zehrudin Mehmedović (Taufik Suparno 73'), Yasir Hanapi (C), Jordan Webb, Boris Kopitovic.
Unused subs: Zulfairuuz Rudy (GK), Shannon Stephen, Baihakki Khaizan, Danish Siregar.
Sailors' title hopes fade
Sailors 2-3 Albirex | Bishan | 22 Nov
Song Uiyoung pen. 22′, Tajeli Salamat 45′ | Tomoyuki Doi 13′, Fairoz Hasan 34′, Yasuhiro Hanada 77′
This much-awaited battle between the title contenders lived up to its billing, with some end-to-end stuff dished out in the first half. Albirex went ahead early with the in-form Doi lashing a crisp shot into the bottom right corner after being teed up by Hiroyoshi Kamata, but the Sailors equalised through Song's penalty after Shahril Ishak was felled in the box. The White Swans retook the lead when Ryosuke Nagasawa intercepted Tajeli's loose pass and set up veteran Singaporean attacker Fairoz to slam past the onrushing Hassan Sunny, but the home side would draw level again on the stroke of half-time with Tajeli producing a near-post header off Shahdan Sulaiman's inswinging corner to atone for his error. The Sailors piled on the pressure in the second half but were unable to find the cutting edge in open play with top scorer Stipe Plazibat missing through injury. Instead, Albirex stole the three points late on when Hanada volleyed home at the back post after captain Kazuki Hashioka's low right-wing cross somehow escaped everyone else in the Sailors box – opening up a gap of six points between both sides with just four games to go.
Facts
The Sailors have not beaten Albirex in nine league encounters since their predecessor Home United won 2-0 at Jalan Besar in June 2017.
Albirex are unbeaten in their last eight visits to Bishan for this fixture since a 3-1 loss in October 2016.
The Sailors have scored four penalties – the most amongst the teams in the league.
The Sailors have not kept a clean sheet for the last five matches.
Albirex conceded their first header of the season – they were the last team not to concede one prior to this match.
Doi has scored in four straight games and has netted in eight out of ten games this season.
Fairoz is the fifth-ever Singaporean to score for Albirex – after Adam Swandi, Daniel Martens, Noor Akid Nordin and Zamani Zamri.
Fairoz also scored on his last start against Hassan in Hougang's 1-1 draw with Home in the 2017 League Cup group stages.
Hashioka is the top-assisting defender with four.
Shahril made his first start since September 2019 in Home United's 1-0 away defeat to the White Swans.
Sailors: Hassan Sunny (GK)(C), Aqhari Abdullah (Abdil Qaiyyim 89'), Tajeli Salamat, Kaishu Yamazaki, Naqiuddin Eunos , Shahdan Sulaiman, Song Uiyoung (Arshad Shamim 83'), Saifullah Akbar, Gabriel Quak, Haiqal Pashia (Adam Swandi 46'), Shahril Ishak (Hafiz Nor 46').
Unused subs: Rudy Khairullah (GK), Izzdin Shafiq, Faizal Roslan.
Albirex: Kei Okawa (GK), Kazuki Hashioka (C), Rio Sakuma, Kotaro Takeda, Hiroyoshi Kamata, Kenta Kurishima, Iman Hakim (Yasuhiro Tanada 62'), Ryosuke Nagasawa, Fairoz Hasan (Reo Nishiguchi 46'), Ryoya Taniguchi (Mahiro Takahashi 90'+3), Tomoyoki Doi.
Unused subs: Hyrulnizam Juma'at (GK), Gareth Low, Ryuya Mitsuzuka, Ong Yu En.