News Singapore Premier League • October 15, 2020
Stipe Plazibat: Singapore is a very good country for me and I want to set up a family here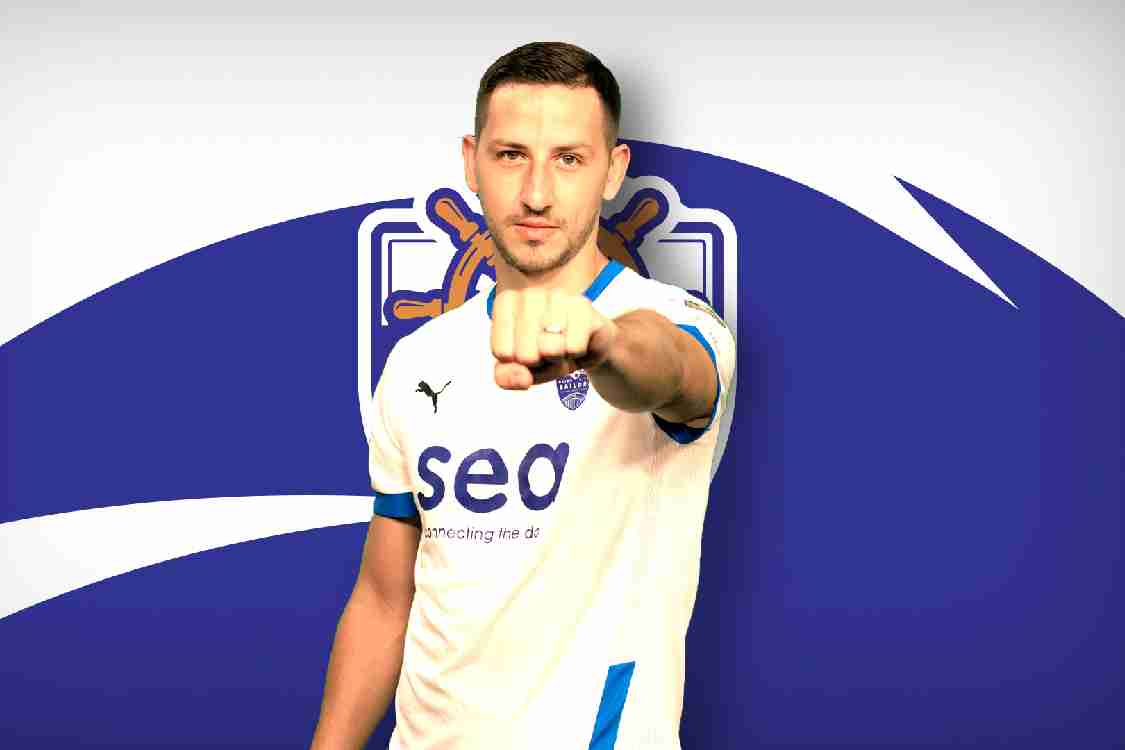 SINGAPORE, 15 OCTOBER 2020 – Stipe Plazibat has a healthy respect for the Hougang HOOLs – Hougang United's hardcore, unofficial supporters' group – so much so that he told them about his mid-season move to the Lion City Sailors before it was officially announced.
During his two and a half seasons with the Cheetahs, the Croatian marksman became a fan favourite and forged a strong rapport with the HOOLs – widely recognised as one of the most fervent supporters in the AIA Singapore Premier League (SPL). It is not hard to see why – with his tireless displays and 34 goals in 56 games across all competitions, the fans took Plazibat to heart and he reciprocated, as is the case with many of his team-mates.
"I approached them (the HOOLs) first… (and) I told them I would like them to know from me, not from someone else," he told SPL.sg. "I think that is only fair for all the support they have given me. I explained to them what I feel, the reason for me leaving and how it is not only my decision, so they (can) understand."
The 31-year-old has only good things to say about Hougang. His first stint in 2016, in a "young team without any pressure to get results", yielded 15 goals and a sixth-placed finish for the club. "All the guys were very welcoming, so it was very easy for someone who just came to Singapore," he recalled of his maiden year in Singapore.
Plazibat spent the 2017 season with Home United and had spells in Thailand and Croatia before returning to Hougang in 2019. It would prove to be a historic season as they finished third, their highest ever position, and qualified for continental competition – the Asian Football Confederation (AFC) Cup – for the first time.
"The second time, we had more established players so there was more pressure," Plazibat said. "Our main goal was to finish (in the) top three… In the end, we could have done a little more because we were very, very near to becoming champions. Unfortunately, I was injured for the last two matches and I could not help the team. In the (Singapore) Cup, we did not perform well so the season was half-successful but overall, it was still a positive experience."
He was also keen to stress that the circumstances around his second time crossing the Hougang-Bishan divide are different. "The first time, my contract expired and I did not get an offer from Hougang (to renew it)," he said. "This time, Lion City Sailors bought out my contract… It was the best option for me and Hougang in these uncertain moments of Covid-19."
SETTING SAIL  
Plazibat is certainly hoping that there will be even better times and more trophies at his new club. Last month, the Sailors made waves with arguably the biggest transfer of this SPL season with his arrival for an undisclosed fee.  The league's newest side – established earlier this year as Singapore football's first and only privatised club – were looking for a replacement for Andrew Pengelly and their new man has settled in well.<
"I have spent more than one month here and everything is going perfect," he said. "I know almost all of the players (even before joining), except for some of the young ones. I find them very easy going… They are hungry and ambitious – just like me – so it was very easy to fit in.
"It has not been too long, but I (also) have a very good relationship with Coach Aurelio (Vidmar). We talk a lot and we share the same ideas about football, so it is easy."
He is confident of winning his new fans over, too. "I think they will respect me because I am someone who is always giving 100 per cent no matter what," he said. "If I am injured or get some knocks, I will just go through that and continue to play. Of course, the fans look out for this kind of commitment from the players, so I will try to show that on the pitch again."
The arrival of Plazibat, a proven goalscorer, could be exactly what the Sailors need. The Split native started the 2020 season in excellent form, bagging four goals in the AFC Cup and a league-best five in the SPL before football ground to a halt in late March due to the Covid-19 pandemic. 
In all, Plazibat has plundered 54 goals in 70 SPL matches; since 2016, no player has scored more goals in the league. To have a player of such experience and stature leading the line should boost the Sailors' title chances – despite a slow start with one point from two games – as they seek to swiftly become a local footballing powerhouse.
The club's goals are shared by Plazibat. "I just feel that it is a little more serious and clearer in terms of the ambitions at this club," he said. "My job is here to be one of the leaders of a team that wants to do something special and win titles. So, everyone here needs to be thinking in the same direction. Definitely, my biggest target is to win the SPL title here – something that I have not won before."
View this post on Instagram
DROPPING ANCHOR
Naturally, Plazibat has also set his sights on hitting the century mark in the SPL. "I am quite happy with the number of goals I have managed to score (so far as) I have not played every season as a striker, especially last season when I played 90 per cent of the time as a central midfielder or right winger," he said. "Now that I have achieved the 50-goal mark, naturally the 100-goal mark is my main goal."
He is keen to play his part in shaping a new generation of talent by giving advice to and "setting the standards" for his younger team-mates like Adam Swandi, Saifullah Akbar and Haiqal Pashia. "Hopefully, they will listen to me, try to repeat what I am doing and learn something from there," he said. Plazibat is also dedicating time to the club's new academy. "They have been approaching the senior players to come and do some coaching," he said. "I have already done one session with the strikers and I have told them whenever they need me, I will come down to share my experience with these young boys."
Having spent time in North Macedonia, Japan and Thailand in his eventful career, Singapore feels like home now for Plazibat. He appreciates the ease of communication as "everyone speaks English" and the "safe environment" – all of which means we could see another Plazibat scoring goals for fun years down the line.
"Singapore as a country is very suitable for my living style," he said. "It is easy when I do not need to worry if something bad will happen if my wife goes out for a coffee or for work… That's why Singapore is a very good country for me.
"My plan is to stay here until the end of my career. My wife is here with me in Singapore, we are very happy here and we want to set up a family here."