News Singapore Premier League • January 27, 2023
VAR to be implemented for 2023 Singapore Premier League season
SINGAPORE, 27 JANUARY 2023 – The Video Assistant Referee (VAR) technology will feature for the first time in Singapore league history, starting from the upcoming 2023 season of the Singapore Premier League (SPL).
The Football Association of Singapore (FAS) was recently given the green light to utilise VAR after passing a final assessment by FIFA, which comes after an implementation process that began in February 2022. This included visits by relevant FIFA personnel and regular VAR training for local match officials.
FAS Director (Referees), Nazeer Hussain, said: "The VAR system is increasingly becoming a staple feature in football since its introduction and we are pleased to have this piloted for the SPL, which will undoubtedly help to enhance and elevate the levels of officiating here. We are grateful for FIFA's assistance, and of course the various local clubs who have helped us during the implementation process. I am confident that this is a positive development for Singapore football."
The 28th edition of the SPL will kick off on 19 February 2023 with the SPL Community Shield showdown between reigning champions Albirex Niigata (S) and Singapore Cup holders Hougang United.
The traditional season curtain-raiser will then be followed by the first Matchweek, which will begin on 24 February, with the final Matchweek slated to be played in late August.

FAS Acting President Bernard Tan shakes hands with Brunei DPMM General Manager Ali Momin after the Participation Agreement Signing, flanked by FAS General Secretary Yazeen Buhari (L) and Brunei DPMM Marketing Manager Momin Jaafar, 27 January 2023
RETURN OF BRUNEI DPMM FC
The 2023 season will see the return of Brunei DPMM, who have been unable to participate due to COVID-19 travel restrictions since their mid-season withdrawal in October of the 2020 season.
While they will continue to be based in Bandar Seri Begawan, the two-time league champions will play their first three home matches in Singapore at the Jalan Besar Stadium as the Hassanal Bolkiah National Stadium is currently undergoing major renovation works.
The involvement of Brunei DPMM takes the total number of clubs for the 2023 season to nine. The season will revert to a triple round-robin format from last season's quadruple one, where each team will play 24 matches – 12 home and 12 away.
Matches will primarily be played between Friday and Sunday, with weekend kick-offs set to be moved a half-hour later to 6p.m. As with previous seasons, every match will be broadcast LIVE via Singtel TV and StarHub TV as well as live-streamed online via Mediacorp's meWATCH platform and the SPL YouTube channel.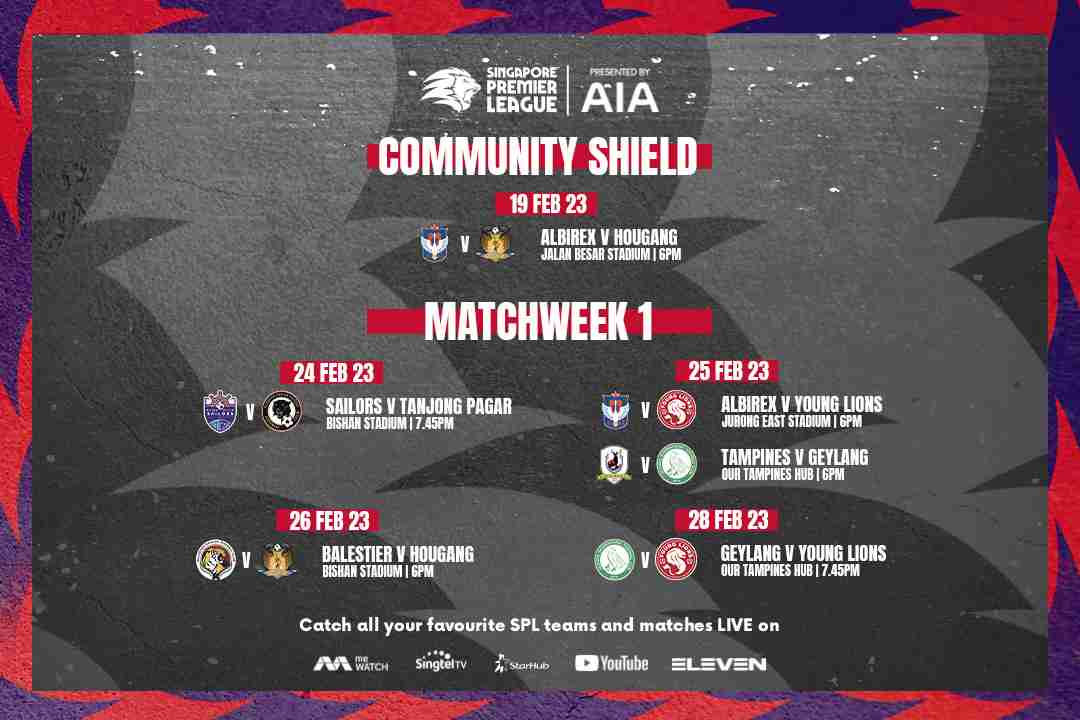 VENUE CHANGES
Three SPL clubs will be based at home venues different from the previous season – Balestier Khalsa, Hougang United and Lion City Sailors. Balestier Khalsa will once again share Bishan Stadium with the Lion City Sailors, as both return to their home venue after completion of upgrading works at the stadium; meanwhile, Hougang United will shift back to Jalan Besar Stadium, which they will share with the Young Lions. The FAS has allocated the stadiums to the clubs for the new season based on the availability of the ActiveSG fields and after consultation with Sport Singapore.
KEY REGULATIONS
Each club, with the exception of the Young Lions, will be allowed to register a minimum of 18 players and a maximum of 25. Each club, with the exception of the Young Lions and Albirex Niigata, will be allowed to register a maximum of four foreign players with no age restrictions, of whom at least one shall be of the nationality of an Asian Football Confederation (AFC) Member Association (Asian). A maximum of four foreign players may be named or fielded in any one match.
With effect from this upcoming season, the Young Lions will be allowed to register between 20 to 40 players, three of whom may be foreign or overaged Singaporean players. Previously, since 2017, the squad has comprised entirely of only local under-23 players.
Similar to the 2022 season, all clubs, excluding the Young Lions and Brunei DPMM, shall have a minimum of one Under-23 player (born on or after 1 January 2000) of Singaporean nationality fielded during the entire first half of a match. For Brunei DPMM, they are required to have a minimum of one Under-23 player of Bruneian nationality fielded during the entire first half of a match. All local clubs including Albirex may include a maximum of five players from its COE Under-21 team in its match-day squad.
SINGAPORE CUP
The Singapore Cup will return for a 24th edition and is set to be played from September to mid-December. All participating SPL clubs, excluding the Young Lions, will take part.
Fixtures for the 2023 SPL season can be found HERE.