News Singapore Premier League • May 3, 2021
Yuki Ichikawa: I never thought I would stay in Singapore for 10 years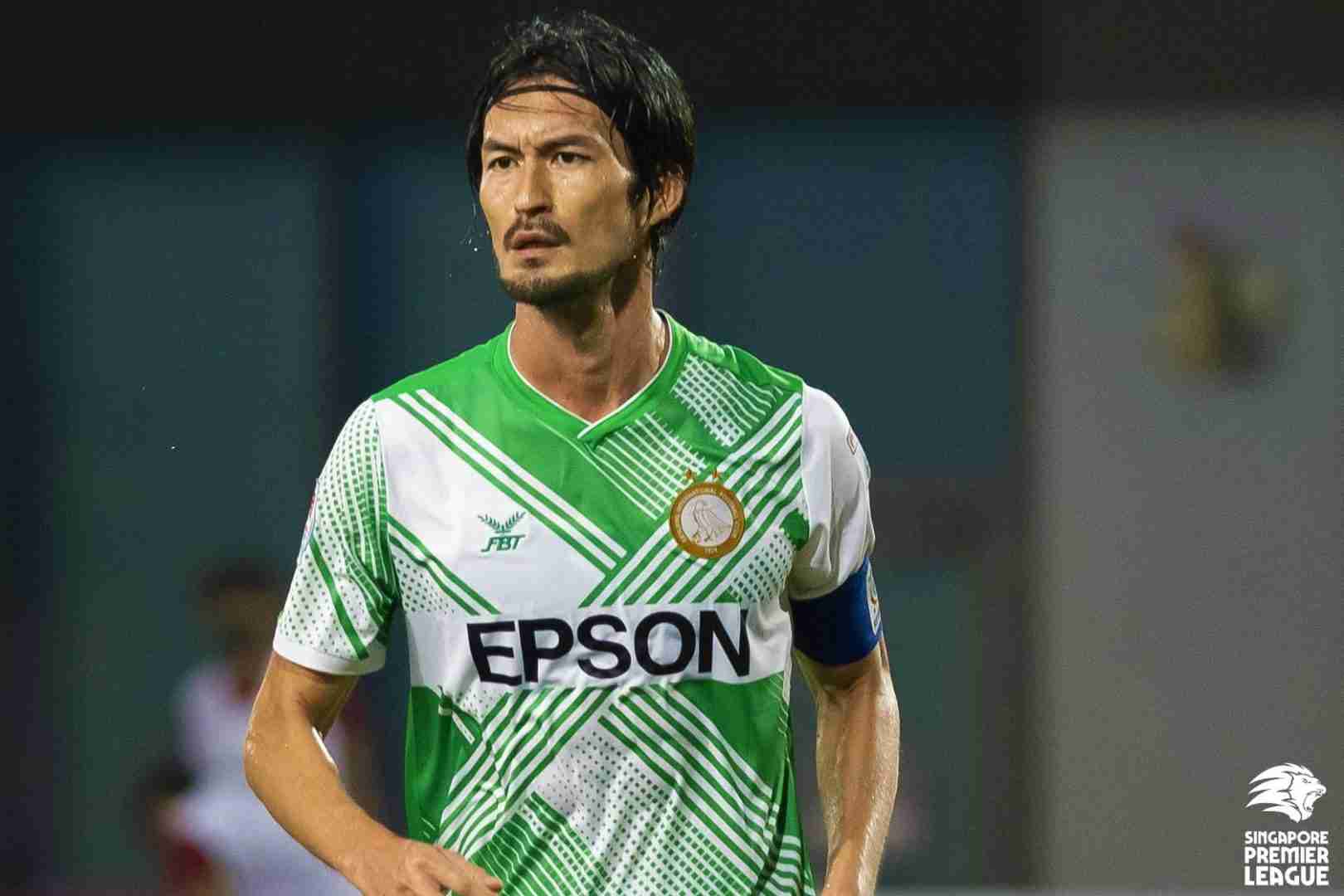 Yuki Ichikawa has spent the past eight seasons with Geylang International (Photo: 16 April 2021)
SINGAPORE, 3 MAY 2021 – Time can really go by in an instant sometimes – just ask Yuki Ichikawa.
Having first stepped onto our shores in 2012, the Japanese defender is now a decade into his career in the AIA Singapore Premier League (SPL).
In the blink of an eye, the league's current longest-serving foreign player – together with Lion City Sailors midfielder Song Uiyoung – is just two games away from making his 200th appearance.
"I feel it is so fast!" he told SPL.sg recently. "I never think (that) it is already 10 years here in Singapore. Every year, I get a contract, so I just continue to play on and on… I really never expected to stay so long here!"
Ichikawa, who turns 34 in August, did not know where Singapore was prior to his arrival; in fact, the Niigata native might not even have made it here had he followed his dream of becoming a professional basketball player.
At eight, he was hooked on famed Japanese anime Slam Dunk but his school only offered football and baseball. Ichikawa picked the former and represented his college, and played in Japan's lower tiers with Maebashi Ikuei High School, Komazawa University and Japan Soccer College, where he even came up against his idols Keisuke Honda and Kazuyoshi Miura.
But he also had the self-awareness to know that the J-League was a step too far and his search for a professional contract led him to Singapore at the age of 25. Through the recommendation of former Japan Soccer College team-mate Shimpei Sakurada, he found one at Albirex Niigata (S) after a successful trial.
"The standard back home is way too high," Ichikawa recalled. "My first thought was 'Where is Singapore?'. But when Shimpei spoke to me about his experiences (with Albirex and Warriors FC), I was interested to give it a try."
His first season was not a bed of roses. The newcomer had to bide his time to break into the first team and he only made his debut six games in, as a substitute in a 4-2 loss to Home United at Bishan Stadium.
"I knew it would be difficult… because there were many players with great potential and ability, some whom also had experience in the J-League," he said. "So I knew I have to be patient and wait for my chance."
The patience paid off and his quality shone through as Ichikawa made 15 more appearances in his debut year, before establishing himself in the first team the following season.
His impressive displays caught the attention of then-Geylang International coach Kanan Vedhamuthu and a better pay package on the table meant there was "no need to think twice" about the move.

Yuki Ichikawa in action for Albirex Niigata (S) during his first year in Singapore, 18 September 2012
Adapting  
In an environment where local players were the majority, the presence of compatriots like Kento Fukuda, Tatsuro Inui and Bruno Castanheira helped to ease him in as the club achieved successive eighth-place finishes in 2014 and 2015.
"The first year was very difficult because I did not know everyone," Ichikawa said. "I just communicated by using Google Translate or using body language and gestures!"
Off the field, the club began to evolve. Local businessman Ben Teng took over from Leong Kok Fann as the club chairman at the end of the 2015 season (Teng was succeeded by Thomas Gay in 2020) and the Eagles aspired to soar higher.
The changes at both boardroom and playing squad level put pressure on Ichikawa to prove himself to a new set of personnel, but the fact that the centre-back has been retained at the end of every season is testament not just to his playing ability, but also professionalism and selflessness.
Being handed the captain's armband in 2019 further reinforced his importance and even if he claims it did not mean he had to "do more" on the pitch, Ichikawa enjoyed his best individual season that year. He played every minute of their campaign and scored a career-best four goals, including memorable last-minute headed winners against Albirex and Tampines Rovers, as the Eagles finished fifth.
2020 was the "toughest" of Ichikawa's eight seasons with Geylang due to the SPL being halted for almost seven months as a result of the COVID-19 pandemic.
"We could only do Zoom training at home, we cannot go out – I cannot go running and I cannot use the gym," he said. "It was so difficult for me. The schedule was very tight and it was very difficult for a senior player and old man (like me) to recover… it was easier when I was younger!"
Nonetheless, the team rose above the challenges to finish fourth and qualified for the Asian Football Confederation (AFC) Cup for the first time since 2010.
At home in Singapore
Ichikawa is effusive in his appreciation for Geylang and has pledged to see out the remainder of his career at the club to repay their faith, after he contemplated leaving for a new adventure in 2018.
A trial with Malaysian side Negeri Sembilan proved unsuccessful, but the Eagles welcomed him back into the fold.
"After I came back, I was very surprised they were waiting for me and there were no hard feelings," said Ichikawa, who has also since turned down offers from Indonesia to stay. "That is why I really appreciate this team."
There are other important factors that make him feel at home here – the hardcore support from the Ultras Eagles, a tight circle of friends outside of football and a Japanese girlfriend of two years.
"Yah, sometimes I feel like a Singaporean already!" he laughed. "Because I have been here for ten years, all the places (tourist spots), I have already gone before!
"I am living a very simple and comfortable life here. There are a lot of nice Japanese restaurants in Singapore, so usually on my days off, I will go there with my Japanese friends and girlfriend. If not, I will just relax at home.
"I am (also) very happy that our supporters, the Ultras Eagles, always come down and cheer us on for every game. Not every team in Singapore has such supportive fans so I am really appreciative of what they've done for us."
The strong support system here means that he does not really miss Japan. Ichikawa stays in touch with home via Zoom, WhatsApp and Line, and returns to Niigata once a year after the season ends to visit family and spend time with childhood friends.
However, he has never harboured any real ambitions of representing Singapore at international level.
"Yes, some people and my supporters will sometimes come and talk to me about this," he shared. "But maybe because I am already into my 30s (now), so I do not want to change my nationality. Maybe if I came to Singapore at a younger age, I would have considered."
View this post on Instagram
Geylang family
His longevity can in large part be attributed to a stellar injury-free record. Having placed a strong emphasis on gym work and body strengthening, Ichikawa has only missed two league matches out of a possible 94 since 2017 – first in August 2018 due to suspension and the other in April this year due to a minor injury. The longest he has ever gone without playing was a five-game stretch in 2015 due to a medial collateral ligament (MCL) injury between August and October.
"Sometimes I get injured, but I still continue… (because) I know I am a key player for the team so I do not want to miss any matches if it is possible to carry on," he said.
Hinting that 2021 could be his final season, Ichikawa has plans to get married and set up a family here after he hangs up his boots. He also aspires to become a personal fitness trainer and open a personal gym.
"The boss from my fitness gym has been waiting for me to do business together and I have already turned him down a few times," he laughed. "I told him (that) maybe next year is better and I will see how (things are) at the end of the season. If the club gives me a good offer, maybe I will still want to play…"
He made it clear that going into coaching is not an option, as his "personality is not like a head coach".
While the initial sojourn to Singapore all those years ago was unexpected, Ichikawa is glad that it has all worked out.
"Maybe I would have stopped football and probably gone on to do other things like set up a business or something," he said.
But the best part of that decision is that it eventually led him to Geylang, which he is eternally grateful for.
"I just want to say a big, big thank you to this team because every year, they continue to contract (and want) me," Ichikawa said. "The coach, chairman and staff… everyone supports, trusts and respects me. It is like a family here and I have many beautiful memories with them. I just want to say that I really appreciate everyone here and Geylang will forever be in my heart – no matter where I go next."